Russia, USA, Canada and Norway roll into Buffalo 2015 semi-finals
The preliminary round has finished at the IPC Ice Sledge Hockey World Championships A-Pool.
01 May 2015
Imagen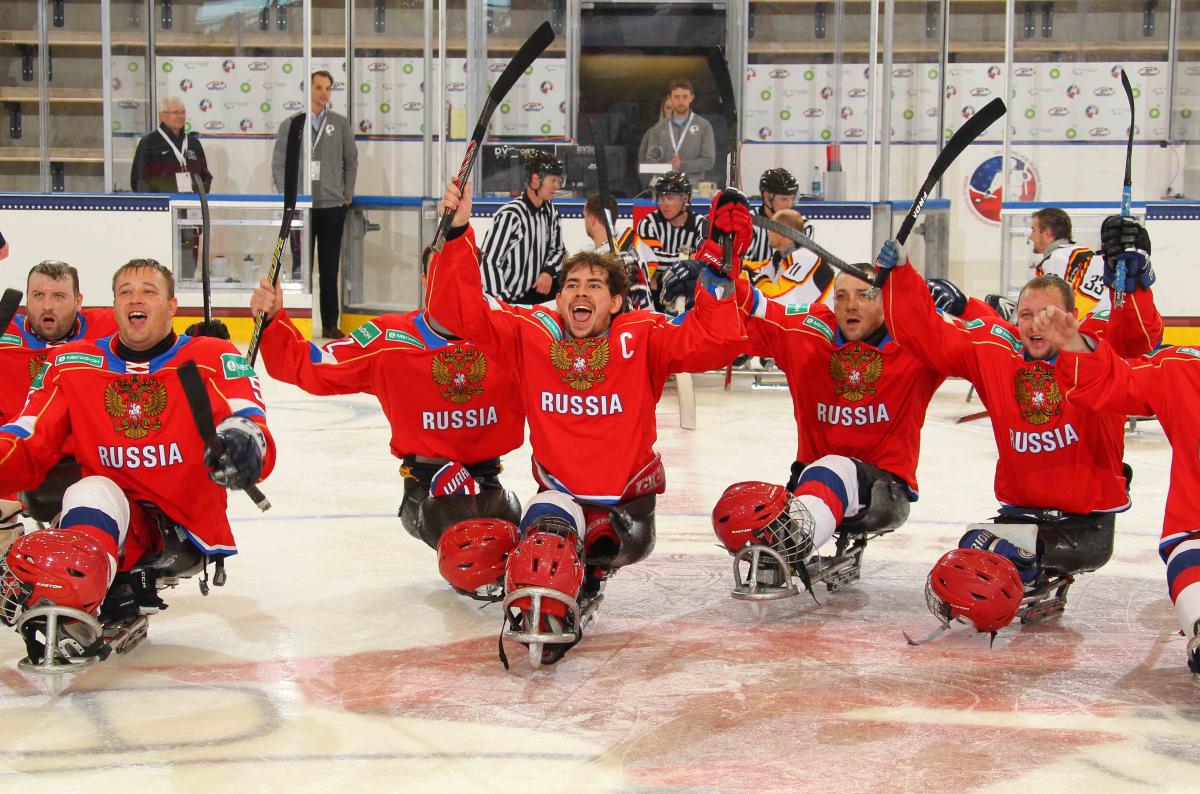 ⒸBill Wippert
By Stuart Lieberman | For the IPC
"Today's game was the most important for us, giving us a chance to play in the semi-finals and keep our hopes alive for that gold medal."
After three days of preliminary round play at the 2015 IPC Ice Sledge Hockey World Championships A-Pool, the semi-final places have been filled by Canada and Norway in Group A, and by the USA and Russia in Group B.
Group A's first-place finisher, reigning world champions Canada, will be playing Sochi 2014 silver medallists, Russia, on Friday (1 May) at 4:30pm (ET). Following that game, Paralympic champions USA will take on Norway at 8pm (ET) after finishing atop Group B.
Prior to the semi-finals, the Czech Republic will face Germany in the first classification game on Thursday (30 April) at 4:30pm (ET), and Japan will challenge Italy at 8pm (ET).
All matches are taking place at the HARBORCENTER in Buffalo, New York in the USA.
RUSSIA 10, GERMANY 0
Russia's ice sledge hockey team are proving their Sochi 2014 silver medal was no fluke, as they defeated Germany, 10-0, on Wednesday (29 April) to book a spot in the semi-finals. After recording 31 shots on goal in their first two games combined, the Russians had 37 shots and went 3-for-5 on the power play against Germany.
Sergei Panfilov started off the scoring for Russia at the 9:11 mark in the first period, and shortly after, team captain Dmitrii Lisov got his first goal of the tournament on a power play. Nikolay Terentyev found the net before the end of the first period to increase Russia's lead to three heading into the break.
In the second stanza, Alexey Amosov, Vladimir Litvinenko, Ilia Volkov and Vasilii Varlakov all scored for Russia. Vadim Selyukin, who was injured serving in the Russian military in 2002, added another tally to the board in the third, as did Terentyev and Panfilov.
Germany's Klaus Brzoska and Simon Kunst combined for 27 saves in the net, and Russia's Evgenii Plotnikov and Andrei Kasatkin combined for eight saves.
"Today's game was the most important for us, giving us a chance to play in the semi-finals and keep our hopes alive for that gold medal," Lisov said. "This game gave us confidence. We have a lot of new guys since Sochi, but we cannot go back, we must move forward and play even stronger to beat a team like Canada or USA."
USA 7, ITALY 0
The host nation clinched first place in Group B with a perfect 3-0 record after defeating European champions Italy, 7-0, with the help of two goals by 17-year-old forward Declan Farmer.
Farmer started off the scoring on a power play late in the first period, and then Josh Pauls followed with an even-strength goal early in the second. Nearly two minutes later, Farmer carried the puck out of the corner to score another goal from centre ice.
Josh Misiewicz, Kevin McKee, Paul Schaus and Adam Page padded the USA's lead with scores in the third, as Brody Roybal and Chris Douglas finished the game with three assists apiece.
"We need to continue to buckle down and score on the chances we get, because I doubt we're going to get 44 chances on goal again," Farmer said, as the team prepares for the semi-finals.
Despite the loss, Italian goaltender Santino Stillitano fended off 37 of those 44 shots and defenceman Gianluigi Rosa's contributions did not go unnoticed.
"We want to finish better than we did in Sochi, which was sixth," Rosa said. "So we know we have to win our next game. We always seem to take sixth place, so it would be nice to take fifth place this time."
CANADA 2, CZECH REPUBLIC 0
Canada remain on track for another medal on the world stage after defeating the Czech Republic, 2-0, to finish undefeated in the preliminary round and win Group A.
Billy Bridges was the star skater for the Canadians, scoring in both the first and third periods, with helpers from Tyler McGregor, Adam Dixon and Kevin Rempel.
Goaltender Corbin Watson recorded his third consecutive shutout in Buffalo, having played all 120 minutes for the Canadians and not allowing a single goal in the tournament thus far.
"Everything's just coming together at the right time in the right place for me," Watson said. "I've got to hand it to the guys in front of me. With them keeping the shots down, it makes life so much easier for me."
The Czech Republic's Michal Vapenka stopped 19 of the 21 shots that came his way against Canada.
NORWAY 5, JAPAN 0
With a 5-0 win over Japan, Norway secured the second playoff spot in Group B with a 2-1 record in the preliminary round.
Following a scoreless first period, Morten Vaernes slid the puck down the open ice to put Norway on the board just 2:01 into the second frame. Then, Loyd-Remi Solberg hit a rocket of a shot into the top of the net at the 4:28 mark and veteran star Rolf Pedersen closed out the period with another goal.
In the final period, Tor Joakim Rivera scored an even-strength goal and Emil Sorheim scored a power-play goal to increase Norway's lead to five.
"We had great progress leading up to the tournament," Vaernes said. "Making the semi-finals was our goal, because anything can happen there."
CHAMPIONSHIPS COVERAGE
Live coverage of all the games at the World Championships, along with results, statistics and ticket information can be found at Buffalo2015.com.
Up-to-date details of where games can be watched live nationally can be found at Buffalo2015.com.
IPC Ice Sledge Hockey will tweet live updates from on site in Buffalo from @IPCISH and is encouraging all fans to use the #Buffalo2015 hashtag when tweeting about the tournament.
Images from the Championships are available at www.Flickr.com/Photos/Paralympic. Media wishing to receive high-resolution images should contact Lucy.Dominy@paralympic.org.