Ryabova takes down 50m freestyle S10 world record
Two European and one Asian record also fell on day three of the swimming European Open in Funchal, Portugal.
03 May 2016
Imagen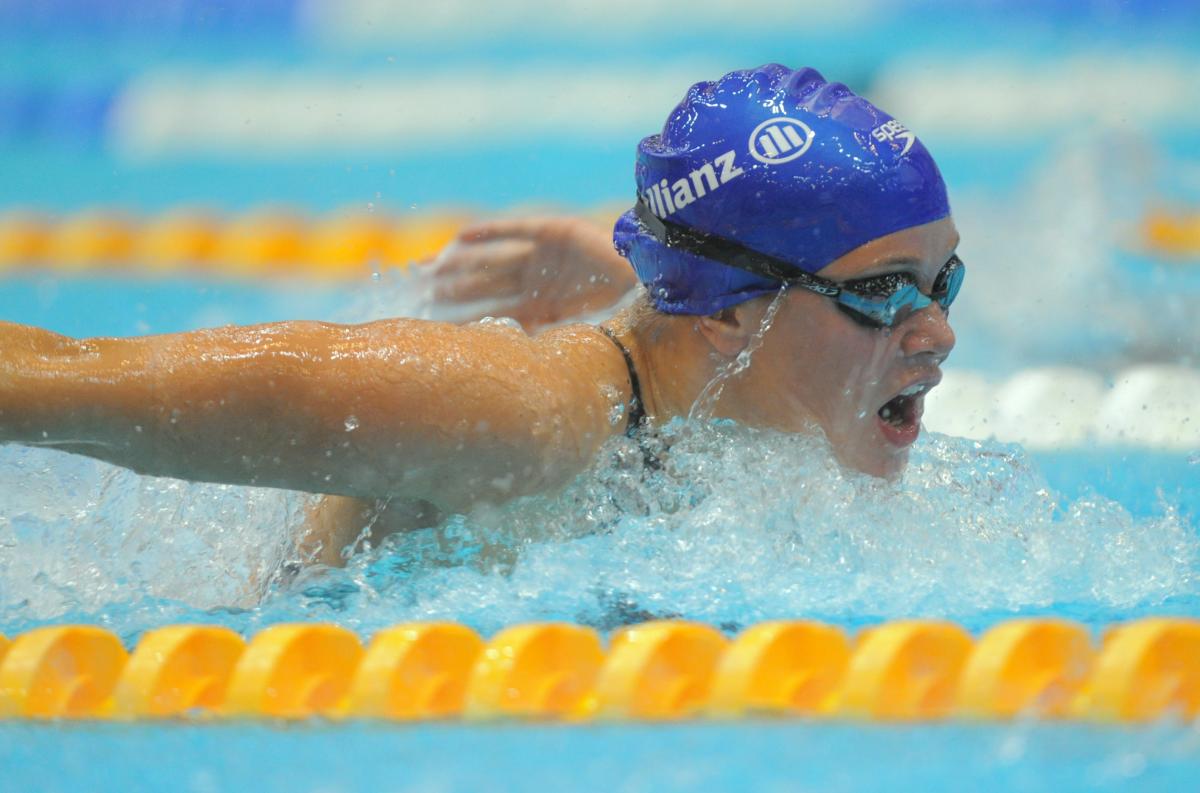 ⒸCamera 4
"I am very happy with the gold but not so happy with my time. I will try and improve it by Rio."
Russia's Nina Ryabova tore down the women's 50m freestyle S10 world record at the 2016 IPC Swimming European Open Championships in Funchal, Portugal, on Tuesday (3 May), powering to the wall in 27.60 and beating Canadian world champion Aurelie Rivard.
Ryabova made up for a slow reaction time once in the water, sealing the title and improving on the 27.78 previous world best of New Zealand's Paralympic champion Sophie Pascoe from the 2013 World Championships.
Rivard also dipped under the former mark in 27.77 for Open silver and a new Americas record. France's Paralympic medallist Elodie Lorandi (28.53) took the Open bronze and European silver. The Netherlands' Chantalle Zijderveld (28.83) completed the regional podium.
There was a huge upset in the men's 50m freestyle S10 as Brazil's Phelipe Rodrigues (23.72) claimed victory over his world and Paralympic champion teammate Andre Brasil (23.84).
Rodrigues had the best start to the race but Brasil stayed on his shoulder and looked like he could overturn his compatriot in the last few metres. However Rodrigues held on to claim the Open gold in his preferred event, taking the win ahead of the race favourite by a whisker.
"I'm happy with the win but not really with my time," Rodrigues said. "We always want some more so I will focus on training now."
Russia's Dmitry Grigoryev (24.58) kept his European gold ahead of Spain's David Levecq (24.75) and Italy's Simone Ciulli (25.40) who took regional silver and bronze respectively.
Spain's Sarai Gascon (1:07.61) powered to a new European record in the women's 100m butterfly S9, shaving more than one second off the previous best to take her second gold of the competition. Teammate Nuria Soto Marques (1:10.41) was second ahead of Great Britain's Claire Cashmore (1:10.62).
Italy had a great night in the pool, collecting three golds.
Efrem Morelli (49.16) set a new European record in the men's 50m breaststroke SB3, bringing down the mark of Spanish silver medallist Miguel Luque from 2010. Luque finished in 50.21 and Russia's Aleksei Lyzhikhin (52.65) was third.
Arianna Talamona (3:19.76) swam to her first European title in the women's 200m individual medley SM7. The 21-year-old improved on her silver medal from 2014 as Finland's Meri-Maari Makinen (3:33.00) also took her first medal at this level with second. Norway's Mina Marie Heyerdal Klausen (3:34.78) kept her place on the podium from the last edition with bronze.
An incredibly close conclusion to the men's 100m butterfly S9 lit up the pool, as European champion Federico Morlacchi (1:00.09) just edged Greece's Dimosthenis Michalentzakis (1:00.16). Hungary's Paralympic champion Tamas Sors (1:00.78) was also a contender for gold but just missed out at the final touch.
"I think I can do better," Morlacchi said. "But we are preparing for Rio and winning a gold medal is always good for me!"
Dutch Paralympic and European champion Marc Evers (1:00.70) made an impressive Championships debut in the men's 100m backstroke S14. He led from the start, maintaining first place after the turn and touching in to take gold.
"It was an ok race, I wanted something a little bit better but it was much better than two weeks ago. Already being on 1:00 is ok but if I want to continue to win medals I will need to swim better."
The Russian duo of Mikhail Kuliabin (1:02.19) and Andrei Shabalin (1:03.17) were second and third respectively.
Evers's compatriot Liesette Bruinsma (5:20.14) won the first European title of her career in the women's 400m freestyle S11. In doing so, the 15-year-old beat both Paralympic bronze medallist Cecilia Camellini (5:30.26) of Italy and German Paralympic and world champion Daniela Schulte (5:38.24) into second and third respectively.
Bruinsma said: "I don't believe I have won gold, I thought I had won silver because I missed the turn and had to go back! I will continue with a lot of happiness."
Ukraine took another five gold medals, cementing their place at the top of the medals table at the end of day three with 16 gold, 12 silver and 10 bronze.
Yelyzaveta Mereshko swam out of her skin in the women's 100m freestyle S6 in an attempt to break her own world record from the 2015 World Championships. However the European champion just missed out by 0.17 seconds, retaining her gold medal in 1:12.38.
Her teammate Viktoriia Savtsova (1:15.56) was second whilst Great Britain's Eleanor Robinson (1:16.96) got her first European medal at the age of 14 with bronze.
Paralympic and world champion Yevheniy Bohodayko (2:36.56) secured his second gold of the week, retaining his European title in the men's 200m individual medley SM7.
Colombia's Carlos Serrano (2:41.38) took Open silver ahead of Germany's Tobias Pollap (2:44.71) who claimed second place on the European podium. Russia's Andrei Gladkov (2:48.19) sealed European bronze.
Two more medals for Ukraine came in the women's 50m breaststroke SB3. Olga Sviderska (1:02.62) and Mariia Lafina (1:03.53) blocked out the gold and silver medal positions respectively. Italy's Arjola Trimi (1:04.40) was third.
Oleksii Fedyna (1:04.55) took the men's 100m breaststroke SB13 title. Russia's Maksim Nikiforov (1:07.02) and Belarusian Ihar Boki (1:07.25) completed the podium.
Dmytro Vynohradets (1:00.89) added to the gold medal haul for his country in the men's 50m breaststroke SB2.
His compatriot Serhii Lapchenko (1:04.97) claimed silver and led Russia's Alexander Makarov (1:14.79) onto the podium in third.
Germany's Elena Krawzow (1:17.44) saw off a challenge from British teenager Rebecca Redfern (1:17.46) in the last few metres to retain her title in the women's 100m breaststroke SB13. Cyprus's world champion Karolina Pelendritou (1:18.60) was third. Fourth-place Shokhsanamkhon Toshpulatova (1:18.97) broke her own Asian record set in the heats.
Brazil's world and Paralympic champion Daniel Dias (2:34.77) dominated the men's 200m freestyle S5. He touched in for Open gold ahead of Great Britain's European champion Andrew Mullen (2:42.56), who retains his regional title and also took Open silver.
"I am very happy with the gold but not so happy with my time. I will try and improve it by Rio [2016 Paralympic Games]," Dias said.
France's Theo Curin (2:43.61) sealed Open bronze and European silver on his European debut. Spain's Sebastian Rodriguez (2:51.36) took the European bronze.
Norway's Sarah Louise Rung (2:51.84) grabbed her third gold of the Championships, maintaining a 100 per cent win record. The world and Paralympic champion looked in great form, finishing ahead of Spain's Paralympic silver medallist Teresa Perales (2:58.01) in second and Israel's Inbal Pezaro (2:59.85) in third.
Russia are second in the medals table with an additional three golds from the finals.
Russia's 2014 silver medallist Olesia Vladykina (2:44.27) dominated the women's 200m individual medley SM8, finishing some distance ahead of teammate Mariia Pavlova (2:58.25). Denmark's Amalie Vinther (3:07.12) completed the top three.
Vladykina's world champion teammate Valeriia Shabalina (1:05.31) sealed victory in the women's 100m backstroke S14, ahead of British world champion Jessica-Jane Applegate (1:07.03). Germany's Janina Breuer (1:13.53) took her first career European medal with bronze.
World and European champions Russia (3:52.45) also took gold in a thrilling men's 4 x 100m freestyle relay 34 points. In the last 100m, S10 swimmer Dmitry Grigoryev took the lead from Vanilton Filho who touched in second for Brazil (3:53.25). Great Britain (3:53.47) were just nudged to third on the Open podium but took silver on the European. Ukraine (3:57.41) secured European bronze.
British Paralympic, world and European title holder Oliver Hynd (2:25.60) won his second gold medal of the Championships in the men's 200m individual medley SM8. The 21-year-old looked in great shape, securing his third medal in as many events overall.
Denmark's Niels Korfitz Mortensen (2:29.76) was second and Andreas Onea (2:31.10), who claimed Austria's first medal of the competition, was third.
Belarusian Uladzimir Izotau (1:08.00) led Azerbaijan's Dzmitry Salei (1:08.31) in the men's 100m breaststroke SB13. Russia's Artur Saifutdinov (1:08.38) just got pushed into bronze.
World champion Nelson Crispin (1:06.40) also converted his fastest qualifying performance into Open gold for Colombia in the men's 100m freestyle S6. Ukraine's Oleksandr Komarov (1:06.92) and the Netherlands' Thijs van Hofweegen (1:09.92) took European gold and silver respectively. Italy's Francesco Bocciardo (1:09.93) completed the regional top three.
Brazil's World Championships silver medallist Matheus Sousa (4:43.57) carried out a controlled swim to claim Open gold in the men's 400m freestyle S11. Spain's Israel Oliver (4:47.62) left as the European champion and Open silver medallist ahead of Ukraine's Viktor Smyrnov (4:56.93) with European silver and Open bronze. His compatriot Dmytro Zalevskyy (5:03.21) completed the regional podium.
Live coverage and results will be available every day until 7 May at www.Funchal2016.com. Morning sessions begin at 9:00am (WET) and evening sessions at 5:00pm (WET) each day.
Live updates and behind the scenes coverage will be posted at @IPCSwimming and Facebook.com/IPCSwimming or search #Funchal2016.
Broadcast
For non-rights holders, the following material will be available:
Daily newsfeed x 1 (following News Access Rules)
Race clips (at cost)
For more information and for access to broadcast footage, please email sascha.beck@paralympic.org.
Photographs
A selection of rights-free images will be available for download from the heats and final every day at www.flickr.com/photos/paralympic/.
For high resolution versions, please email eva.werthmann@paralympic.org.
Contacts on site
Lucy Dominy, IPC Public Relations and Campaigns Manager, +49 151 29806543
Eva Werthmann, IPC Media Operations Senior Manager, +49 171 7433327
Sascha Beck, IPC Broadcast Manager, +49 151 5198174
Related Images