Say what? Top swimmer's quotes from Rio 2016
From what it means to win gold to the people they dedicate their medals, athletes had some great responses to their performances in the pool.
22 Sep 2016
Imagen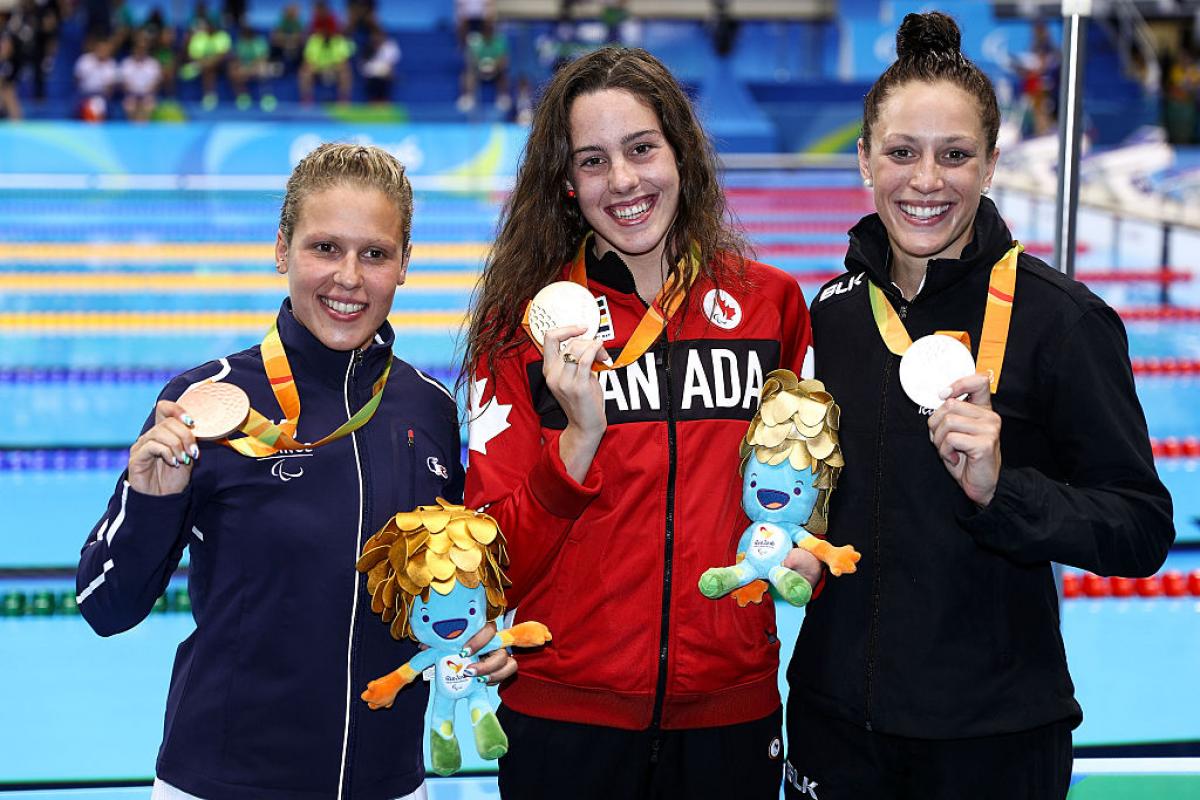 ⒸGetty Images
By IPC
"The whole building was shaking, I think the water was probably shaking. It excited me."
With more than 60 world records set across 152 medal events at the Rio 2016 Paralympic Games, unsurprisingly athletes had some great reactions to their performances.
Here is a selection of the best from 10 days at the Olympic Aquatics Stadium.
South Africa's men's 100m breaststroke SB9 Paralympic champion Kevin Paul on the significance of winning a gold medal and reclaiming his title from Beijing 2008…
"I was 17 in 2008; the times were a lot slower back then. The level of swimming has improved so much. I was 17 and I came away with a gold but I don't think I knew what it meant.
"Eight years later – I think it is to the day – I truly appreciate what it means and how much work goes in to getting it."
Lorenzo Perez Escalona on winning Cuba's first Paralympic swimming gold in the men's 100m freestyle S6…
"This medal represents the pride of all Cubans that I am representing here with dignity. I came here with all my effort, with all my being to be able to represent well this incredible family, the incredible revolution, which has forged me into the way that I am as a person and as an athlete."
British debutant Michael Jones had a special dedication to make after winning gold in the men's 400m freestyle S7…
"It means a lot. Obviously to win gold is a dream I have had from a very young age. My dad suddenly passed away with 58 days to go to Rio. So that race was dedicated to him in some ways," he said. "It wasn't an easy build-up and at times it was hard to focus. So I had to think about what he would want me to do. So that gold was really for him."
Ukraine's Maksym Veraksa on his daughter Zlata's instructions after winning gold in the men's 50m freestyle S12…
"She will get all the mascots. She is really anticipating for me to come back and she sends me her greetings every day.
"She says, 'Daddy, I love you', and even though she's just three, she already learned to say, 'Daddy, I love you, be No.1'. I get all these emotions from the messages and I am energised with this positive energy."
Great Britain's Bethany Firth was looking forward to getting back home to show her dog her three gold medals…
"I am longing to get to see my dog, Russell, to get licked and kissed. He is a miniature Yorkie, he is so gorgeous. I can't wait."
Bradley Snyder after breaking the longest standing men's world record in the men's 100m freestyle S11…
"I have been visualising that moment every day for at least the last year, coming into that wall and hearing that time. It is true now. Finishing this meet with the 100, with that world record - this is the script we wrote, the one we wanted.
"I have got to be honest, I had some doubts today. I was feeling a little worn down, but I wanted it real bad."
…And after winning the 50m freestyle S11, on why visually impaired swimming is so great…
"I have to adopt a certain aggressive, never-say-die mentality and that really paid off in that 50(m) because it didn't really go the way I had envisioned nor the way it went this morning. I definitely had a lot more contact with the lane line.
"But by not taking the race for granted I was able to get to the wall first. The longer it is the more comfortable I feel, I can get into a rhythm and just bang out intervals, that is my bag, the 50m is not. It is not forgiving and especially blind. It doesn't matter who is favourite, anyone can have a bad day and have a crash.
"That is what makes blind racing so cool, especially in the 50[m]."
Brazil's now 14-time Paralympic champion Daniel Dias was also enthusiastic about Paralympic sport after being beaten by China's Junsheng Li in a close men's 100m breaststroke SB4…
"He made it a good event. He's a great competitor, he must be respected. It was good – that's sport. It shows that Paralympic sport is cool to watch."
The USA's Beijing 2008 Paralympic champion Roy Perkins on returning to his best form in the men's 50m butterfly S5…
"I have worked for four years to be able to beat him [Daniel Dias]. I knew during those years that to do it in front of his home audience would be a big deal. The whole building was shaking, I think the water was probably shaking. It excited me."
Benoit Huot on winning his 20th Paralympic medal for Canada in the men's 400m freestyle S10…
"I would have written a Hollywood script to try to finish on that note and I don't think it would be possible. It's like a dream come true and I can leave in peace with number 20 in the pocket.
"I was on my balcony in the [athletes] village every day getting the sun and the air and the nice view of the lagoon and I was telling myself, 'How lucky you are to be here and to live this after so many years again.' I just feel like a little kid again and the magic is back."
Canada's Aurelie Rivard can add the gold medal for best reactions to her collection, which now includes three Paralympic titles…
After winning the 50m freestyle S10 in a new world record time: "I am not sure I realise it yet. I don't know whether to laugh, jump or throw up. It's my first event and I've broken the world record and won. I'm in heaven."
And on her rival and friend, New Zealand's multiple Paralympic champion Sophie Pascoe: "She is super intimidating in the call room. She gives me these killer stares, so I try not to look at her too much. I'm really glad to beat her this time."
Great Britain's Sascha Kindred was clear he will not emanate his fellow sporting greats following his win in the men's 200m individual medley SM6 with a new world record…
"Thirty-eight, Paralympic champion, world record holder, it's very special. Thirteen is my lucky number. I was born on the 13th, my mum was born on the 13th and I have got 13 medals. Seven is a special number for me too. I am a big [Manchester] United fan – lot of famous number sevens.
"That's my last Paralympic race, yeah. I may do worlds next year but not Tokyo. Well, 99 per cent sure. I am not a Steve Redgrave [British five time Olympic rowing champion]: I won't say 'kill me if you see me in the pool'."
Andre Brasil shed tears of joy after receiving his bronze medal in the men's 100m butterfly S10 in front of his home crowds, despite it being his 14th overall career podium…
"I feel like a kid starting out. It's not because of the colour of the medal. Paralympic sport is very new compared to the Olympics and so many people want those medals, in swimming specifically 200 to 300 people want those medals.
"In 60 years of Paralympic sport just a few people stepped up to get those medals, and I am in this group, this is my first medal."
In the men's 100m freestyle S9, Independent Paralympic Athlete Ibrahim Al-Hussein had an important message to share after recording a personal best in the heats…
"I would like to call upon all of the refugees from all of the countries in the world to say that we have strong sportsmen and women among the refugees, not only swimming but other sports."
Brazil's Cecilia de Araujo, a 17-year-old athlete who has been involved in training workshops with the International Paralympic Committee's development arm the Agitos Foundation, qualified for the final of the women's 100m freestyle S8…
"It's my dream to make this time. I thought it was impossible, but it's not impossible now because I did it. I was shy at first because the level of noise was very surprising.
"It was scary, but it's very cool to get this support from the cariocas. During the race, I was very focused so I didn't listen to the cheers, but at the end I fed off the energy."
China's men's 50m butterfly S6 champion Qing Xu on proving people wrong…
"This is the best reply to my friends and family because for a long time they have been trying to convince me not to race, to retire, but this gold shows that I was right."
Brazil's Phelipe Rodrigues had a special message for his fans after grabbing bronze in the men's 50m freestyle S10…
"It's just an amazing feeling. I've got three medals already in the Paralympic Games but to be representing my country in these Games is just something very unique. If I could I would share my medal with every single Brazilian around here."
Great Britain's Oliver Hynd on breaking the men's 400m freestyle S8 world record for the second time this year and claiming his brother Sam's Beijing 2008 Paralympic record…
"It's kind of nice really. It was the last record in this event that he held. I was fortunate enough to be in Beijing to watch him win his gold medal. He showed me what it means to work hard and what it means to be a Paralympic champion."