Sell-out crowd enjoys spectacular sailing finale
Final gold goes to Frenchman Seguin on a day when just seconds decided the other medal positions as Rio competition comes to a close.
17 Sep 2016
Imagen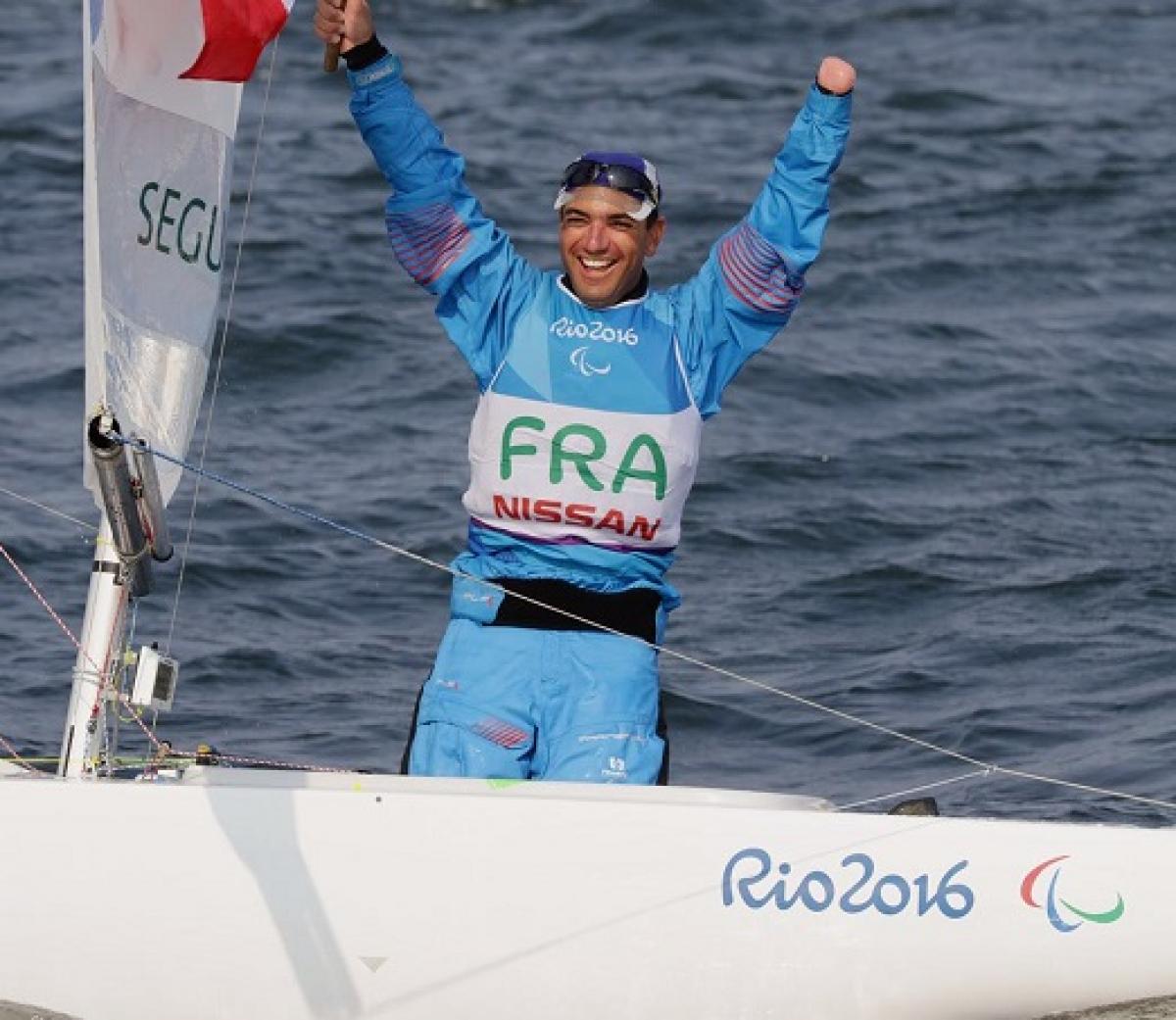 ⒸIPC
By IPC
In a finale fitting on the setting, the Rio 2016 Paralympic sailing competition came to a spectacular close with the medals decided in front of a sell-out crowd lining the shores of Flamengo Beach.
Racing on the Pao de Acucar (Sugarloaf Mountain) race course, onlookers were treated to a thrilling climax in which some medals were settled by just seconds.
After 11 races under the backdrop of Sugarloaf Mountain and Christ the Redeemer, the stakes were high for a chosen few sailors who had the opportunity to grab a Paralympic medal.
The final gold to be decided went to France's Damien Seguin who joined Australia's Two Person and Three Person teams who wrapped up their golds the previous day.
Seguin became a double Paralympic gold medallist in the one person keelboat (2.4 Norlin OD) class when he crossed the line in fourth position in front of the only sailor that could mathematically beat him, London 2012 gold medallist, Great Britain's Helena Lucas.
"I'm just happy," he said afterwards. "I'm just happy as I have worked a lot since my fourth place in London 2012. I was sure I could do it, and I did."
The French sailor never doubted his own talent and with a history of international titles to back it up, the confidence was well founded.
"Of course I (was) expecting to do it. I'm a competitor, so I always go for first place. My start to the regatta was not very good, but every day I improved my racing. I always say that the regatta is 11 races, not 10. And by the 11th race I got to first overall."
He added: "I have an association in France for people with disabilities and they came to Rio this week. They were at the beach every day to support me. It was amazing. This association is for encouraging people with disabilities to go sailing."
Hoping to inspire people with disabilities, Seguin sailed consistently well throughout the regatta with his lowest placed finish a sixth.
Another consistent sailor, Australia's Matt Bugg, won silver thanks to a bullet in the final race of the competition. That win leapfrogged Bugg in to the silver spot and dropped former champion Lucas in to bronze as she finished down the fleet in 15th.
Sailing in the two person keelboat (SKUD18) fleet were the only sailors in history to defend a Paralympic title. That honour was bestowed on Australia's Daniel Fitzgibbon and Liesl Tesch with two races to spare at Rio so, for them, sailing on day five was just a victory lap. A victory lap they still finished second place in.
Fighting behind the dominant Australians were Canada's John McRoberts and Jackie Gay, Great Britain's Alexandra Rickham and Niki Birrell, and Monika Gibes and Piotr Cichocki, of Poland.
The to-ing and fro-ing between the three teams continued right to the end. Canada crossed in third for silver. With the Polish team taking the bullet, Great Britain had to stay ahead of the battling Italians to take the fourth. They did, and with that the bronze medal.
With the gold wrapped up in the three person keelboat (Sonar) by the Australian team of Colin Harrison, Russell Boaden and Jonathan Harris with a race to spare, it was down to the battle for silver and bronze.
Mathematically there were still quite a few teams left in the fight, but USA and Canada, sitting in second and third respectively, had the advantage before the final race got underway.
That advantage paid dividends in the end as Americans Alphonsus Doerr, Hugh Freund and Bradley Kendell confirmed silver with Canada's Paul Tingley, Logan Campbell and Scott Lutes taking bronze.