Serbian Suranji's delight at clinching shooting gold
Ten-time Paralympian Jonas Jacobsson questions his timing and admits he "didn't have enough gas in the tank" as he finishes tenth.
12 Sep 2016
Imagen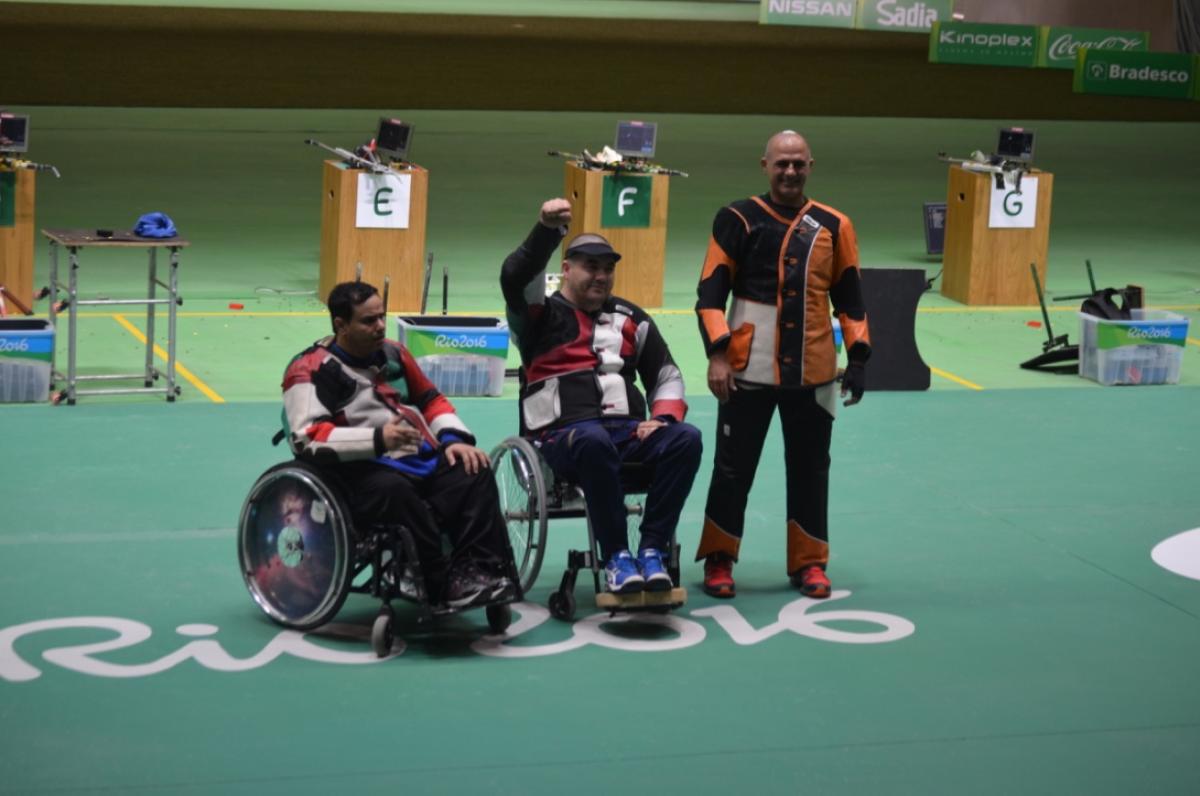 By Jake Smith
He came, he saw, he conquered. Serbia's Laslo Suranji celebrated a hard-fought victory to win gold in R7 (men's 50m rifle 3 positions SH1) on Monday (12 September) after Paralympic legend Jonas Jacobsson failed to qualify for the final.
Suranji spoke of his delight after claiming the Paralympic title, describing the moment of victory as "unreal".
"It took a really long time for me. I've trained for over 15 years and this is my first medal," he said. "It was a lot of teamwork with the coaches. The whole year we always just eat, sleep and shoot, nothing else."
UAE's Abdulla Sultan Alaryani hung on for silver and Israel's Doron Shaziri rounded out the podium with bronze.
Earlier, supporters had streamed into the Olympic Shooting Centre hoping to witness history with ten-time Paralympian Jacobsson targeting an astonishing 18th Paralympic gold medal
It would have been his fifth consecutive gold in the men's 50-metre event.
However, the veteran bowed out in the qualification round and was left questioning his spur to compete over the three positions.
"The spark, the real spirit to do 100% is probably not there. I've already checked out, sort-of. It's not a mental thing, I just don't think I've got enough gas in the tank to do this one [R7]," said the Swede, who finished tenth.
"It was absolutely terrible. I think it's the worst game I've done. Absolutely nothing worked. I had no timing and I couldn't hold the rifle still.
"I can see all the mistakes I'm making and I still keep making them.
"It's got to do with my timing. I've always shot a lot based on timing and now it's just off. It's been perfect all these years, but it's just not there anymore and that makes it really hard to fix.
"At the world championships two years ago it was the same guys, so the scores are improving a little bit, but the problem is my scores have been dropping a lot.
"1138 or whatever I shot today, I haven't had that score for 25 years, so it's really not that they've become a lot better, I just haven't been doing what I should be doing."
The most decorated Paralympian of all time will have one more opportunity to add to his stash of medals with the R6 (mixed 50m rifle prone SH1) coming up on the final day of competition (14 September).
"I'll change the rifle in training tomorrow to a different one to see if that helps," said Jacobsson.
Having finished second to Jacobsson at the previous two Paralympic Games, Shaziri was able to profit from the Swede's absence from the final to take bronze.
"Jonas is a very strong competitor, especially in finals so one less strong competitor gives me more chances, but I don't rely on that. I rely on my personal ability," Shaziri said.
"Anything can happen in the final and anything can happen in these competitions, look what happened to Jonas."
Shaziri is Israel's most successful Paralympian of all time with eight Paralympic medals to his name spread across 20 years of competition.
With the weight of a nation on his shoulders, Shaziri was proud to be up on the podium in front of an army of fans who flocked to finals hall.
"Today's bronze was very important for my country. Any medal is important, but everyone was hoping and looking forward to this medal … and it came," said Shaziri.
Dual silver medallist Alaryani started strongly with a superb score of 52.2 in the opening series of the kneeling position, going on to deliver a total of 152.1.
He carried this form into the prone position amassing a resounding 305.8 to hold outright first. Alaryani looked in control, but was also wary of his opponents.
"All the shooters are at a very high level in this event and it only takes one shot to make a difference in shooting," Alaryani said.
"It was a very tough game with a big challenge from the Israeli and the Serbian, but I am very happy to have my second medal at this Paralympic Games."
Suranji was hot on his heels the entire time and trailed by just one point at the conclusion of the second of the three positions.
"I didn't watch the scores so I didn't really know how the standings were. I shot my game and I tried to focus on every shot to make it the best possible," Suranji said.
The Serbian kept his concentration heading into the third and final standing position to overtake Alaryani and power away to an incredible 2.1 win and claim his first ever Paralympic medal.