Serna targets Toronto 2015 and Rio 2016 success after illness
Colombian athlete was laid low for much of 2014 but is now fully recovered and keen to impress
15 Jan 2015
Imagen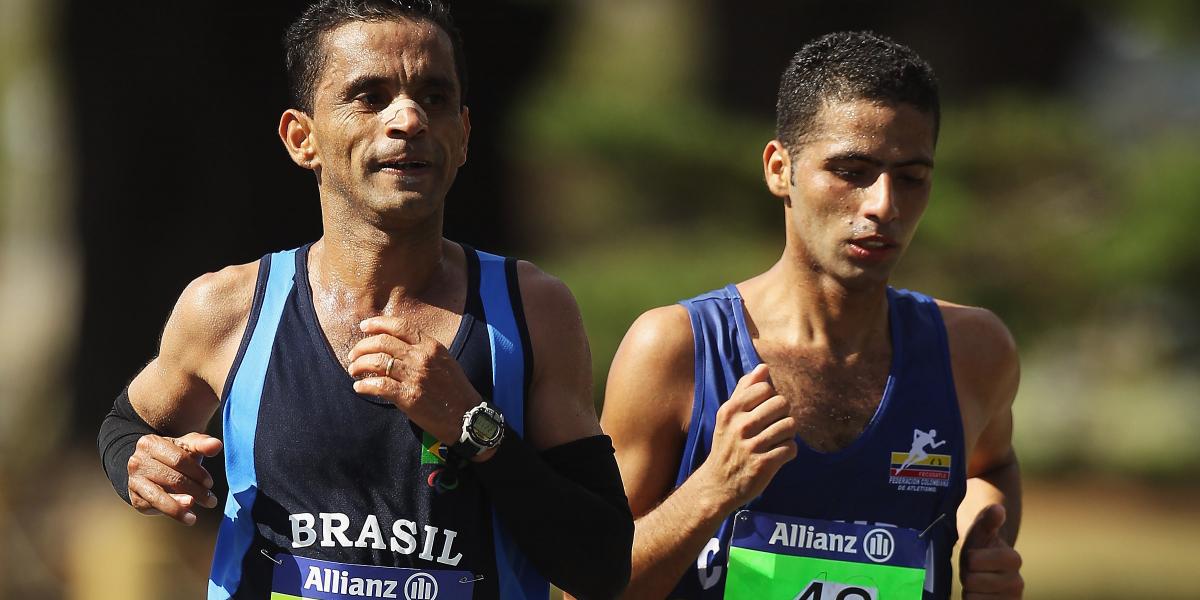 ⒸGetty Images
By Hernan Goldzycher | for the IPC
"I never give up. There are people that attempt to demoralise you and tell you that you are done. But I never stop believing in myself, let alone abandoning my dreams."
After fully recovering from an illness that wiped out most of his 2014 season, Colombian middle and long distance runner Elkin Serna has targeted success at this August's Parapan American Games and next year's Rio 2016 Paralympic Games.
The visually impaired Paralympic silver medallist from the T12 marathons in Beijing 2008 and London 2012 was only able to participate in small number of events last year after being laid low with a severe bout of gastritis.
"I only participated in local races and in the Santiago 2014 South American Games, where I won a silver medal in the 5,000m race and a bronze medal in the 1,500m," said Serna who is keen to outline his aspirations for 2015.
"At the Toronto 2015 Parapan American Games, I want to outdo my Guadalajara 2011 results.
"I will compete in the 1,500m and in the 5,000m, as in Guadalajara 2011 but I want to outdo my 2011 performance, when I won a gold and a silver medal."
Although he did not race much last year, Serna did oversee a huge project which he now believes may have contributed to his illness.
"In 2014, I supervised my house construction in the municipality of Guarne, department of Antioquia," he said. "That brought me a lot of stress and I began to get sick. Moreover, I couldn't rest well and I neglected my diet. That is the worst thing an athlete can do.
"However, I have been feeling very well for a month now, as I underwent several treatments and I have been taking care of myself."
Recovered from illness and with his new house built, Serna is optimistic about the year ahead which will also include April's IPC Athletics Marathon World Championships in London, Great Britain.
"I never give up. There are people that attempt to demoralise you and tell you that you are done. But I never stop believing in myself, let alone abandoning my dreams," he said.
Serna's optimism is sustained not only by his natural talent, but also by his capacity to overcome any obstacles that are put in front of him.
"When I was younger, I was displaced from the municipality of Urrao, where I used to live, due to an armed conflict in the region. My house was in the middle of the combats between the guerrillas and the paramilitaries," the 30-year-old said.
"I remember there were many dead people and more than half the population had to leave the town. I was very much worried, not only about my family's life, but also about my own."
With that memory as part of a painful past, Serna prefers to plan for the future and is already looking ahead to 18 months' time when the Rio 2016 Paralympic Games get underway.
"I imagine myself climbing up the podium once again. Since 2008, I have been working hard to win the gold," said Serna of South America's first Paralympic Games.
"I especially remember the first silver Paralympic medal I won, in Beijing. I didn't have so much pressure and I enjoyed those Games to the maximum possible.
"When I ended that marathon, I thought I had finished third. I was so concentrated on my performance that I was not very much sure about my position.
"Nevertheless, my Colombian peers accompanied me to the tunnel and showed me on the screen that I had finished second and thus obtained the silver medal. At that moment, I wanted to cry because I remembered all the difficulties I had to overcome to be in that place."
After success in Beijing, Serna was no longer an underdog at London 2012, instead he was one of the favourties.
"In those Games, I fulfilled my dream of becoming the Colombian flag bearer. It was a great honour that entails responsibility and compromise."
Serna has a busy year ahead of him. In addition to April's IPC Athletics World Championships he will line-up at the Toronto 2015 Parapan American Games, an event that features 1,600 athletes from 28 countries competing in 15 sports. In October, he is also likely to represent Colombia at the 2015 IPC Athletics World Championships in Doha, Qatar.