Sochi 2014: My top five moments by Sir Philip Craven
IPC President reveals his five best memories from the best Paralympic Winter Games ever.
08 Mar 2015
Imagen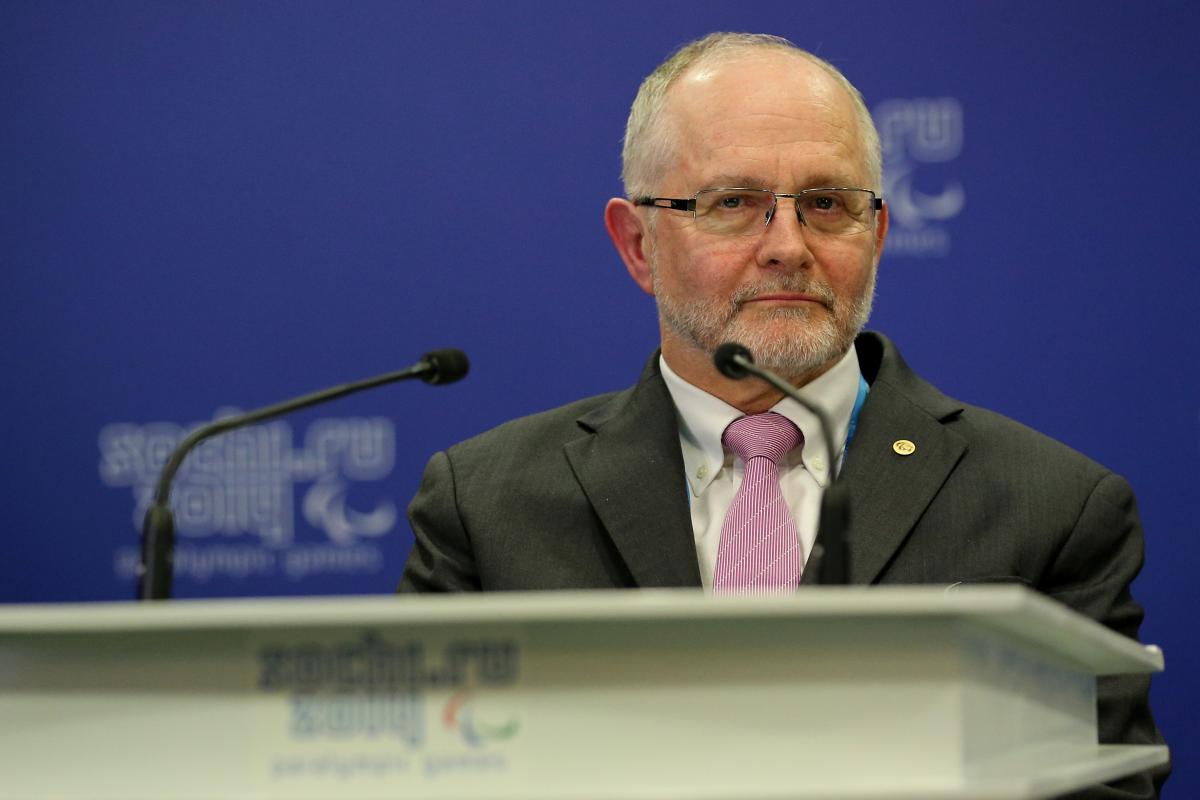 ⒸGetty Images
By IPC
One year on since he heralded the Sochi 2014 Paralympic Winter Games the "best ever", IPC President Sir Philip Craven reveals his favourite five moments from the event.
1. Accessibility
For a country with a reputation for poor accessibility, the Sochi 2014 Organising Committee did an excellent job transforming Sochi into a barrier free environment.
I know at the Closing Ceremony I said Sochi 2014 was the best Games ever and in terms of accessibility, especially in the mountains, it was head and shoulders above the rest.
The transformation at some venues from the Olympics through to the Paralympics was stunning. During the Olympics some venues such as Laura were quite tricky to negotiate but the walkways and construction for the Paralympic were first class.
I hope the blueprint they created in Sochi for the Games is continued to be rolled out across Russia now. This should just be the start, not the end.
Stephanie Jallen's reaction to winning bronze in the women super-G was stunningly emotional, and showed to the world what true passion for Paralympic sport is all about. The teenage US athlete threw down her crutch, jumped onto the podium and, with tears streaming down her face, collected her prized medal. To her it was like winning gold and left us all with a lump in our throats. It was a moment of pure raw emotion.
Watch Stephanie Jallen's medal presentation here.
I was at the side of the stage watching and no matter where you were, whether watching on TV or part of the crowd, you could not help but share in her delight at what she had achieved.
3. Great Britain's first alpine skiing gold
The reason why I was at the side of the stage for Jallen's presentation was because I was involved in the next medal ceremony.
I know as IPC President I should be impartial at all times, but as a proud Brit I cannot begin to tell you how delighted I was to present the gold medal to Kelly Gallagher and her guide Charlotte Evans after their victory in the women's visually impaired super-G.
It was the first time British skiers had won an alpine skiing gold medal at an Olympic or Paralympic Games, and both are great ambassadors for their sport.
Watch Gallagher and Evans ski to gold.
I have met them a few times since Sochi and they still seem as happy today as they did when they stood top of podium. I wish Charlotte well too with her recovery from concussion.
4. Russia's ice sledge hockey team
The story of the Russian ice sledge hockey team winning Paralympic silver on home ice is an amazing one, made even more remarkable by the fact that they had only taken up the sport five years earlier.
I remember their first game in the Shayba Arena; leading 1-0 against South Korea they fell apart once President Putin arrived to watch the game, eventually losing in a shoot-out. The Russian President vowed not to go see them again as he didn't want to bring the team bad luck.
The tactic worked and Russia progressed to the final which for the first time ever was shown on NBC in the USA.
The game was a cracker! One of my best memories was the crowd. As you would expect they were desperate for Russia to win against their arch rivals, but when they lost they did not leave the arena in disappointment.
Everyone stayed for the medals ceremony, cheering every single player of bronze medallists Canada, Russia and winners USA. It was a very special moment which I think surprised many who had never been to a Paralympic Games before. For us regulars, we're used to the crowd supporting every single athlete with pride and passion!
5. Transformation of 'impossible' to 'I am possible'
I think the iconic image that we all remember from the Closing Ceremony is of the giant tetris 'impossible' becoming 'I'm possible'. This for me summed up the Games perfectly.
Had you said to me 20 years ago that Russia would stage a Paralympic Games, never mind such an outstanding edition, I'd have said impossible, but they showed it was possible.
For those viewing the Games for the first time, including the millions of Russians on TV, it certainly transformed their views of what a human being is capable of.
The perception of a person with an impairment in Russia used to be someone who could not contribute to society. Now they have heroes such as Nordic sit skier Roman Petushkov who won a record six gold medals on home snow. He and his fellow athletes showed everyone that there are no boundaries to what a Paralympian can achieve.
I think the Sochi 2014 Organising Committee came up with a fantastically innovative and creative way to communicate to the world what the Paralympic Games is all about.
The Sochi 2014 Paralympic Winter Games took place between 7-16 March and attracted 547 athletes from a record 45 countries. The Games were watched by a record 316,200 spectators whilst the cumulative TV audience broke two billion for the first time.