Sofie Cox's storytelling charm
Belgian hoping to shine in front of home support at the 2017 World Para Dance Sport Championships.
22 Aug 2017
Imagen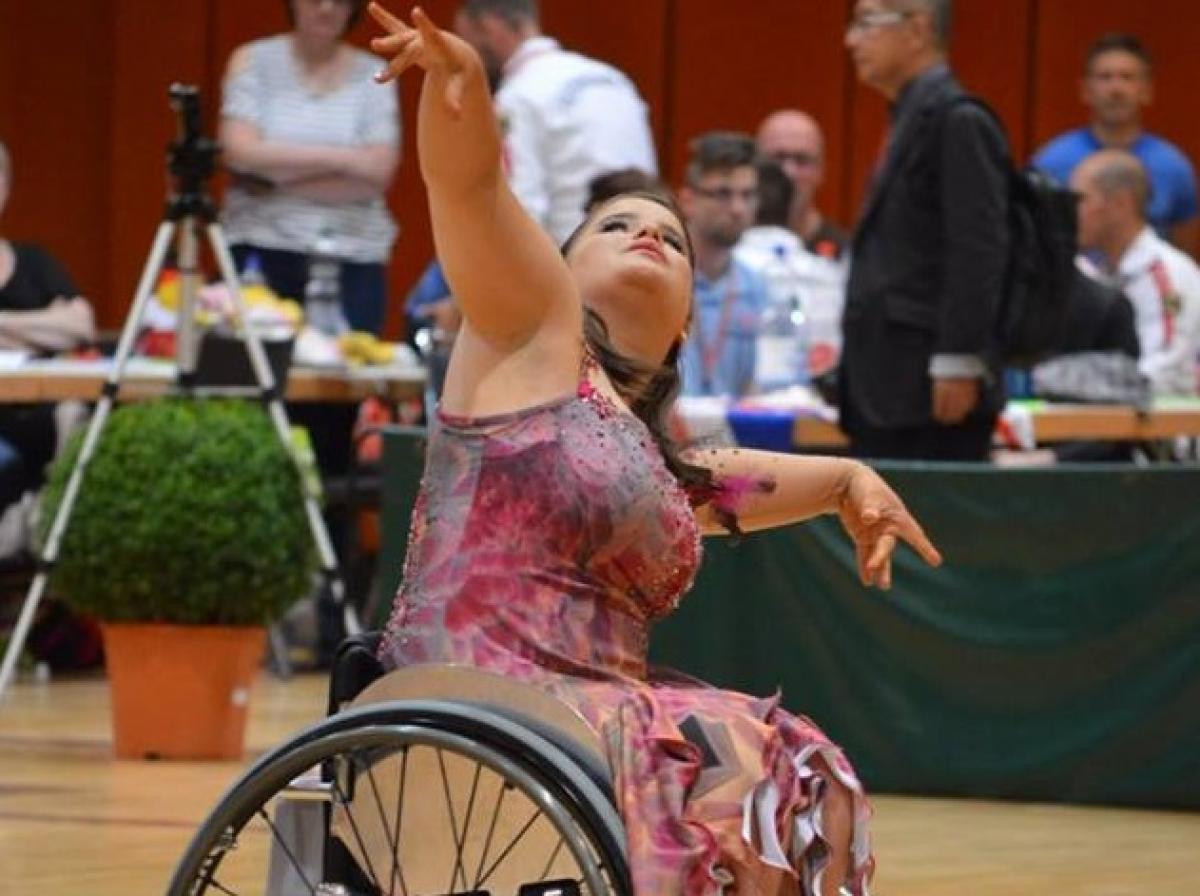 ⒸRoland Lipovits
By IPC
"I try not let it get to my head that it's in Belgium. I know what my level is. … I just want to enjoy it."
In Para dance sport, good technique is important. But if it does not combine with a story, then that could hurt the performer's results.
Belgium's Sofie Cox knows she needs to combine both, finding a way to tell a story on the dance floor, not only for the judges, but for her home crowd at the 2017 Malle World Para Dance Sport Championships, which are just under two months away.
"You're still a dancer and you have to try and tell a story through dance," the 23-year-old explained. "You can dance a beautiful piece. But if you don't believe in it, or know the message behind it, I don't think you can show the real meaning of your dance.
"I want to bring that story and I want to feel happy with my dancing and be content with myself [at the World Championships]."
From 21-22 October, Cox will try and tell four stories when she competes in the women's single and freestyle class 2; and duo Latin and standard.
Doing that in front of family and friends is "good pressure," she says.
"It makes it more special. I try not let it get to my head that it's in Belgium. I know what my level is. … I just want to enjoy it."
She has competed in three competitions this season, reaching the podium three times with her best results being silver medals in the freestyle class 2 from competitions in Frankfurt, Germany; and Lomianki, Poland.
Whether or not she will change up her choreography in those dances at Malle 2017 is something she is deciding on for her solo pieces, with her choreographer and with her dance partner Sander Deckx. But they know they have podium-worthy formulas.
"I saw that my training paid off, and I know what I have to train for for the World Championships. I competed in those [three competitions] to see what level I'm at and what I need to improve on for the World Championships," she said.
Team dream
Cox and Deckx first met at a dance camp and have partnered up since 2014, taking on their first major international competition at the European Championships that year in Lomianki.
Cox danced to a bronze medal in the freestyle for her first major medal. Although both live in the same country, it is still a challenge to train together because of school, distance and the fact that Cox is also competing in wheelchair tennis – both sports she discovered at a Para sports day in Belgium when she was nine years old.
But they make it a goal to train at least once a week together.
Back at the 2015 Worlds in Rome, Italy, Cox said they were still young and new to the sport.
At last year's European Championships in Kosice, Slovakia, the couple finished sixth and fifth in the duo Latin and standard, respectively. Cox just missed the podium in both her solo events.
But she feels she is close to landing her first World Championship medal. It would be fitting way to do so in front of family and friends.
"I would love to have a medal of course," Cox said. "I believe I belong in the top five as I see my results.
"But I'm working for a medal. It's not that if I don't get it I would be really, really disappointed — but of course a little bit," she said with a laugh.
More information on Malle 2017 can be found on the event website.