Marquez and Obero back in the swing
Filipino dance couple on track to defend their World title at Malle 2017.
18 Aug 2017
Imagen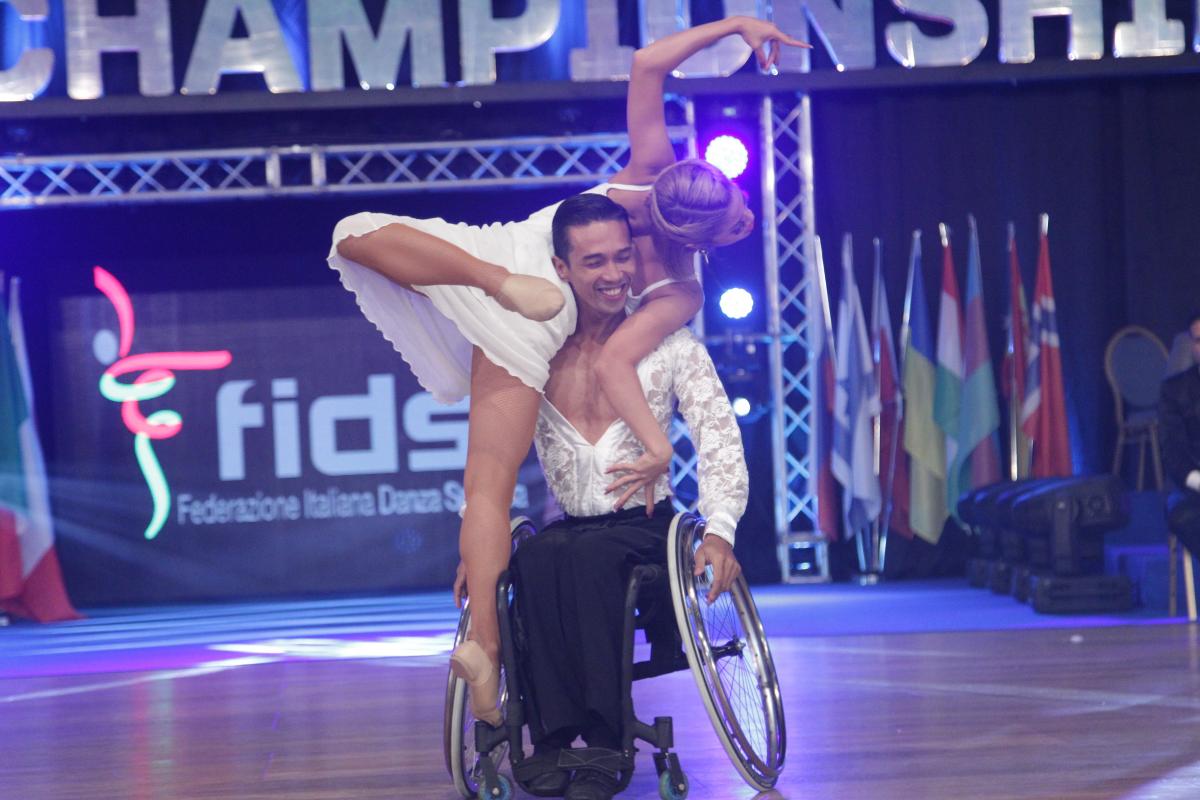 ⒸDS Photo Dance Sport
By Crystal Peiris and the IPC
Rhea Marquez and Jun Julius Obero look to be back on track ahead of the 2017 World Para Dance Sport Championships in October.
The Filipino couple were unable to compete in the 2016 season, but their recent performances from the Peikang Open in June were promising.
The last competition before the World Championships from 21-22 October in Malle, Belgium, will be the Starlight Open on 17 September in Hong Kong, and serve as an important tune-up for Malle.
"[The] World Championships is fast approaching and joining competitions prior to the Worlds is of great help because it will boost our competition tactics, and we can be used to dance with our fellow competitors," Obero said. "Dancing in the studio is far more different from dancing on the dance floor of a competition venue with several competitors."
The couple made headlines when they took gold at the 2015 World Championships in the combi freestyle class 2; they just missed the podium in the combi Latin class 2.
After missing the 2016 season, they shook off the rust in Peikang, Chinese Taipei, where captured double gold in the combi Latin and freestyle competitions, proving they remain one of the power-couples in Asia. They said their aim was to "bring home the gold medals in all the categories we will be joining, bringing pride and honour to the country…and to make everyone happy and satisfied with our dancing, especially our coach."
It was only the men's singles class 2 event that did not see a gold medal finish, in which Obero took the silver.
"I could say that our performance during the competition was great, all the reminders were stuck in [our] minds, and we were able to do what we talked about during our practices. Overall, we both feel satisfied with our performances," Obero said.
The duo initially started the sport as therapy and have learned to deal with various challenges that have come with the sport:
"We don't avoid those things, instead, we gladly welcome and acknowledge it," Obero said. "With the great help of our coach and to those people who never ceased to believe in us through ups and downs, and with all the powerful prayers that each of our family, friends, and supporters gave, solutions are always possible. The weakness became our strength, and the challenges became our motivation."
The World Para Dance Sport Starlight Open will take place on 17 September in Hong Kong and the 2017 Malle World Para Dance Sport Championships from 21-22 October in Belgium.