Speed the secret for Jonathan Young at Euros
British canoeist aims to improve on early season times in Belgrade
07 Jun 2018
Imagen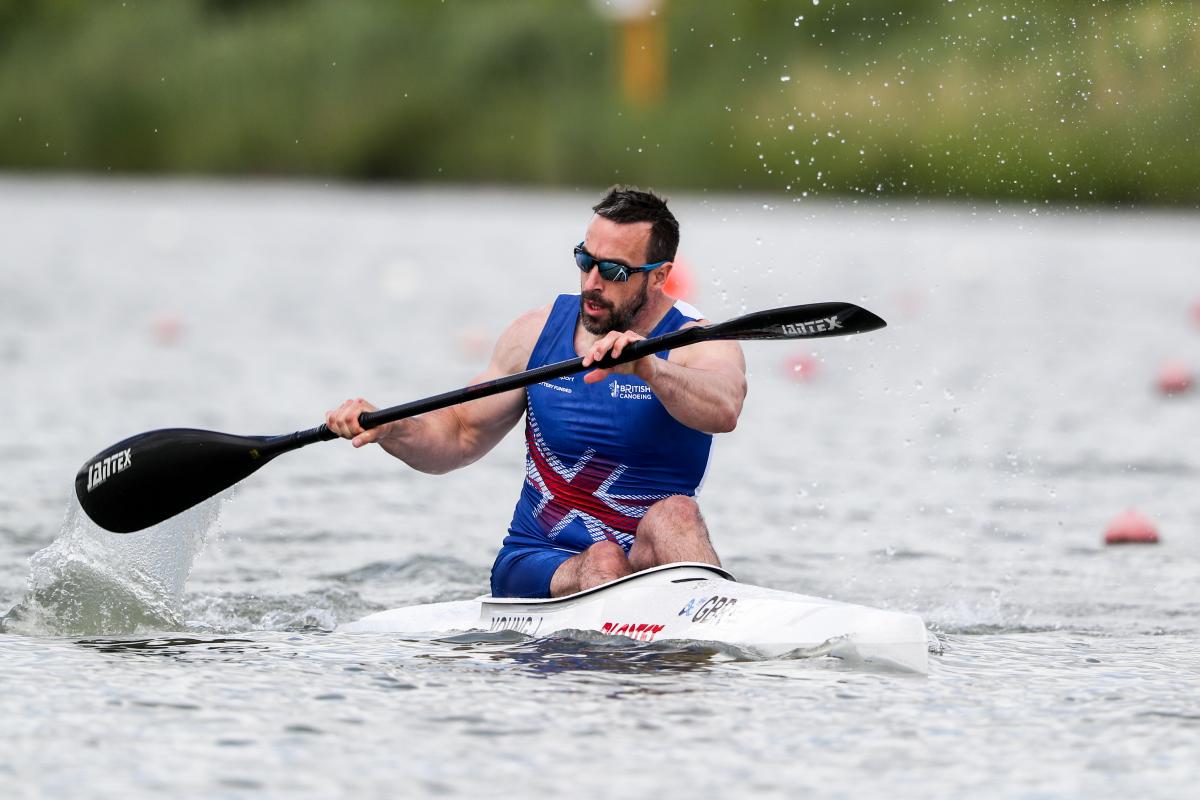 ⒸBence Vekassy
By Louise Wood and the IPC
Jonathan Young feels he has a lot more to prove, and he can show that at the Para canoe European Championships, which begin Friday (8 June) in Belgrade, Serbia.
The British athlete opened his season in May at the World Cup in Szeged, Hungary. Although he missed the podium in the men's KL3 with a fifth placed finish, Young understands it was early in the season.
"In terms of performance in Hungary, I'm happier with the front half of my race this year, but I still have some more top speed to come," he said. "I think I can finish a race stronger than I did. But I know all that will come as the season goes on."
"My goals [in Belgrade] are to put in a performance that I feel demonstrates my current ability but of course I also want to win!"
Young is among the 85 athletes from 18 countries looking for a European title, as the competition runs until 10 June.
The 33-year-old is the reigning European VL3 champion, but he will only compete in the KL3 category.
"I won't be eligible to race VL3 but I'll be supporting the two other boys on the squad, Jack Eyers and Dave Philipson, who will be trying to fill my shoes. I really think both of them have the potential to win," said Young, one of nine British canoeists competing for a podium in Belgrade.
Young would hope to make his name known more ahead of the Tokyo 2020 Paralympics, especially after the 33-year-old just missed out on selection for Rio 2016.
He injured his back in a skiing accident in 2012 and had an intensive stay in Stoke Mandeville's spinal unit. After being discharged, he attended a talent identification weekend for Para canoe and began training with British Canoeing.
"I thought of competing at Rio as a way of beating my injury," said Young. "By not competing, it made me realise that I have dealt with my injury well and made huge improvements which aren't quantified in competition, and that I will always be chasing improvements in terms of rehabilitation. But the Games were undoubtedly the biggest Para canoe event and I want to experience that from the start line."
To be able to compete at the Paralympics, Young has turned his focus from Va'a to the kayak, and is still getting to grips with the boat.
Most of his success has been in the Va'a events, and his first major medal in the kayak was bronze at the 2017 World Championships.
"I found it difficult to really perfect the technique and find the speed that I needed to be competitive, especially as I was reclassified to the KL3. I'm still working on that now!"
With his races lasting around 40 seconds over 200m, speed is crucial for a Para canoeist, so a lot of effort goes into training in the winter.
"We certainly do a lot more training than racing," Young said. "We train six days a week, with water sessions, gym work and physio led robustness sessions. Over the winter a lot of our time is in the gym doing a lot of pressing and pulling. We do longer paddling sessions but as the speed picks up we do more intense paddling sessions and develop more power in the gym. Hopefully some more of that speed work will have kicked in for the Euros!"
Young will have to get past Ukraine's Serhii Yemelianov, who owns the Paralympic title and also started 2018 strong with a win in Szeged.
Many of last year's champions will be back to defend their European titles in Belgrade, including Young's British teammates Emma Wiggs in KL2 and Jeanette Chippington in KL1 – both defending Rio 2016 champions.
Austria's Markus Swoboda will try to repeat his double gold in KL2 and VL2, but Australia's Paralympic champion Curtis McGrath has taken hold of the class.
More information on the 2018 Para Canoe European Championships can be found on the International Canoe Federation's website.