Sport Week: Brazil aim for top five finish in swimming
National team coach Leonardo Tomasello gives an insight into what it takes to train the best swimmers in the world.
20 Apr 2016
Imagen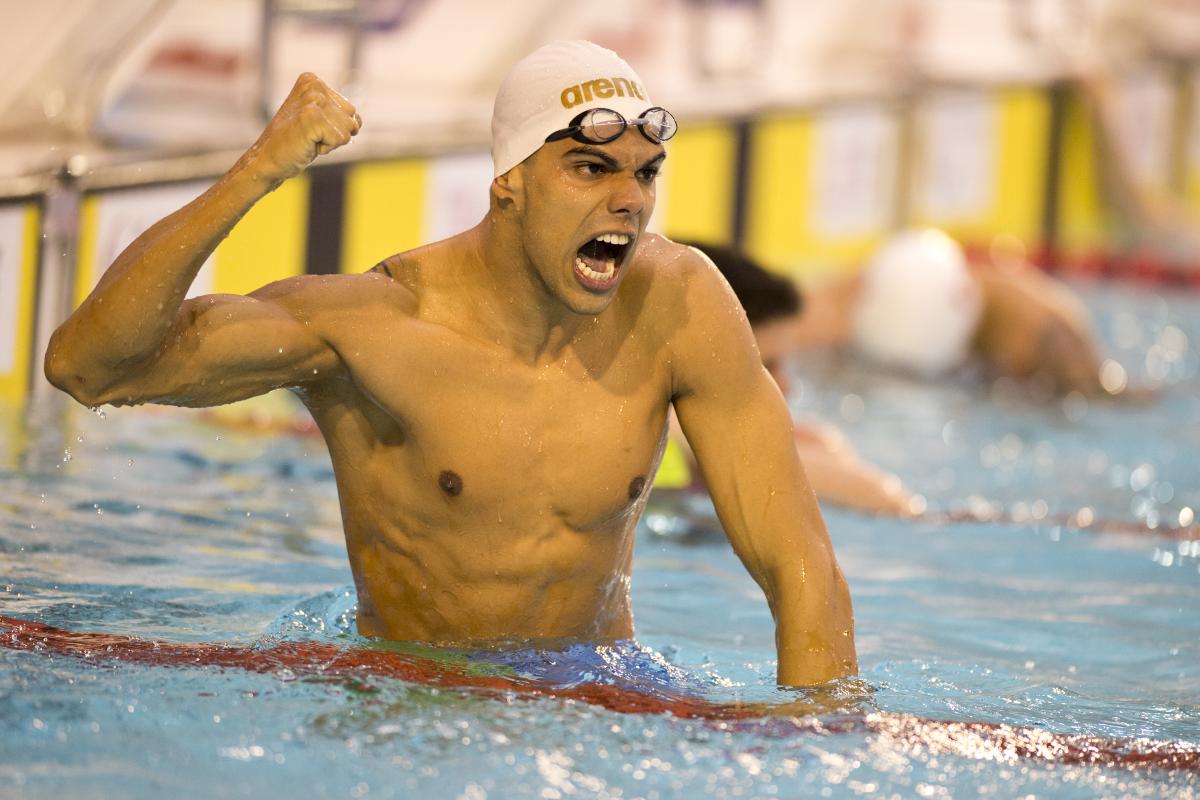 ⒸLuc Percival Photography. All rights reserved.
"You have got to invest in professionals that can enhance the performance of your whole group..."
Brazil's national team coach Leonardo Tomasello has spoken of his experiences of para-swimming and his country's aims for their home Paralympic Games taking place in Rio de Janeiro between 7-18 September.
Since Rio was awarded the 2016 Olympic and Paralympic Games in 2009, Brazil have become a top five performing country in swimming.
They have invested heavily in their para-swimming development programme and now have some of the most recognisable athletes within para-sport.
At the Rio 2016 Paralympic Games the team is targeting another top five finish in swimming, to fit with the same aspiration the Brazilian Paralympic Committee has for the overall medals table.
For Tomasello, it took just one athlete to inspire an entire generation of highly successful swimmers and be a turning point for para-swimming in Brazil.
"We took advantage of the fact that we had a multi-medallist [Clodoaldo Silva] in Athens [2004] and we spread the sport," Tomasello said. "They worked in order to not let it go unnoticed. When Clodoaldo emerged, we worked and developed names like Daniel Dias and Andre Brasil.
"So the secret was there, in the beginning of the process as a whole. If this had not happened, we would not be able to keep the same pace in terms of achievements."
Brazil finished ninth in the swimming medals table in Athens, with seven gold medals, six which belonged to Silva. In Beijing 2008, they moved one place higher and by London 2012 left as the fifth most successful para-swimming nation.
Dias, now a 10-time Paralympic champion, has always said he was inspired by Silva's performance. He experienced his own breakthrough at the 2010 IPC Swimming World Championships, leaving with eight golds just the year after Rio was announced as the 2016 Host City.
Then at London 2012, Dias put in his best performance yet, taking home six gold medals to add to the four from his debut at Beijing 2008.
Brasil, too, has been a major success story. With seven Paralympic titles from two editions, he also credits Silva as being the inspiration behind his own career.
Tomasello, who began his career in 2010 coaching able-bodied swimmers before moving to para-swimming, is now in charge of the national team and the pioneering Reference Centre for Paralympic Swimming in Sao Caetano do Sul.
When asked what differences there are between coaching para-athletes and able-bodied swimmers, Tomasello does not believe there are any.
"Actually I do not think we need to adapt," he said. "We have learned a lot since 2014 [when the Reference Centre was established], but there is something that does not change: you need to push your athlete to the limit regardless of his impairment or physical condition.
"You can also be in a situation in Olympic swimming when an athlete will not be in the best shape, or coming off an injury, so you try your best to put him in a good position. The same goes when it comes to Paralympic athletes."
The same conditions and resources are required for a good performance – investment, people, resources and competition.
"I truly believe a multidisciplinary team is an important thing," Tomasello said. "You have got to invest in professionals that can enhance the performance of your whole group, like physiotherapists, psychologists and so on.
"I also think the athletes need to travel a lot in order to compete and experience swimming abroad. That's what I think needs to be developed on a daily basis. Athletes need to start competing in their own country, and gradually evolve to continental and other international competitions."
Looking ahead to Rio 2016, Tomasello is cautiously optimistic about what his team can achieve. They have clear targets in mind of whom they need to overcome to reach their goal.
"We know that it is tough to fight against teams like Ukraine, Russia and China, but it is feasible to compete against Australia, United States and Great Britain," he said.
"We want to improve the number of medals we had in London 2012, and, obviously, also improve our number of gold medals."
Editor's note: Each sport on the Rio 2016 Paralympic programme will have a dedicated week of featured content published on paralympic.org. Every week a new sport will be featured and the series will run until September's Games, helping the public understand more about the 22 sports being contested in Rio.
_____
Sport fans from around the world can now buy their Paralympic tickets for Rio 2016 from authorised ticket resellers (ATRs).
The IPC's Global ATR is Jet Set Sports, and Rio 2016 tickets and packages can be purchased on the CoSport website.
Residents of Brazil can buy 2016 Paralympics tickets directly from the Rio 2016 website.