Sport Week: Rahman's coach strategises for the big lift
Ahmad Deljavan explains how he has built up the world's strongest Paralympian to reach 300kg in Rio 2016.
26 Jun 2016
Imagen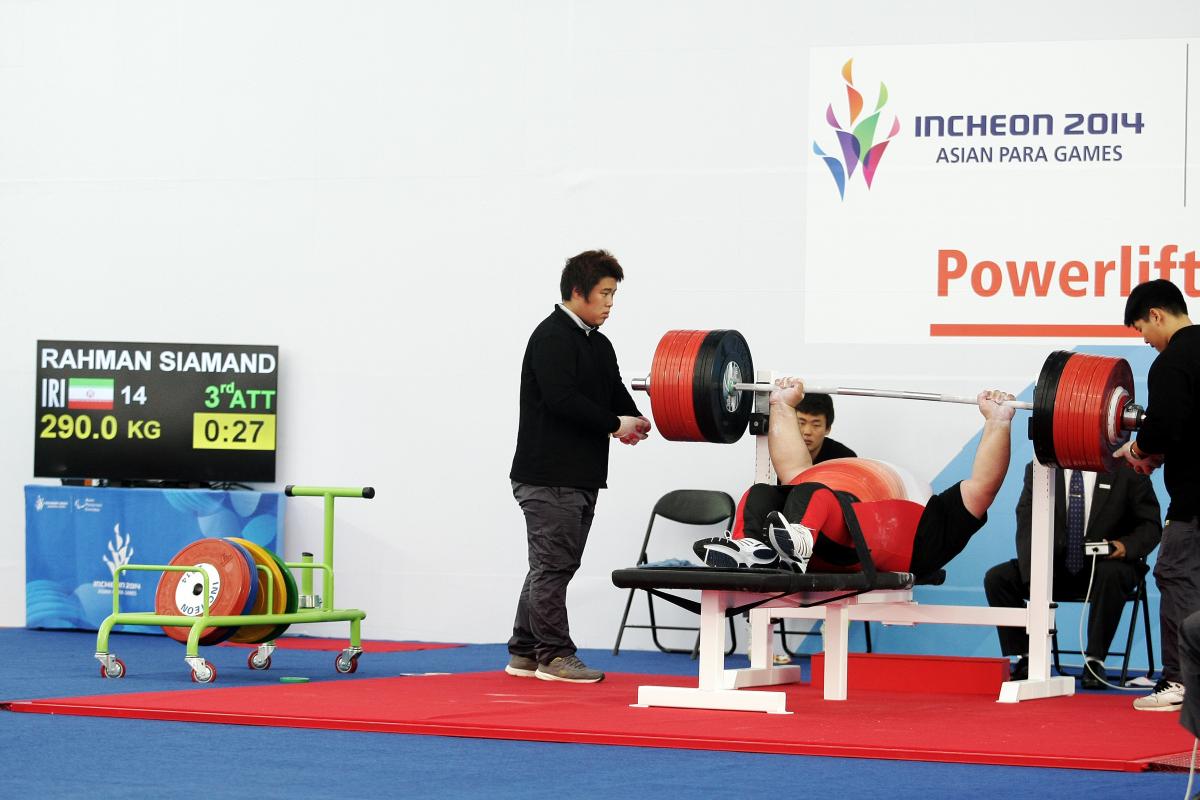 ⒸIncheon 2014
By Ivan Pasquariello | For the IPC
"Generally speaking, we have planned in a way to see Siamand's best performance in Rio 2016. I hope he faces no obstacles and lift the highest weight in the Paralympic Games.''
In deciding to lift a world record 300kg at Rio 2016, Iran's Siamand Rahman had a lot of guidance from his team, especially his coach Ahmad Deljavan who has strategically planned for the world's strongest Paralympian to peak this September.
While Rahman has surpassed 300kg during training sessions, Deljavan does not want Rahman to just jump into Rio and set the world record. Instead, it has to be a gradual build up.
"I always choose weights in a way that the first attempt be for stabilising his [Paralympic] Championship, and the second attempt being at most 10kg different from the world record and about 10kg less than that," Deljavan explained. "The purpose behind choosing such weights is that if Siamand Rahman in his third attempt fails to lift the weight to break the world record, fulfilling this goal will still be possible for him in his fourth attempt.
"However, if the chosen weight in the second attempt differs more than 10kg from the world's record, then it is impossible to reach it in the fourth attempt."
It was a strategy Rahman followed at the 7th Fazza IPC Powerlifting World Cup in Dubai, UAE in February.
Athletes are given three lift attempts, and the winner is the athlete who lifts the highest number of kilograms. Competitors are allowed a fourth lift if they wish to attempt a record.
Rahman, who competes in the men's over 107kg category, broke his own world record earlier this year with a 297kg lift.
In training Rahman, Deljavan said he is careful in deciding what the Paralympic champion lifts during sessions.
''Making balance in choosing weights is important; I never take risks," he said. "In fact for choosing weights in training sessions I use algebraic formula which is more reasonable rather than risky; I also do the same in competitions.''
Deljavan knows the expectations Rahman but their workouts are, in fact, no different from other powerlifters.
Rahman has training sessions for two weeks per month in a focused training camp that is under supervision of his technical staff and Deljavan. Then for another two weeks, Deljavan gives Rahman a training schedule to do on his own.
"It means that training the world's strongest man is the same as other powerlifters," Deljavan said. "We never put him under extra pressure because of his position as world's strongest man.
"Siamand is a wise and good-tempered man with high understanding. If he follows his training in this logical procedure, he can be present strongly in championships."
In the last training camp, Rahman reached 290kg. If they stick according to schedule, Rahman should lift his own world record of 297kg in the next camp. And if they continue to remain on schedule, Rahman is expected to reach 300kg in September.
He has done it before, unofficially.
"I wish to remind you that Rahman in his previous training camps has set records of 302kg, 305kg, 306kg, and 310k," Deljavan said. "Generally speaking, we have planned in a way to see Siamand's best performance in Rio 2016. I hope he faces no obstacles and lift the highest weight in the Paralympic Games.''
Editor's note: Each sport on the Rio 2016 Paralympic programme will have a dedicated week of featured content published on paralympic.org. Every week a new sport will be featured and the series will run until September's Games, helping the public understand more about the 22 sports being contested in Rio.
__
Sport fans from around the world can now buy their Paralympic tickets for Rio 2016 from authorised ticket resellers (ATRs)
The IPC's Global ATR is Jet Set Sports, and Rio 2016 tickets and packages can be purchased on the CoSport website.
Residents of Brazil can buy 2016 Paralympics tickets directly from the Rio 2016 website.