#Superhero Sunday: Evan O'Hanlon
Ahead of the IPC Athletics Grand Prix in Brisbane, Australia, Evan O'Hanlon tells us his idols.
01 Mar 2015
Imagen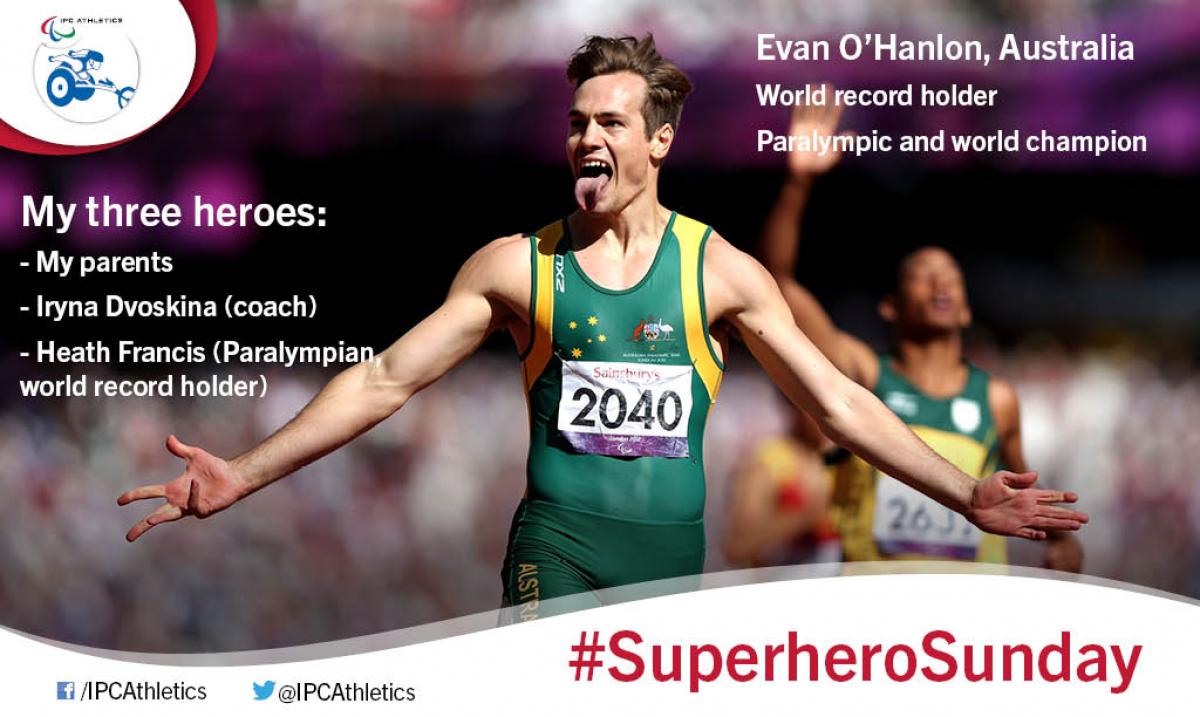 ⒸIPC
Next up in our #SuperheroSunday series we hear from Australia's Evan O'Hanlon, one of the star attractions at next week's IPC Athletics Grand Prix in Brisbane, Queensland (6-8 March).
The 26-year-old has dominated the T38 sprints since making his Paralympic debut at the 2008 Games in Beijing, China, where he smashed the world records in the 100m and 200m on his way to clinching three gold medals.
Since then, O'Hanlon has not looked back. He followed up two individual sprint titles from the 2011 IPC Athletics World Championships with triple gold two years later in Lyon, France. At the London 2012 Paralympic Games he successfully retained his two Paralympic titles whilst lowering his own world records once again, and was chosen to carry the flag for his home nation at the closing ceremony.
As the fastest T38 sprinter in the world, O'Hanlon is undoubtedly a sporting idol to many. Now it is his turn to reveal the three figures that have inspired him on his road to glory.
My parents
They've got six kids and I'm the only boy amongst five sisters. They have been a massive supporter of my career and I wouldn't be able to still be running now if they weren't behind me supporting me both financially and emotionally.
Iryna Dvoskina (coach)
She is probably the most dedicated and well educated coach I have ever met. She studied for nine years to be a coach and she throws her heart and soul into making her athletes the best they can be. She will turn up on weekends when you would not expect someone to be there.
Heath Francis (Australia's former three-time Paralympic T46 sprinter and current world record holder)
He used to be my training partner when I first got into the sport properly. He and Iryna both taught me how to be a professional athlete and how to be the best prepared I could possibly be to win on the day. Between him and Iryna I would not be as mentally tough as well as physically strong enough to run as fast as I can. He's still got a faster time than me over 200m which I've been chasing for a while!
Around 125 athletes from six countries will take part in the second IPC Athletics Grand Prix of 2015, the first time such an event has been held in the Southern hemisphere.