Swansea 2014 - Day 4 flashquotes
Read here what the athletes said after they competed at Swansea 2014.
22 Aug 2014
Imagen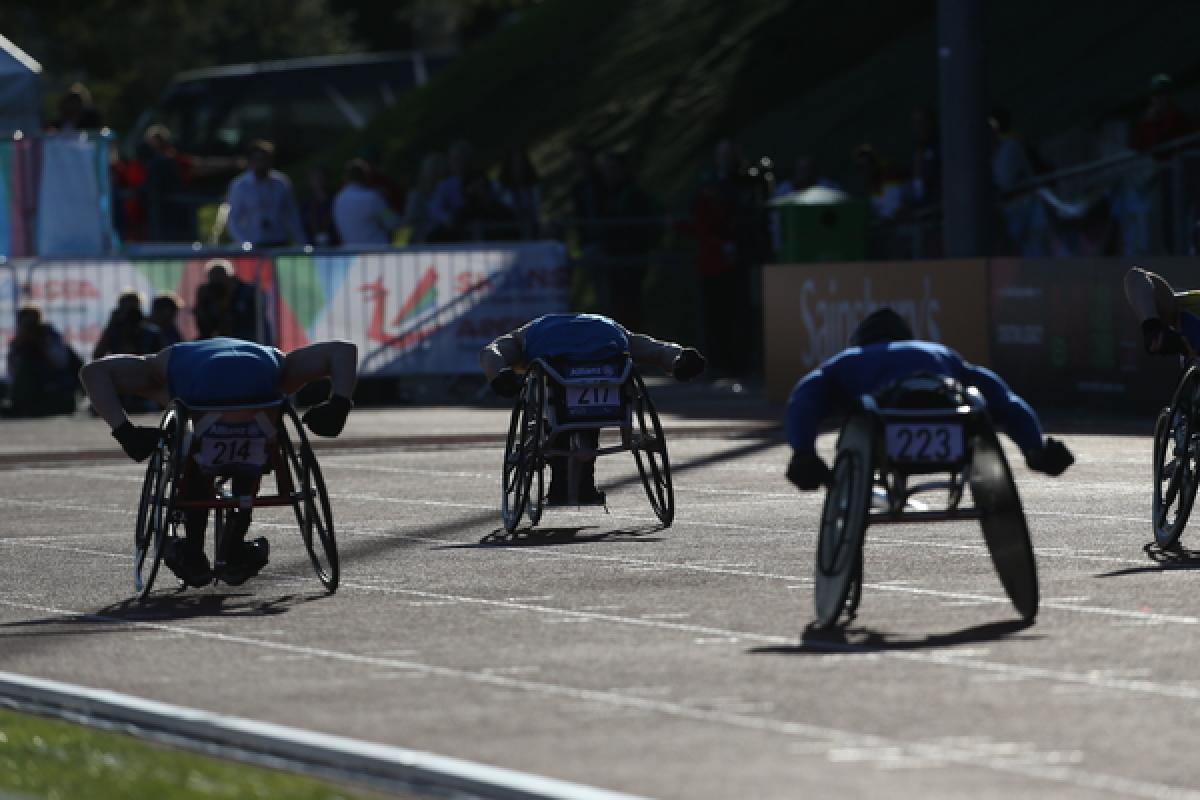 ⒸSporting Wales
By IPC
We are constantly updating this article with new flashquotes.
Men's high jump T44
Winner: Maciej Lepiato (POL) 2.17m World Record
"I was really surprised with Jonathan's jump. Last year in Lyon he jumped 2.08m and this year he jumped 2.15m so I'm scared of what he might jump in Doha. But I jumped two centimetres higher than him for a world record and that's very high. Before the competition I thought 2.14m would have given me a gold medal.
"I'm very happy that I jumped 2.17m today.
"I was worried about the weather because it was raining all day yesterday but the conditions were perfect for me today.
"I was felling good and I think I could have gone higher but I am happy.
"I have a holiday soon and then it's hard training to prepare for next year."
2nd Place: Jonathan Broom-Edwards (GBR) 2.15m
"I knew I had it in me today to go higher. I'm glad he (Maciej) took me on. I knew I would have to go higher. It's been a great atmosphere in here this afternoon; I've my parents, grandparents, brothers and friends here .the crowd gave met he inspiration although my legs were shot by the end. I have been playing at the 2.10 mark for a while and today adrenaline kept me going although I was really tired by the end.
"I am going to celebrate tonight then have a month or so off and come back even stronger. Watching the other athletes this week has been an inspiration. I have settled into the GB squad well, everyone has made me very welcome.
"I want to get stronger, slim down my upper body and jump higher by the time of the Worlds next year. I also want to increase my ranking in able-bodied."
Men's 400m T20 Final
Winner: Ruud L F Koutiki (ITA) 49.73s
"For me there is a great satisfaction because it's my first IPC victory. I was holding the Spanish and Ukraine athletes at the last bend and I felt I had more to give.
"I want to thank my coach Mauro and my friends in Ascoli Piceno.
"I dedicate my medal to my grandma who passed away a few days ago.
"My next and most important goal will be Rio if that's possible."
Women's long jump T44
Winner: Stef Reid (GBR) 5.32m
Yeh I'm so happy, this is the first time I've won a title. It's not the same a world records, this is first time I'm going to be able to stand in the middle of the podium and I don't think I've really realised how much I've wanted this. London 2012 was great but it wasn't my anthem, it didn't feel 100% like my moment. I'm really excited and I'm really nervous, I just don't know what it feels like. I've wanted to know for so long, this is a great way to end off the year.
There's nothing I can do to affect ……. Game, we're on the runway independently. To be honest I try and not look at her, I don't care what she jumps because regardless I'm still going to try and jump my furthest and commit 100%. I did catch a few of her scores though and 5.28m is far too close for my liking and the problems is that you can tell by the crowd. I can tell by the crowd's reaction. The French are so loud you can always hear them "allez, allez, allez" but it's good. I want to go in to every competition feeling like I'm going to win by a metre but it's not realistic and not at this level, the way Paralympics has progressed and it's good to have a rival like that. It keep Rana and I honest, it's makes us work really hard, he's really competitive too.
Men's 400m T47 Final
Winner: Alexy Kotlov (RUS) 50.04s
"To beat the world champion is an incredible feeling. I have trained very very hard for this moment and I am proud to represent Russia and win the gold medal. It was a very tough race but I am very happy."
Women's Long Jump Final T44
Winner: Stef Reid (GBR) 5.32m
"I'm so thrilled. I've wanted this for such a long time and I am just so proud I could win a gold medal in front of a home crowd.
"Marie and I have been competing against each other for so long I knew it was going to be a very tough competition and I would have to be at my best.
"The conditions were not easy but it gives me great confidence that I am able to jump well in tricky conditions, that will stand me in good stead for the future.
"Swansea has done a great job with these Championships, there is no better place to compete in the world than in the UK."
2nd Place: Marie-Amelie Le Fur (FRA) 5.28m
"It felt good and it was a really good jump but Stef jumped very well,
"I was a little tired after winning gold in the 400m this morning but I came to learn and progress and I am happy with my performance.
"Now it's time for a holiday and to come back to train with fresh eyes."
Men's Discus F44 Final
Winner: Dan Greaves (GBR) 62.34m European Record
"I am delighted to have broken my PB – I can't quite believe it, smashed the 60m barrier and a European record as well. To do it so emphatically is unbelievable. It was a really tough competition and I am over the moon with my PB but it is agonisingly close to the world record.
"It was tough after the Commonwealths to refocus but I knew what I was capable of. I have to thank The National Lottery for the time and opportunity to refocus. I believe in our system and it clearly works. I wanted to push forward and try even harder. I now have a big weekend ahead and I am looking forward to getting some rest and then push on to get a world record. I have sent out a message to Jeremy Campbell that he can't have it all his own way."
Men's 400m T53 Final
Winner: Moatez Jomni (GBR) 52.78s
"I am very, vey proud. My first gold medal I couldn't be happier. A bronze in the 800m and now a gold. I really wanted the gold and it is a shame it came from a DQ. I'd prefer to be a champion the right way. He has a lot more experience than me. I have never looked back since starting working with Jenny Archer – she is a legend. She is always in my head. Having David (Weir) on board is such a privilege, the man knows his stuff and passes it through. I'd love to carry through his legacy."
Men's 200m T54 Final
Winner Kenny van Weeghel (NED) 25.73s
"I had a real struggle with the wind, I was going left to right and I was on edge about going out of my lane.
"Leo picked up pretty well over the last 100m and he was getting very close, I was keeping a look out for Marc because I thought he would come up but the last 100m were good for me.
"I am proud to represent The Netherlands, we have a very close knit team especially in wheelchair racing and we all feel each others' performances – good or bad.
"The race did not really go to plan but the plan was to win a medal so I am happy."
2nd Leo Tahti (FIN) 26.07s
"The result is good, to win a silver medal and it was not big margin between me and Kenny. But I did a big mistake so I am not happy with that.
"The conditions were very heavy, the 400m was very bad for me two days ago but I felt a lot better today.
"Swansea was my main target for the season, my last race was in June and since then my focus has been on these Championships.
"The gold in the 100m and the silver today is almost perfect but I still feel like I can do better.
"After this I will take a holiday and then I get my new racing chair and focus on the World Championships next year."
Women's 800m T34 Final
Winner: Hannah Cockcroft (GBR) 2.15.16
"I have never been so nervous about a race, I was feeling sick all morning. I would have been happy with a silver medal because this is not my event but I am so chuffed I managed to get gold.
"I thought that if I take off hard then I will give myself a chance. It got hard towards the end but I thought I have to find something extra to keep going.
"It was a really tough race because of the wind but I could not be happier.
2nd Melissa Nicholls (GBR) 2.16.68
"I just had to go for it. I had a few plans, in the end I went with plan 'B' which was to go out as hard as I could.
"Down the home straight I was getting slower and slower but I managed to hold on.
"I have come a long way from last year and the races are getting tighter, there are two more years until Rio and I want to continue to close the gap and hopefully get to first place."
Women's club throw F32/51
Winner Joanna Butterfield (GBR) European Record 17.68m 1110 points
"It's all pretty amazing this is all still pretty new to me. To throw a European Record with my first throw I really didn't expect it to turn out like that.
"I knew I was training well and I could get close to it. I spoke to Cath O Neill (ER holder) before we started and she asked if I was going to break it. I'm just so pleased I was able to pull it off.
"It is a surreal experience and I'm very proud to be able to pull on the GB vest."
2nd Josie Pearson (GBR) 14.02m 941 points
"It was quite a frustrating competition for me. There was a technical issue with the way I was throwing and they were pulling me up on it. All season the rule changes have been in place but this is the first time someone has pulled me up on it. It's just a shame it happened in a European Championships.
"I'm pleased with a silver medal in what is my second choice event – so I can't complain."
3rd Gemma Prescott 20.39m 905 points
"It's not very often I get to throw first and it was a bit of a long wait. It's a new experience for me but I'm delighted with bronze.
"I was a little bit down on my usual distance but I think that may have been down to the conditions. I've really enjoyed the championships and it's great to have something like this in Swansea."
Women's 400m T44 Final
Winner: Marie-Amelie le Fur (FRA) 1.01.41 – world record
"I feel very good, it was a good day without wind and with the sun. There were a lot of tough competitors on the track and it's a beautiful day to me.
"The girls pushed me along, I started just behind Marlou and I got off to a very good start. Irmgard also had a good start and she tracked me to 200m, it's a bit of a collective record.
"I didn't expect the world record because we were in Championship competition but I knew I could run under the world record but I could not be sure I would.
"It's very important to me to win this medal and I am happy to share the moment with my family and the rest of the French team.
"I have the long jump to come and maybe we can push each other to another world record."
Men's 100m T52 Final
Winner – Beat Boesch (SUI) 18.62s
"The race was very good, I had a very good start and looked to my left side for the Portuguese athlete and I had a glance of a wheel there so I pushed really hard.
"I am really happy with the medal but not the time because it is not a fast track and there is lots of wind.
"The time is not good but I am pleased with the medal.
"I love it here in Swansea, I love the people and now it's time for a holiday."
Women's javelin F34 Final
Winner: Birgit Kober (GER) 19.56m
"It was a very nice competition. It was with new rules with sitting throws so it was a bit hard for us but I am very happy I've had such a good result. I want to change to standing throwing because I don't like these new rules but to finish a chapter with a gold is perfect.
"Your Championships here and your people here in Wales are really nice and everyone you meet wants to be involved in what you're doing. I like it very much here."
Women's shot put F35/36 Final
Winner: Mariia Pomazan (UKR) 11.93m
"The conditions made it impossible to get near my world record but I am very pleased to have won.
"The gold medal is the most important thing and I am very happy with my performance."