Swansea 2014 - Flashquotes Day 1
Find out what the athletes said after they competed at Swansea 2014.
19 Aug 2014
Imagen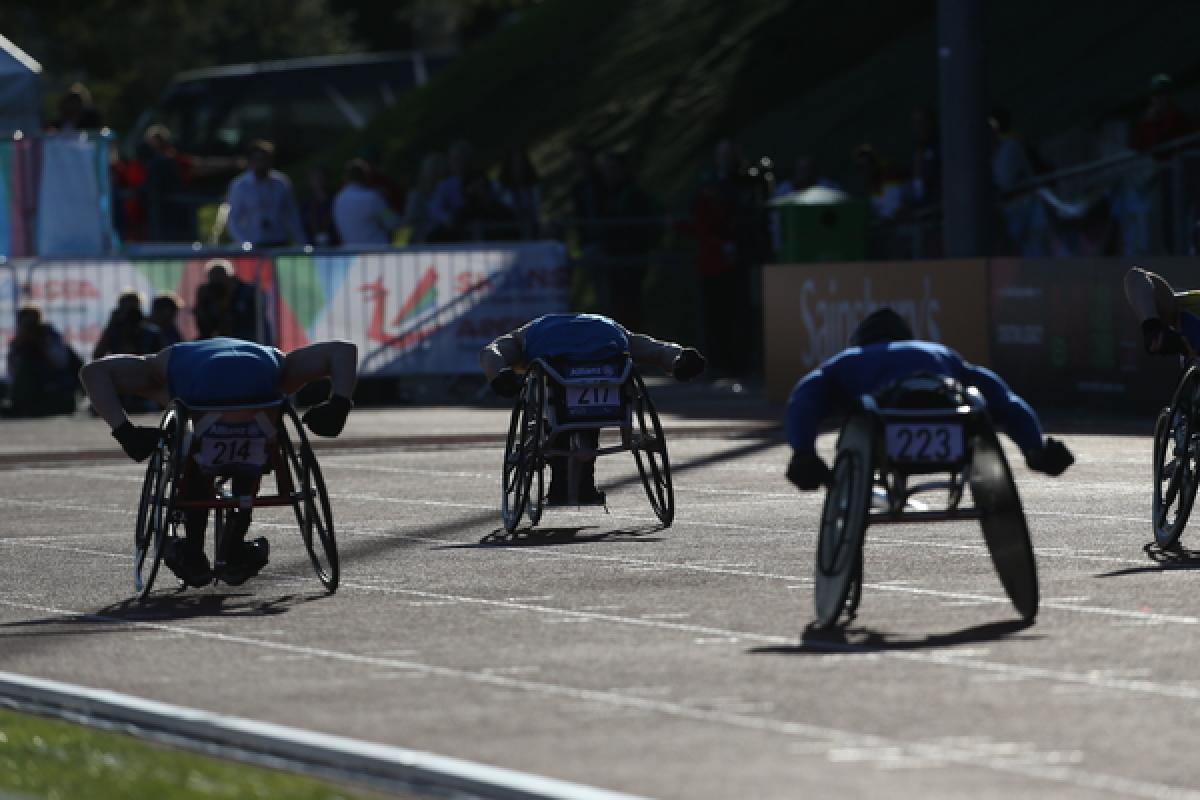 ⒸSporting Wales
By IPC
Men's discus F34 - Daniel Scheil (GER)
"It was amazing and a wonderful experience. It was a very unexpected win for me as it's not my strongest discipline. It's a wonderful start to my championships."
Men's 800m T53 - Pierre Fairbank (FRA)
"I'm very happy because the last time I won at the European Championships was 2003, so I have had to wait for a long time.
"The race was very technical and I knew there was going to be a strong wind, so I didn't want to go to the front too early. I waited for my turn. I pushed hard in the last 100m of the sprint finish."
Men's 400m T51 - Toni Piispanen (FIN)
"It was a challenge winning the race. I had some problems after 200 - I couldn't breathe well and it was quite painful. I'm very happy to win. I'm competing tomorrow in the 100m so I'm looking forward to it."
Triple jump F47 - Georgios Kostakis (GRE)
"I feel great. This is my first major gold medal. I won bronze at the World Championships last year so it's nice to go even better with a gold. We were not happy because the wind was in our faces, so the distance weren't great.
I was hoping for more but the medal is the most important thing."
Men's javelin F42 - Helgi Sveinsson (Iceland)
"It went as I planned except I was hoping for world record but sometimes it does not go that way. The conditions were as good as I could have hoped for but it was not the day. But I am happy as I can be to win the title, this has been my focus all year."
Women's 100m T34 - Hannah Cockroft (GBR)
"I'm glad I've got another gold but I have got to defend all my medals and that is going to be hard. The big challenge for me will come on Friday when I attempt a new distance (800m).
Men's 100m T34 - Henry Manni (FIN)
"It was not a very fast race – it was quite tough. The most important thing is the win. It doesn't matter what the race is like when you win the title."
Women's 100m T37 – Mandy Francois-Elie (FRA)
"It was very difficult because of the wind and the false start. But I am very happy to win the title. I was competing against some very strong athletes so that makes it very special."
Women's 100m T44 - Marlou Van Rhijn (NED)
"It was so cool. It was the first time I've had a title to defend so I was pretty nervous at the start. I'm just so happy I could win that one.
"My start is always quite good, and the end part is always the fun part for me. Considering the headwind it was a tough race but also a very fun one. The crowd were very enthusiastic and it was a pleasure to run in front of them."
Men's 100m T44 - Jonnie Peacock (GBR)
"It's a nice relief. There was a lot of pressure on me coming here. When everyone is telling you you're the favourite then it adds to the pressure. I knew it was a good field. Felix is a very good athlete and he's going to get better.
"It was about executing and laying down the start. I knew if I could get a good start it would put the other guys under pressure. I'm happy.
"It was never going to be a rapid time because of the conditions and the head wind.
Women's 100m T42 - Martina Caironi (ITA)
"It's Italy's first gold so I'm very pleased. But I think it'll be the first of many. Although it was off my personal best it was very windy so I'm happy."
Men's 100m T12 - Jason Smyth (IRL)
"I feel good it was good to win. It's really nice to be here in Swansea, the track is well set up. Thanks to everyone involved from officials to volunteers. I'm focused on the 200m now and then time for a break."
Men's shot put F20 - Jefferey Ige (SWE)
"I'm really happy it was just one centimetre from my personal best. The conditions were good, it started to rain a little in the middle of the competition but my technique was good. That's my second European title and it always feels good to win."
Men's long jump T11 - Rusian Katyshev (Ukraine)
"Of course I am happy because it is a victory but I would have liked to have jumped a little bit further. But I have to thank my supporters because they helped me so much on my sixth attempt and that is why I won."
Women's shot put F37 - Eve Berna (Czech Rep)
"I'm very happy with a new personal best and the new record.
"I set my previous record two years ago in London so it has taken me a little while to break it but I am very pleased.
The live stream from Swansea 2014, together with videos on demand of individual races, are available to embed on websites in some territories via the IPC's YouTube channel. For further information please contact IPC Digital Media Manager Natalia Dannenberg-Spreier (Natalia.dannenberg@paralympic.org).
In addition, HD quality broadcast footage from Swansea 2014 is available from the IPC's Broadcast Manager Jose Manuel Dominguez.
Daily highlights will be available for digital channels via Omnisport, whilst individual races as video on demand can be embedded via Perform's e-player