Sweden's Normann completes grand treble as Novi Sad 2021 concludes
Serbian city wraps up last international event for shooters ahead of Tokyo 2020 with 105 athletes from 20 countries competing
05 Jul 2021
Imagen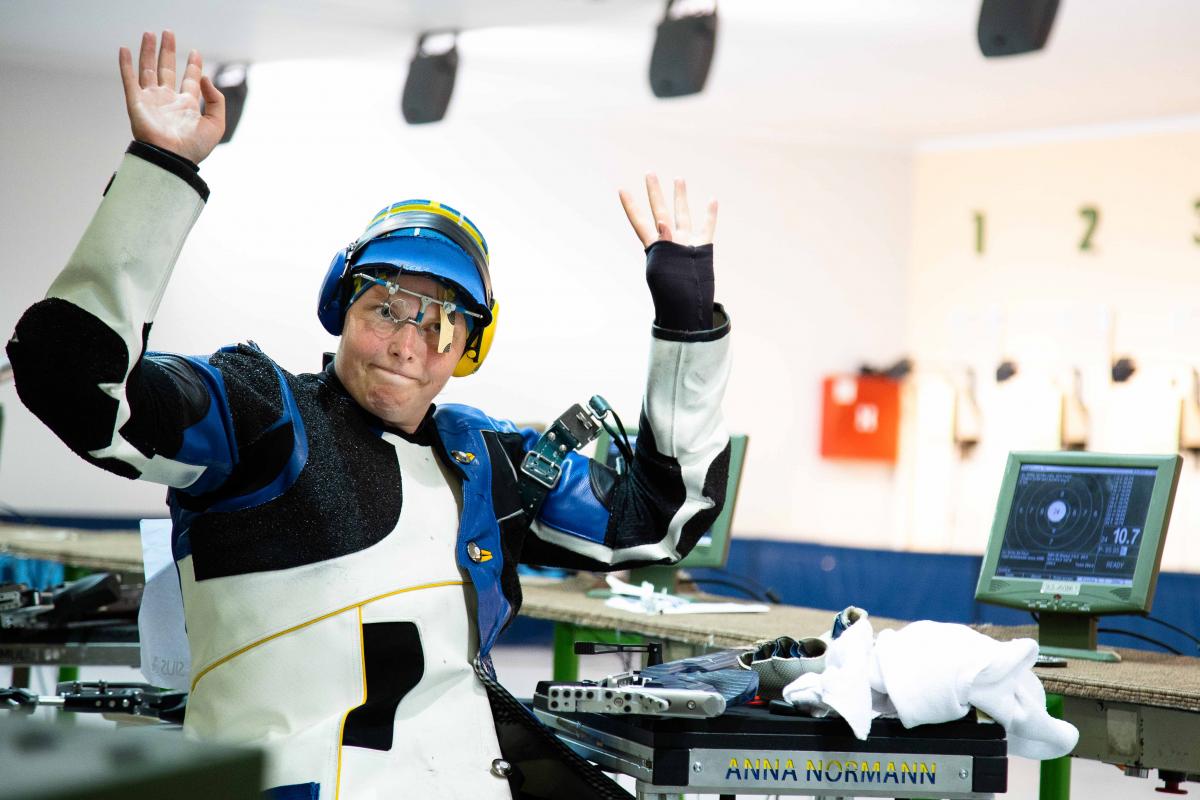 ⒸDjordje Janjic
By World Shooting Para Sport
Sweden's Anna Normann displayed great shooting skills to clinch three gold medals, including one on the final day, as curtains fell on the Nov Sad 2021 Shooting Para Sport Grand Prix at the Air-Weapon Shooting Range on Sunday (4 July).
Normann, a double silver medallist at the Cheongju 2018 World Shooting Para Sport Championships, led from start to finish to win the women's 50 metres rifle three positions SH1 (R8) event with a score of 460.5 points on the final day. She finished ahead of Ukraine's Sydney 2019 World Championships medallist Iryna Shchetnik, who ended with 456.0 points, and Natascha Hiltrop of Germany, a Paralympic medallist, with 443.3 points.
The officer in the Swedish Army added her second gold on the penultimate day when she won the mixed 50m rifle prone SH1 (R6) final with a score of 248.2. She finished yet again ahead of Hiltrop (246.5), while the bronze went to home shooter and Paralympic gold medallist Laslo Suranji (225.3).
Normann had opened her gold winning spree on the first day with a victory in mixed 10m air rifle prone SH1 (R3) finals, thanks to her steady shooting to total 254.4 points. Slovakia's Radoslav Malenovsky stayed close to the leader finishing on 253.3 points for the silver, ahead of Shchetnik (231.7).
Sweden also had a silver with 248.1 points in women's 10m air rifle standing SH1 (R2) final, as Shchetnik topped the podium with 249.1 points while Serbia's Jelena Pantovic (226.4) took the bronze.
The triple gold at Novi Sad 2021 will surely be a confidence booster for Normann, who took up Shooting Para Sport only in 2018 after representing Sweden in able-bodied shooting at the world championships in 2010, 2014 and 2018.
The Swedish team took another gold through Philip Jonsson who pulled off a narrow victory over Ukraine's Rio 2016 Paralympic champion Vasyl Kovalchuk in mixed 50m rifle prone SH2 (R9) finals.
Jonsson finished on 249.9 points riding on his four perfect 10s in the final series, just 0.6 points ahead of Kovalchuk. Home shooter Dragan Ristic shot 228.9 points to take the bronze.
HOME GLORY
Ahead of the mixed 50m rifle prone mixed SH2 bronze, Ristic had claimed the mixed 10m air rifle prone SH2 gold with a total of 255.4 points. Sweden's Jonsson settled for the silver this time with 254.1 points, ahead of Kovalchuk (232.7).
Suranji also added a bronze to Serbia's medals account in men's 50m rifle 3 positions SH1 (R7).
Meanwhile, Denmark claimed two gold medals through Jan Winther and Jens Frimann. Winther shot 246.9 points to finish ahead of Ukrainians Andrii Doroshenko (244.8) and Yurii Stoiev (221.9) in men's 10m air rifle standing SH1 (R1) finals. Frimann was the winner in men's 50m rifle 3 positions SH1 (R7).
TOP TWO POSITIONS FOR UKRAINE
Ukraine claimed the first-second positions in mixed 10m air rifle standing SH2 (R4), thanks to brilliant shooting by Vitalii Plakushchyi who totalled 252.3 points and Kovalchuk (250.2). Serbia's Dejan Jokic finished third with 229.7 points.
Ukraine also claimed gold through multiple-time world champion Oleksii Denysiuk in the mixed 25m pistol SH1 (P3) gold with a score of 32. North Macedonia's Olivera Nakovska Bikova claimed the silver with 25 points ahead Sweden's Joackim Norberg (21). Apart from the silver, Bikova had topped the women's P2 10m air pistol SH1 podium.
AZERBAIJAN'S ZEYNALOV SHINES
In other finals, Azerbaijan's Kamran Zeynalov had surprised Denysiuk (231.8) and Sweden's Joackim Norberg (209.9) to take the men's P1 10m air pistol SH1 gold with 236.4 points. Meanwhile, Hungary's Krisztina David claimed the mixed P4 50m pistol SH1 gold.
As many as 105 Para shooters from 20 countries competed at the Novi Sad 2021 Grand Prix, which was the last event and more of a preparatory event for the shooters ahead of the Tokyo 2020 Paralympic Games. All results can be found here.
The Shooting Para Sport events at the Tokyo 2020 Paralympics will take place from 29 August to 5 September at the Asaka Shooting range.