Teenage Talents - Ntando Mahlangu
The South African hit the headlines at Rio 2016 winning 200m t42 Paralympic silver aged just 14 years.
11 Apr 2017
Imagen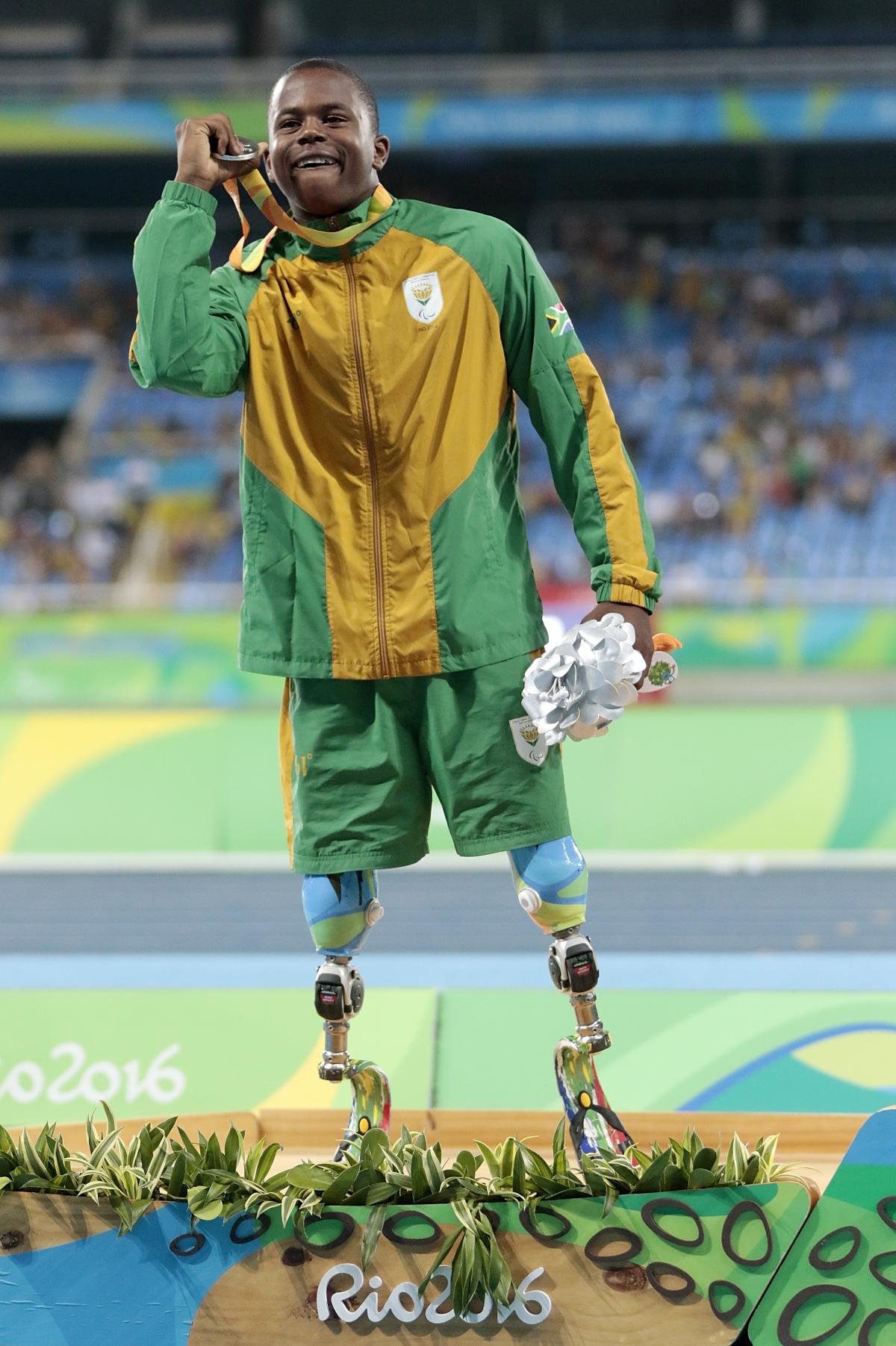 ⒸGetty Images
By IPC
"My disability has never been a problem to me. I was always active."
In our new monthly series 'Teenage Talents' we hear from the next generation of young stars who have already shown the capacity to excel on the world stage.
For April, it is the turn of South Africa's young amputee sprinter and Paralympic silver medallist Ntando Mahlangu.
--
September 2012 was a momentous moment for many of the world's Para athletes – competing at the London 2012 Paralympic Games, memories were made; gold medals were won and lost.
For South African Ntando Mahlangu that time was also significant – for it was when he received his first-ever set of blades, at just 10 years-old.
Born with hemimelia, which meant his legs didn't fully develop below the knees, Mahlangu spent much of his early life in a wheelchair – although it did not stop him from playing with his friends.
Then in 2012 the decision was made to amputate both legs at the knee. In September that year he received his first set of blades through the South African charity Jumping Kids – and he hasn't looked back.
"In 2012 my life changed – I'm not saying my life changed because I was not disabled anymore, but my life changed because I was tall enough to look at someone in the eye and say hello to them; those small things," explained Mahlangu, who comes from Mpumalanga province in the north east of South Africa.
"My disability has never been a problem to me. I was always active. When I was young I was on my knees the whole time – so I could still walk, but not a long distance.
"I did play soccer with my friends, but sometimes there were disadvantages – like I couldn't head the ball because they were taller than me. I got a bit frustrated."
Four years later Mahlangu was in Rio de Janeiro, Brazil, winning his own Paralympic medal.
At just 14-years-old – one of the youngest competitors at the Games – he finished second behind Great Britain's defending champion Richard Whitehead in the men's 200m T42, setting a new African record (23.77) in the process.
Not that the teenager's success was a surprise to many.
In 2015 he won the 200m and 400m T42 at the IWAS World Junior Games in Stadskanaal, the Netherlands; he also returned home with the 'Athlete with Potential' award.
A year later at the IWAS Under 23 World Games in Prague, Czech Republic, he won four gold medals and set a new world record in the 400m T42, his favoured distance, clocking 52.61. This time he went home with the 'Best Athlete of the Games' award.
As well as winning multiple national titles in South Africa, at the Grand Prix Final in London last July, he finished runner-up to Whitehead.
Despite that success, and the promise that it holds for the future, Mahlangu remains gracious, grounded, and most of all, humble.
"At first it wasn't about me going to the Paralympics or being the best. At first it was just me enjoying what I do, and what I do is sport," he explained.
"People always ask what are the things you enjoy doing most since you got your legs and that was making my Grandma tea. From birth I couldn't do that because I couldn't reach the table, but now it is the thing that I do.
"If I achieve my goals I always say I am honoured to do that because sometimes there are people that want to break their goals but they are not capable."
With Whitehead set to retire from the track after July's London 2017 World Para Athletics Championships, Mahlangu could well be the man to beat come Tokyo 2020.
Eloquent, friendly and undeniably talented, he has the potential to be a major star in time for the next Games – but unsurprisingly, he doesn't let such thoughts get to his head.
His ambition is not to be the most successful athlete the world has ever had, but the most humble.
"I always say for me it would be an honour to go to Tokyo. I would like that. I don't like taking conversations forward to say 'I'm looking forward to running at Tokyo 2020,' because tomorrow I could go run, and I could pull a hamstring. And that could be a thing that I struggle with, so what then?
"I want to show people that if I can respect the person that I am running next to, then the other guy out there sitting at home can also respect his wife, his children; we can respect each other.
"You don't have to be the President to make a change in your country. You can just be a normal guy and you can make a change."
Mahlangu is likely to be one of around 1,300 athletes from over 100 countries competing at the London 2017 World Para Athletics Championships. To buy tickets, please click here.