Tel Aviv 1968: Baruch Hagai relives gold
Israel's "Mr. Basketball" led hosts to unforgettable win
03 Nov 2018
Imagen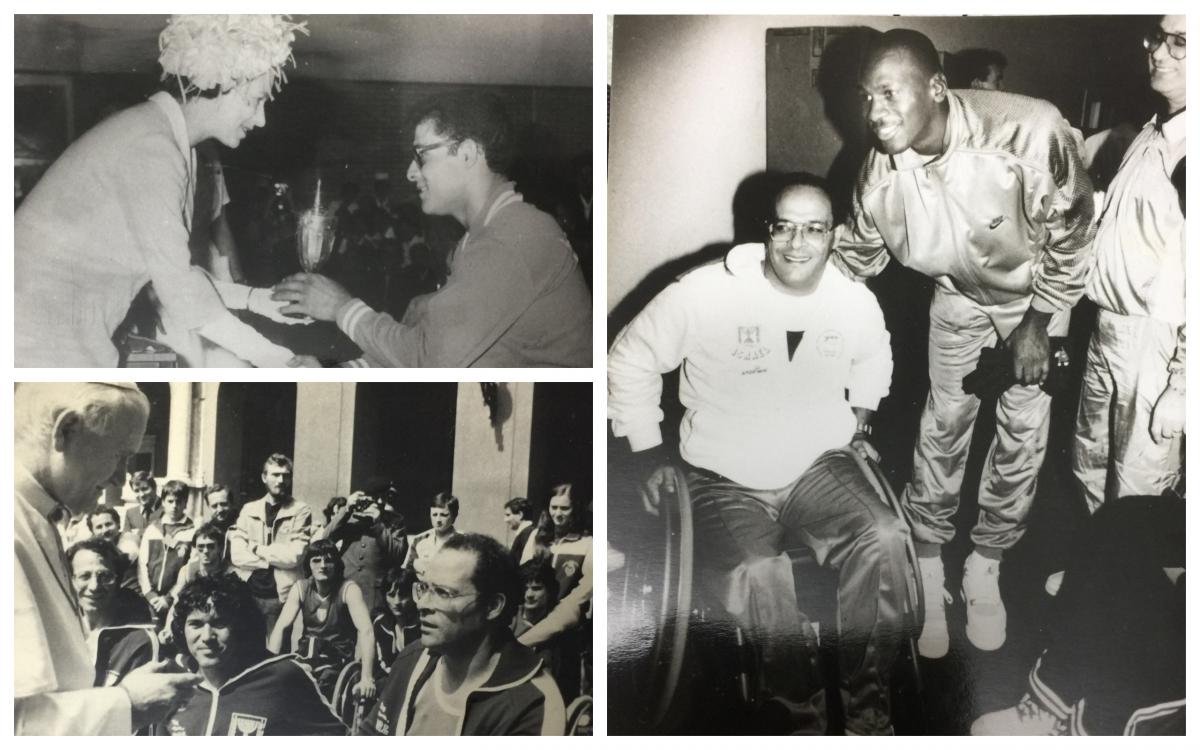 ⒸNPC Israel
By IPC
"Para sport totally changed my life. It opened up the international world for me and gave me a new-found confidence that I had never experienced growing up. For the first time, it felt great and unique to have a disability."
Fifty years ago, the wheelchair basketball gold medal game was such a hot ticket at the Tel Aviv 1968 Paralympic Games that the players themselves could not get inside the venue.
As we countdown to the golden anniversary on Sunday (4 November) of one of the pivotal Games in the history of Para sport, one of the athletes who starred in them shares his story.
Baruch Hagai, a multi-sport Israeli Paralympian who was 24 years old at the time, had already won a pair of table tennis titles before he competed in the wheelchair basketball final.
Around 5,000 people packed into the open-roof court to see home favourites Israel take on USA. It was a great achievement to have a capacity crowd, but one that left the athletes' parents no place to sit.
"The entire [Israeli] team decided that they would not play if their parents were not able to enter," Hagai recalled. "[So] a few moments before the game, seats were found for the parents."
"The game was very close," he said. "We were in the lead with the fantastic crowd behind us and we won 47-37."
Attending the Games was the then-Minister of Defence Moshe Dayan, whom Hagai refers to as the "architect of the Six Day War of Independence" that took place in 1967. Dayan presented the gold medals to the Israeli team after their victory, and Hagai felt it was an extra honour.
"For a small country like Israel that was only 20 years old since its independence, to host a Paralympic Games is an event that cannot be taken for granted," Hagai said. "This proves that Israel was among the leading nations for disability sports in those days."
Paralympic career kicks off
Tel Aviv 1968 was the start of Hagai's Para sport career.
He went on to compete at four more Paralympic Games (Heidelberg 1972, Toronto 1976, Arnhem 1980 and Seoul 1988), collecting a total of 10 medals including eight golds..
He also competed in athletics and swimming. But Israel's "Mr. Basketball" was most successful in wheelchair basketball and table tennis.
Just do not ask him to choose which of the two he likes more.
"It's like asking which son do you like more? It's impossible to answer, they were both my babies," he said.
From 'frustrated kid' to champion
Hagai was born in Libya, and contracted polio when he was two. He moved to Israel in 1951 at seven years old. At 16, he attended the Israel Sport Centre for the Disabled (Spivak Centre), where he experienced Para sport for the first time. It was a life-changing moment.
"I had to face my challenges growing up in a regular school with able-bodied children. It was always very frustrating for me to play sports with the kids at school as I was unable to participate fully. When I became a Paralympic athlete, I was treated completely differently. Suddenly, I was the champion and not the frustrated kid," he said.
"In the 60s it was almost like today flying to the moon to be able to travel abroad to sporting competitions. It was something out of this world," Hagai said.
Hagai is currently the head coach at the very place where he first picked up Para sports, with responsibility for all sport activities at the Centre. He was recently appointed head nation coach of the Israeli boccia national team.
"Para sport totally changed my life," Hagai continued. "It opened up the international world for me and gave me a new-found confidence that I had never experienced growing up. For the first time, it felt great and unique to have a disability and to be able to complete alongside other disabled athletes."