Ten things we learned from the 2014 para-swimming season
Amazing comebacks, emerging faces and new rivalries will punctuate the two years before Rio 2016.
17 Sep 2014
Imagen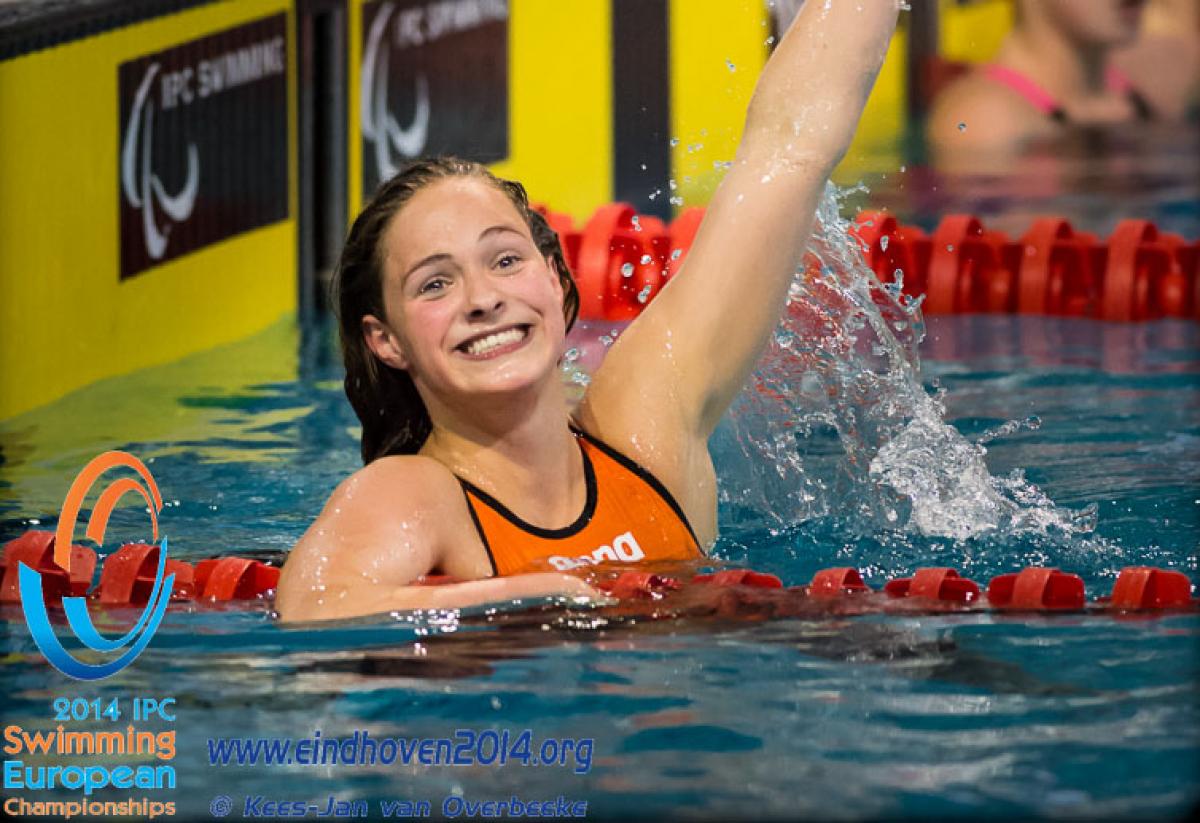 ⒸKees-Jan van Overbeeke
By IPC
Simmonds has said that she is glad to have some competition in the pool and watching this rivalry develop ahead of Rio 2016 is a mouthwatering prospect.
1. The future is bright
At the 2014 IPC Swimming European Championships in Eindhoven, the Netherlands, over 70 medals were won by swimmers under the age of 18 across 161 medal events.
Stand-out performances included the hosts' 13-year-old Chantalle Zijderveld who won the women's 100m breaststroke SB9 in a new European record time and Poland's Oliwia Jablonska who left Eindhoven with four medals at just the age of 17.
2. Teresa Perales is back and stronger than ever
Serious illness in 2013 left Spain's multiple Paralympic champion Teresa Perales hospitalised and unable to travel to the World Championships in Montreal, Canada.
Incredibly, Perales left Eindhoven 2014 with three individual golds and one as part of the relay team. The 38 year-old's Norwegian rival Sarah Louise Rung, who is 14 years her junior, also looked strong with four titles, setting the stage for further clashes.
3. Glasgow 2015 will be awesome
With major competitions around the world in 2014 seeing multiple world and regional records fall, the stage is firmly set for the 2015 IPC Swimming World Championships in Glasgow, Great Britain.
Not only that but Glasgow 2015 will be hosted at the same venue as used for swimming competitions at the 2014 Commonwealth Games, which saw packed crowds and wall-wall media coverage.
4. Australia remain a dominant force with two years to go until Rio 2016
At the 2014 Para Pan Pacific Swimming Championships in Pasadena, USA, Australia finished on top of the medals table with 55 gold medals, 21 more than the next nearest country the USA.
Strong performances from Daniel Fox, Kayla Clarke and Maddison Elliott all contributed and Australian athletes broke a total of six world records this year.
5. Bohodayko has emerged as the new Ukrainian superstar
Beating his 13-time world champion teammate Dymtro Vynohradets to the most decorated athlete title at Eindhoven 2014 with seven gold medals, Ukraine's 20-year-old Yevheniy Bohodayko is starting to come of age.
He stormed to the European title in all but one of the six individual SM6 and S7 events he entered to become the best performing athlete in a massively competitive team that topped the medals table once again with 37 gold medals.
6. Ian Silverman just gets better
After opening his season with a 400m individual medley SM10 world record in February 2014, American Ian Silverman went on to break another two world marks in one of the most competitive classifications in men's para-swimming.
Silverman, who is still just 18-years-old, finishes 2014 as world No.1 in the 200m freestyle, 400m freestyle and 400m individual medley.
7. Italy could be the surprise package at Glasgow 2015
At the 2011 IPC Swimming European Championships in Berlin, Germany, Italy finished in 15th place in the medals table with two gold medals.
At Eindhoven 2014, the team rocketed to fifth place with 11 titles.
Helped by Federico Morlacchi, who won five gold medals, Cecelia Camellini and Trimi Arjola, the hard-work for the team seems to be paying off just in time for Glasgow 2015 and Rio.
8. Russia are catching Ukraine in the medals standings
To follow on from their second place finish from Montreal 2013, where Russia were the only team to come close to swimming powerhouse Ukraine, they finished second in Eindhoven and came within just three wins of equalling the tally.
Young faces such as five-time 2014 Euros champion Darya Stukalova, Denis Tarasov and Valeriia Shabalina, who broke two world records at Eindhoven, are all faces to look out for.
9. Stephanie Slater is on track to shine at Glasgow and Rio
After winning seven gold medals to become the most successful female athlete at Eindhoven 2014, the London 2012 Games Maker has excelled since not having to watch from the sidelines.
Included in the 23-year-old's winning streak were a European and world record for good measure.
10. Eleanor Simmonds has competition
Since an incredible Games debut at Beijing 2008, few swimmers have come close to challenging one of Great Britain's most loved athletes.
That was before Ukrainian Yelyzaveta Mereshko, 22, came along and beat Simmonds to two gold medals in Eindhoven, including in the 100m freestyle which Simmonds is the world champion in.
Simmonds has said that she is glad to have some competition in the pool and watching this rivalry develop ahead of Rio 2016 is a mouthwatering prospect.
Before the swimming season winds down, the 2014 Asian Para Games take place in Incheon, South Korea, from 18-24 October.
From 13-19 July, the 2015 IPC Swimming World Championships will feature around 650 swimmers from over 50 countries.