Throwback Thursday: Australia's Louise Sauvage
The nine-time Paralympic gold medallist is harvesting a breed of athletics champions in her home country.
25 Jun 2015
Imagen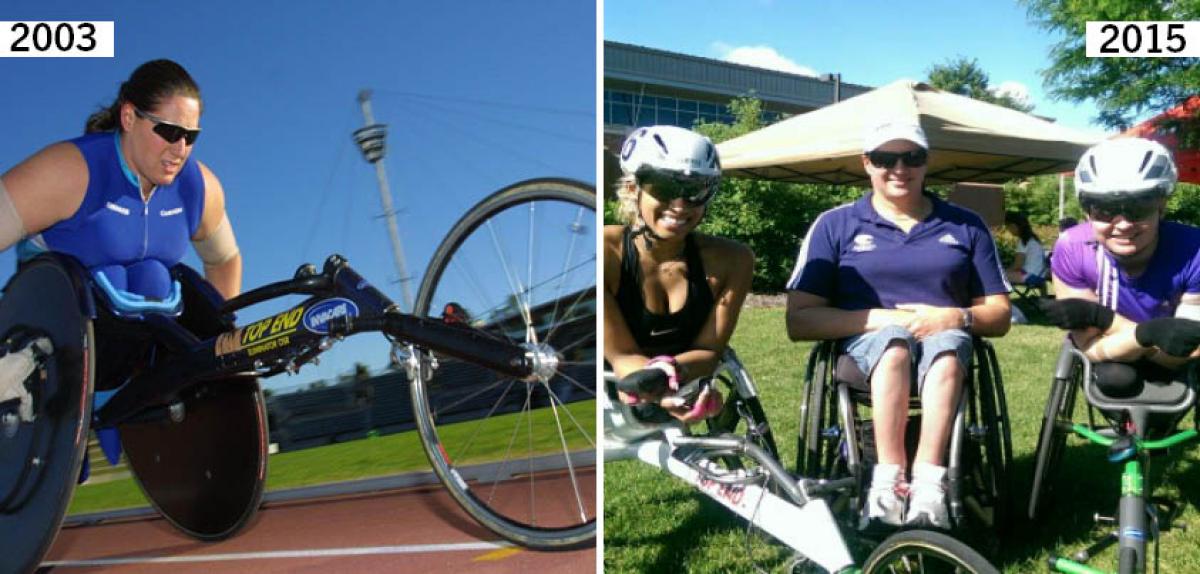 ⒸLouise Sauvage
By IPC
Editor's note: "Throwback Thursday" is a feature series published on Paralympic.org twice a month, bringing you some of the top Paralympic athletes of the past and seeing where they are now. For the second part of the series, we caught up with Australian wheelchair racing legend Louise Sauvage.
Louise Sauvage is no longer racing. But the Paralympic champion-turned-coach still gets a thrill from the tracks when her athletes compete — or even more, break world records.
In late May, Angela Ballard – whom Sauvage has been coaching for 11 years – did just that in the 400m T53 event at the IPC Athletics Grand Prix in Nottwil, Switzerland .
"We achieved it earlier than we thought, which was cool," Sauvage said of Ballard's world record. "We had the 400m in our sight, and so that was the one she really wanted to do well in. It is also the one she wants to do well in Doha (for the 2015 IPC Athletics World Championships) and of course Rio 2016."
Helping Australia succeed on the tracks is what Sauvage has wanted to do with her four Paralympic Games experiences.
She put the breaks on her athletics career after the Athens 2004 Paralympic Games and immediately began coaching.
Along with Ballard, Sauvage has personally coached Madison de Rozario for nine years and Rosemary Little, whom she began coaching a few months before London 2012 and helped capture bronze in the 100m T34 race.
Sauvage also helps out on the Australian national team, working the junior and development programmes.
"These days I think athletes need to take care of all the little aspects of their training," Sauvage said. "They need to look after their nutrition, their recovery, everything from get their medical massages, all that stuff. They need to get everything happening all at once, and I think a lot of athletes find that hard to do."
Sauvage won 13 medals – nine which were gold – in her Paralympics career. She was also inducted into the Visa Paralympic Hall of Fame in 2012. One of her greatest memories was in Sydney 2000, when she won golds in the 1,500m and 5,000m T54 events in front of her home crowd.
"It was the first time my mom and my sister got to go to a Paralympics, even if I had been to two already," Sauvage said. "Just financially they could not go to Barcelona (1992) or Athlanta (1996), so they go to see me at the prime of my career in the biggest event.
"I was just so proud to be Australian and have such a successful Games," Sauvage said. "It put Paralympic sport on the map — definitely in Australia."
Sauvage burst into the Paralympic scene when she debuted in Barcelona, Spain, winning three gold medals (100m, 200m, 400m) and added more to her collection in Atlanta, USA, winning the 400m, 800, 1500m 5000m events.
Back then, she maximised her available resources to win gold.
Now, she hopes to be that resource for Australian athletes.
"A lot of the athletes get more funding now, and there are a lot more resources for them to get it all going right, with people assisting them," Sauvage said. "I made the most of what was available to me at the time, coaching-wise and medical-wise.
"We got a lot of juniors who are doing well and coming through, and we got some new guys who are recently injured and are getting involved in the sport. Who knows, they might represent Australia one day."