Tokyo 2020 celebrates 2,000 days until the Paralympics
School children in the Japanese capital marked the landmark by trying out football 5-a-side with international players.
05 Mar 2015
Imagen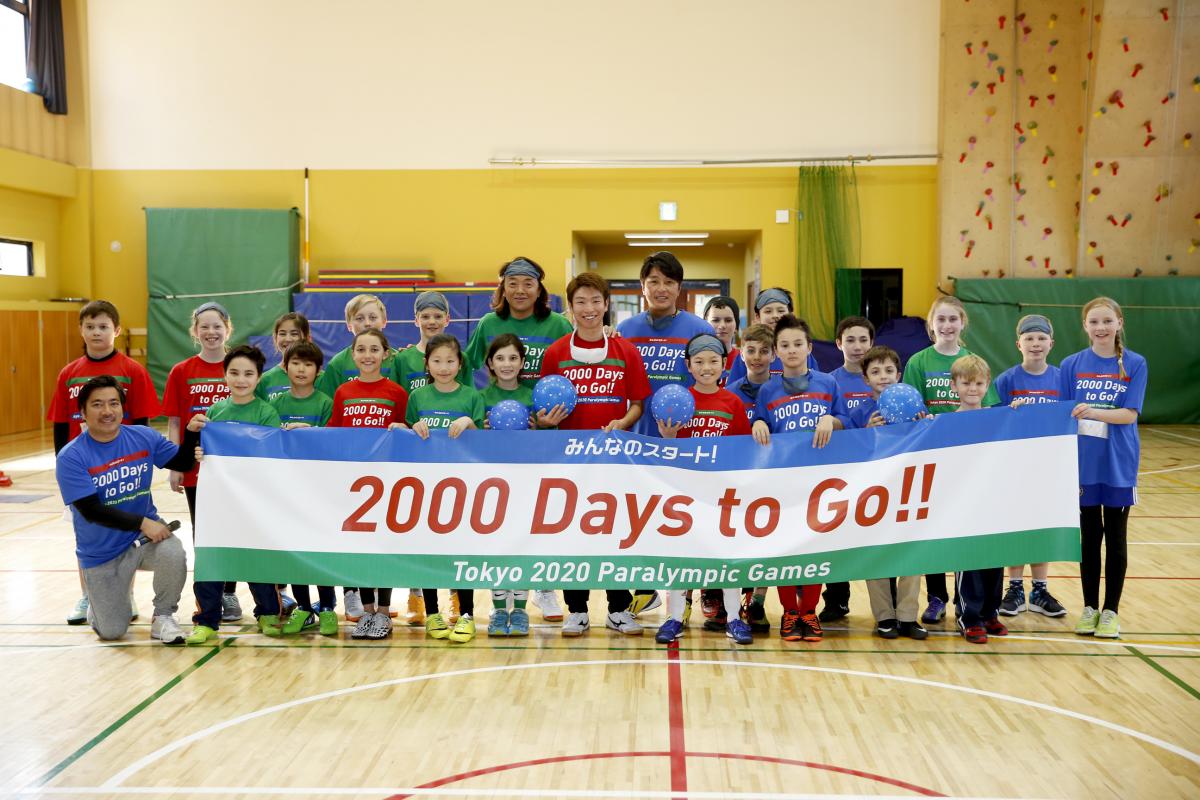 ⒸTokyo 2020 / Shugo Takemi
By Tokyo 2020
Children at the Tokyo International School, Japan, had a glimpse of the excitement the Paralympic Games will bring to the city in exactly 2,000 days by discovering one of the sports on the Paralympic programme – the sport of football 5-a-side.
School children from the third to sixth grades at the Tokyo International School were given the opportunity to experience first-hand one of the Paralympic sports and to learn about the Paralympic values.
They were joined by a Japan Paralympic national football 5-a-side team player, Kento Kato, and two former Japanese football stars, Tsuyoshi Kitazawa and Atsuhiro Miura. Kitazawa won 59 caps for the Japanese national team, and was a key member of the team that won the 1992 AFC Asia Cup, while Miura was part of Japan's team at the Sydney 2000 Olympic Games.
"I can't believe the Paralympic Games will take place in only 2,000 days from today," Kato said. "They will be here before we know it. As a visually impaired football player, I have been thinking what I can personally do to contribute to the success of the Tokyo 2020 Paralympic Games over the next 2,000 days. "But it's no use just thinking, I want to actually do things and build up experiences, and make the best use of every single day. It is never too early to share the passion for para-sports with young children like we were able to do today. It was a fantastic and truly rewarding experience to help the children discover the joys of the Paralympic sport of Football 5-a-side, and even have a go at it themselves
"I really hope that everyone who attended today's event will remember the experience forever. If the Tokyo 2020 Paralympics is able to contribute to increasing opportunities for all people, regardless of impairment, to take part and enjoy the benefits of sport, then I think that will be its greatest legacy."
The players told the youngsters about the role that sport has played in their lives and showed them that sport provides a welcoming environment in which anyone can join in and have fun.
"I was really happy to be here and excited to take part in the event," said third grader Giulio, after the practice session. "I had never played football with a blindfold on before and I really enjoyed it. Kicking the ball was very difficult. It was good to know that someone with a visual impairment can enjoy playing football as well."
The Paralympic Games' Opening Ceremony will take place on 25 August 2020, in exactly 2,000 days from today. Tokyo will be the first city ever to host the Paralympics twice.