Tokyo 2020 champions De Rozario and Hug to defend NYC Marathon crown
Australian wheelchair racer keen to continue her winning streak in New York following Birmingham 2022 Commonwealth Games gold last month
12 Aug 2022
Imagen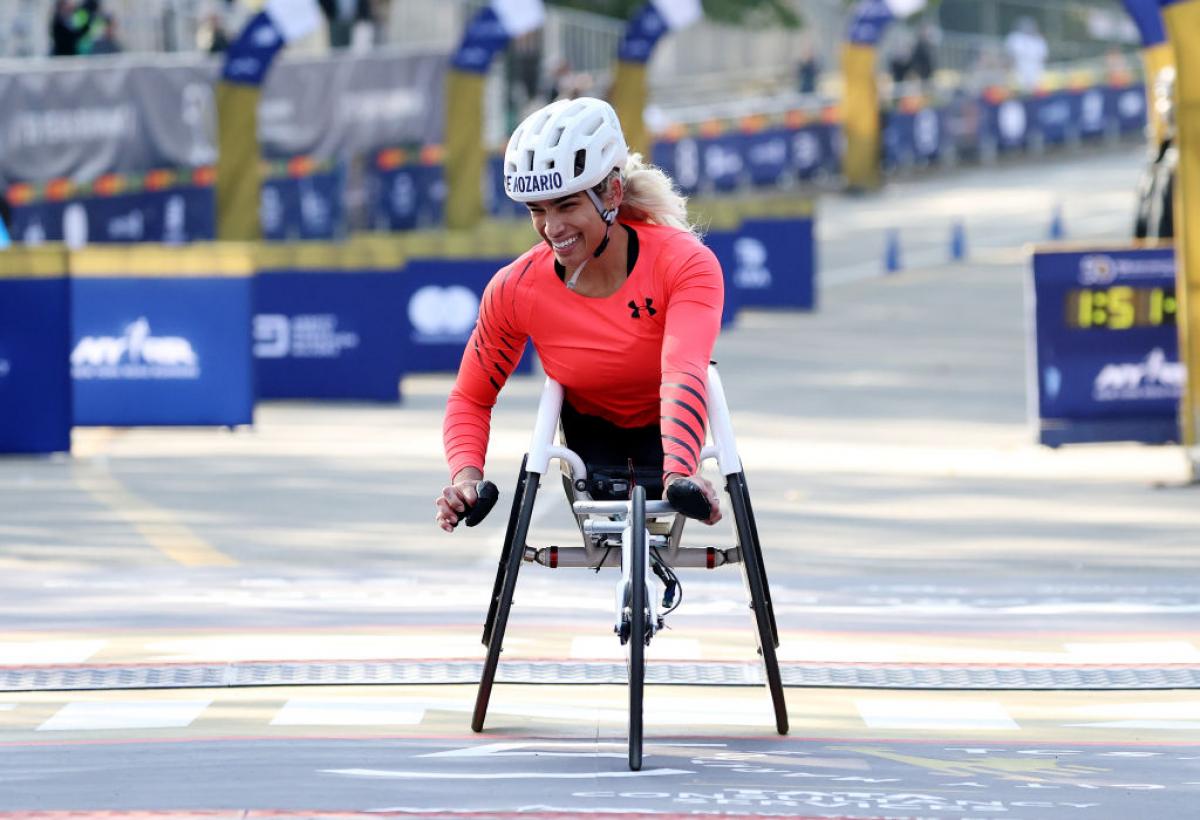 ⒸElsa/Getty Images
By New York Road Runners and World Para Athletics
Defending women's wheelchair division champion Madison de Rozario will be challenged by Manuela Schaer, Tatyana McFadden, and Susannah Scaroni while the strongest men's professional athlete fields in recent history will see Marcel Hug and other 11 Paralympians in action at this year's TCS New York City Marathon on 6 November.
Tokyo 2020 Paralympic marathon champion De Rozario will return to defend her crown after her first NYC Marathon triumph last year, becoming the first athlete to win Paralympic marathon gold and New York in the same year since 2008.
Australia's five-time Paralympic medallist and 10-time World Championships medallist has recently defended her Commonwealth Games marathon title at Birmingham 2022 in Great Britain two weeks ago.
"Winning my first TCS New York City Marathon last year was an incredible experience, and I'm thrilled to return to defend my title against the best athletes in the world," de Rozario said. 
"From Paralympic gold to Commonwealth Games gold, everything has been lining up well for me over the past year, and I'm excited to see what I'm capable of now that I'm even more familiar with the New York course." 
The Australian will face stiff competition from 20-time Paralympic medallist McFadden of the United States, who will be going for her record-breaking sixth title at the event after finishing as runner-up last year, as well as eight-time Paralympic medallist Schaer of Switzerland, who will be racing for her fourth title. 
Schaer has made the podium in all seven of her New York City appearances, and McFadden has made the podium in 10 of her 11 appearances. 
USA's Susannah Scaroni, a two-time Paralympic medallist, will be looking for her first title after missing the event last year. She has been on the podium 12 times at World Marathon Majors races, but has never finished first. 
Other 11 racers are set to compete in the women's race (complete field below).
Men's race
This year's men's wheelchair division will see Switzerland's 12-time Paralympic medallist Hug racing for his fifth NYC Marathon crown in a field that boasts athletes from 10 different countries. 
With another victory, Hug would tie Tatyana McFadden and Australia's Kurt Fearnley for the most wins by a professional wheelchair athlete at the event. He previously won New York in 2013, 2016, and 2017. 
Hug's top finish in New York last year marked his fifth World Marathon Majors race victory in 2021, having also won the Berlin, London, Boston, and Tokyo 2020 Paralympic marathons.
"Even though I have participated in the prestigious TCS New York City Marathon many times, it is always a unique experience," Hug said. "I am really looking forward to it. I am highly motivated and will strive for my fifth victory."
Romanchuk, a two-time U.S. Paralympic medallist at the Tokyo Games last year, was third in New York in 2021 after becoming the youngest athlete ever and  USA's first male wheelchair racer to win the event in 2018 – repeating his effort in 2019. 
Challenging Hug and Romanchuk for podium positions will be Birmingham 2022 Commonwealth Games champion and 2017 runner-up Johnboy Smith of Great Britain and USA's Aaron Pike, a dual-sport athlete aiming for his first podium appearance after finishing fourth in 2019.
South Africa's eight-time Paralympic medallist and 10-time Boston Marathon champion Ernst van Dyk, who won New York in 2005 and 2015, will also be part of the men's wheelchair field, as will this year's NYC Marathon Half runner-up Hermin Garic of the USA.
The course-record bonus for the professional wheelchair division will be raised to USD 50,000 this year, making the wheelchair division bonus equal to the open division bonus.
The 2022 TCS NYC Marathon on Sunday, 6 November will be the first to return at full capacity since the COVID-19 pandemic with 50,000 runners set to join the event in the streets of New York.
NYC Marathon men's wheelchair division field
Name                            Country    Personal Best
Marcel Hug                     SUI           1:17:47
Ernst van Dyk                  RSA          1:18:04
Josh Cassidy                   CAN         1:18:25
Aaron Pike                       USA         1:20:02
Johnboy Smith                GBR          1:20:05
Hiroki Nishida                 JPN          1:20:28
Kota Hokinoue                JPN          1:20:54
Daniel Romanchuk         USA          1:21:36
Rafael Botello                 ESP           1:22:09
Patrick Monahan            IRE           1:22:23
Sho Watanabe               JPN           1:24:00
Herman Garic                 USA           1:24:18
James Senbeta               USA          1:24:27
Simon Lawson                GBR           1:25:06
Martin Velasco Soria    MEX           1:25:12
Brian Siemann                USA           1:26:46
Evan Correll                    USA            1:27:19
Fidel Aguilar                  MEX            1:28:42
Jason Robinson             USA            1:29:01
Phillip Croft                    USA            1:30:14
Jacob Valera Allen        USA            1:43:59
Dustin Stalberg              USA           1:44:28
NYC Marathon women's wheelchair division field
Name                           Country     Personal Best
Susannah Scaroni         USA            1:27:31
Manuela Schaer            SUI             1:28:17
Tatyana McFadden      USA            1:31:30
Jenna Fesemyer            USA            1:33:50
Christie Dawes              AUS            1:37:14
Shelly Woods                 GBR            1:37:44
Madison de Rozario     AUS            1:38:11
Nikita den Boer             NED            1:38:16
Margriet van den Broek NED          1:38:33
Merle Menje                   GER            1:42:12
Vanessa de Souza         BRA           1:42:16
Michelle Wheeler           USA           1:45:45
Patricia Eachus               SUI            1:47:06
Yen Hoang                      USA           1:50:14
Eva Houston                   USA           1:59:49