Training with German biathlete Vivian Hoesch
The biathlon World Championships bronze medallist is busy preparing to compete on home snow in 2017.
30 Jul 2016
Imagen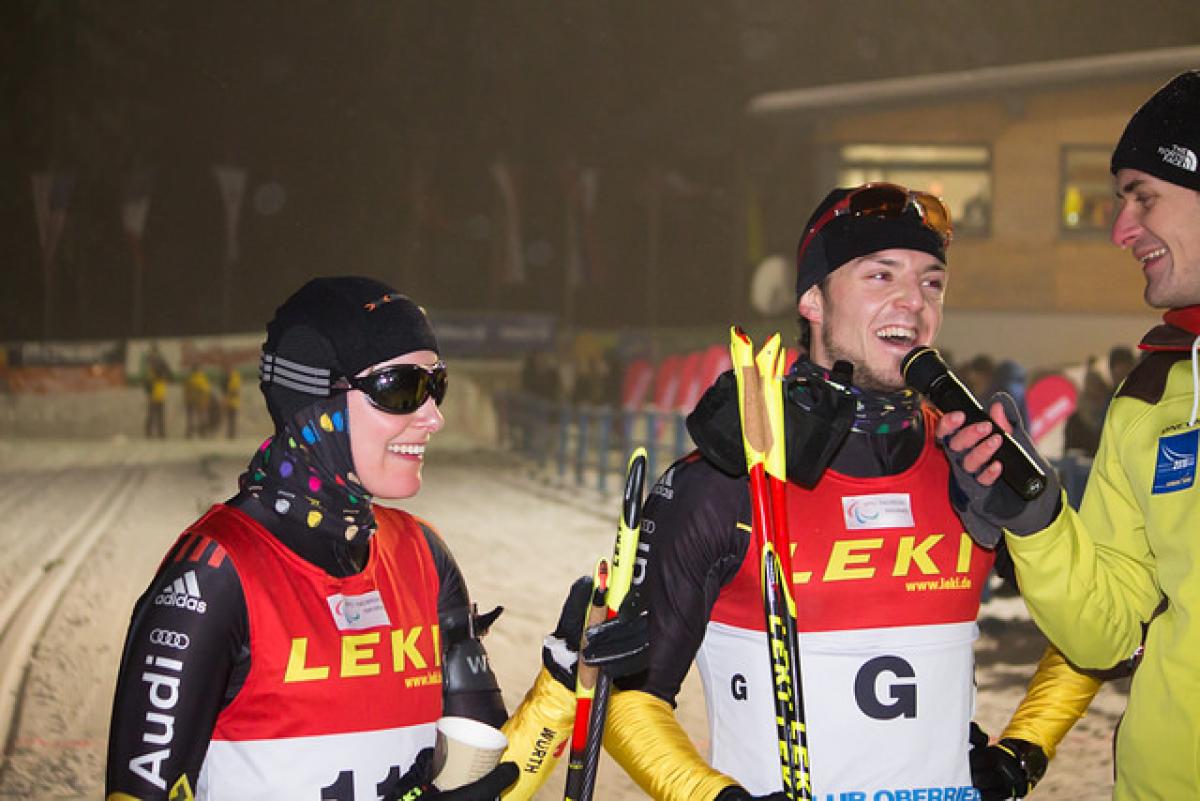 ⒸIPC Weltcup Oberried
By By Louise Wood | For the IPC
Mental strength is a key element as when you are tired at the end of competition weeks sometimes it is your mental strength that gets you to the finish line."
As a winter athlete you have to do a lot of training over the summer months. You also have to find many different ways to train as you cannot train on snow for most of the off season.
German biathlon World Championships bronze medallist Vivian Hoesch, who competes as a visually impaired athlete, does a variety of different activities to make sure she is well prepared by the time the snow comes back.
Hoesch is preparing to take on the world once again in 2017, when the World Para Biathlon Championships comes to her home snow in Finsterau, and is training hard to put in a good performance.
"I swim, run, cycle, do weights sessions, roller ski and yoga. I enjoy participating in half marathons in the summer months. I do 7 to 10 sessions per week totalling between 14-18 hours training," Hoesch said.
"I do a combination of endurance, strength, conditioning and mental training. Mental strength is a key element as when you are tired at the end of competition weeks sometimes it is your mental strength that gets you to the finish line."
There are other key areas that the 25-year-old is keen to improve on and has even made some lifestyle changes to accommodate her growing training schedule.
"I am working on improving my flexibility. Flexibility is very important for technical learning and prevents violations – there are rules about how we place our bodies on the shooting stands amongst other things. I am constantly working to improve my technique and to be faster. This year I have made a major change to my work timetable so that I am able to train more."
However it is not only Hoesch that has to make extra time to train. Her guide also has to put in the same hours and show the same commitment as she does.
"My guide, Florian Schillinger, and I train together every day. As I am completely blind not just vision impaired I can't run on my own. I knew Florian for a number of years before he became my guide. "
"There is a high level of trust between myself and my guide", Hoesch continued. "We do a lot together, they become like another member of your family. The athletes and guides based in Freiburg [where I live] are quite social and have been known to get together to celebrate birthdays and weddings."
She is also benefitting from the fact that her guide has a professional career behind him and so helps her on and off the track.
"Prior to becoming my guide Florian was a combined athlete meaning he competed in cross-country skiing and ski jump. After his competitive career he started as a guide with the Nordic ski team and he was also with the team in Sochi where he worked on preparing our skis. I am lucky because my guide comes with a great competitive and technical background."
It is not just the physical and mental training that Hoesch is concerned with in the summer, she also takes a lot of care with nutrition to be able to stay healthy.
"I try to maintain good health, particularly after my prolonged illness last summer so nutrition is a focus as well. I eat a lot of vegetables, salad and fruit. I also eat a high protein diet, though not with a high meat content.
"My diet is tailored to my needs and therefore my eating habits are quite structured. For instance I tend to eat more for breakfast and at lunch (normal sized meals) and then a smaller portion in the evening. I snack in between of course on things like carrots and apples."
Being a professional athlete also means that you have to give up or at least ration some of your favourite food.
"I tend to avoid sweets and fatty foods such as chips or too much sausage. I have a sweet tooth for ice cream and chocolate but they are special end of season treats these days and don't make up my regular diet."
It is not all hard training for Hoesch in the summer break though. She has a job and gets a holiday too.
"When I am not training I work for the city council and try to find time to keep up with my friends. I really enjoy catching up with friends for BBQs or going to concerts. I also enjoy travelling."
More than 135 skiers from 25 countries will compete at the World Championships in Finsterau between 10-19 February, the last major event before the PyeongChang 2018 Paralympic Winter Games.