Germany's Hosch excited for home Nordic Worlds
Hosch will compete in Finsterau as a World Championships bronze medallist and top three finisher from the IPC Biathlon World Cup.
19 Jun 2016
Imagen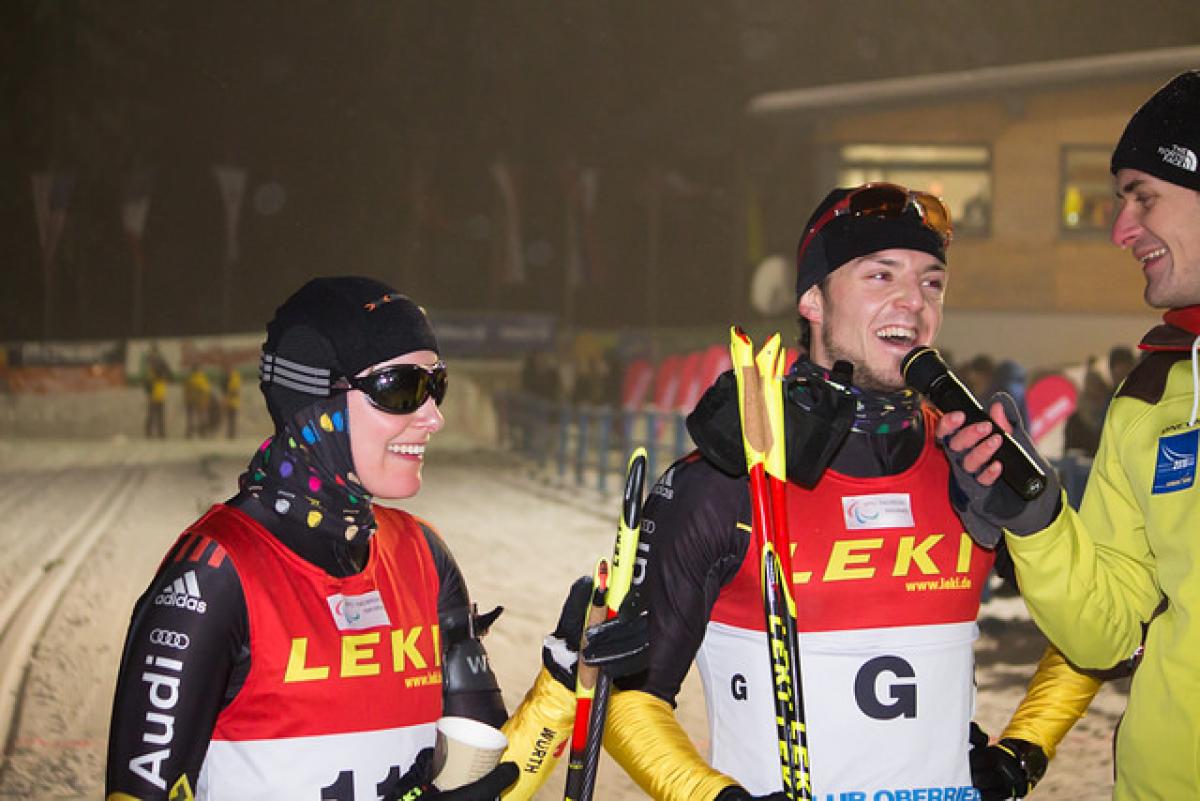 ⒸIPC Weltcup Oberried
By By Louise Wood | For the IPC
"Racing at home is very special and I enjoy it more as my friends and family can come and watch and cheer or even ring cowbells!"
Germany's top World Cup rankings finisher Vivian Hosch has a lot to be excited about in the coming biathlon and cross-country skiing season, where she will compete at her home World Championships in Finsterau.
The 25-year old is really happy to be competing in front of her home crowds, and she is aiming to match or even better her performance from the last edition between 10-19 February.
"I love competing at home. I am very excited and really looking forward to racing," she said. "I want to get a medal.
"Racing at home is very special and I enjoy it more as my friends and family can come and watch and cheer or even ring cowbells! They motivate you and knowing they are there for you gives you a boost to do your best."
A medal is a real possibility for Hosch, who competes in the women's visually impaired events. She sealed bronze in the 6km biathlon individual at the 2015 Worlds in Cable, USA. She also has a good record from World Cups in Finsterau.
Alongside her guide, former Nordic combined athlete, Florian Schillinger she took two podiums there last season in the biathlon sprint and individual before adding another third place in the biathlon individual in Vuokatti, Finland.
She considers the first of these races as her top performance from the whole 2015-16 season.
"My best race was the first competition in Finsterau, the biathlon sprint. A podium finish at the beginning gave me the energy and motivation for the rest of the season. Conditions weren't perfect as it was warm and the snow was soft and to be honest I prefer to race on the hard, fast snow. I set myself the goal of chasing down the person in front and came away with the bronze medal. That feeling of accomplishment is wonderful."
These results meant that she finished the season with her best placing to date – third in the biathlon World Cup.
"I went into the season hoping to achieve a podium finish in the overall World cup biathlon rankings. I achieved third place overall which was great and is good motivation to train hard for next season."
She puts this success down to some tough training over the summer period.
"Going into the season my goal was to get back to my previous fitness and competitiveness level as over the summer I suffered from an ongoing illness. We trained hard in an effort for me to be considered a contender for the season."
She also wants to be contender in the next Paralympic Games in PyeongChang in 2018.
"The Paralympics are really special for a number of reasons because on the one hand you train hard for four years for a chance to compete, not forgetting that it is the largest event on our racing schedule." Hosch continued, "My first goal is to qualify and then of course I would love to come home with a Paralympic medal."
Although she also competes in cross-country, it is biathlon that is her best event at the moment. It provides her with a stern challenge but it could be her best chance of winning medals in both the Paralympics and her home World Championships.
"I definitely prefer the biathlon," explained Hosch, "I relish the challenge of the full speed racing and then the high mental concentration of the shooting. When I am on the shooting range I am alone and my head is completely free of thoughts because I have to focus everything I have on the target. Hitting the targets motivates me and keeps my focus positive on the ski course."
Hosch will be amongst the more than 135 skiers from 25 countries who will compete at the World Championships in Finsterau, the last major event before the PyeongChang 2018 Paralympic Winter Games.