Training Tuesday with Great Britain's Aled Davies
The shot put and discus world champion talks us through his typical training regime as he prepares for the Rio 2016 Paralympic Games.
16 Feb 2016
Imagen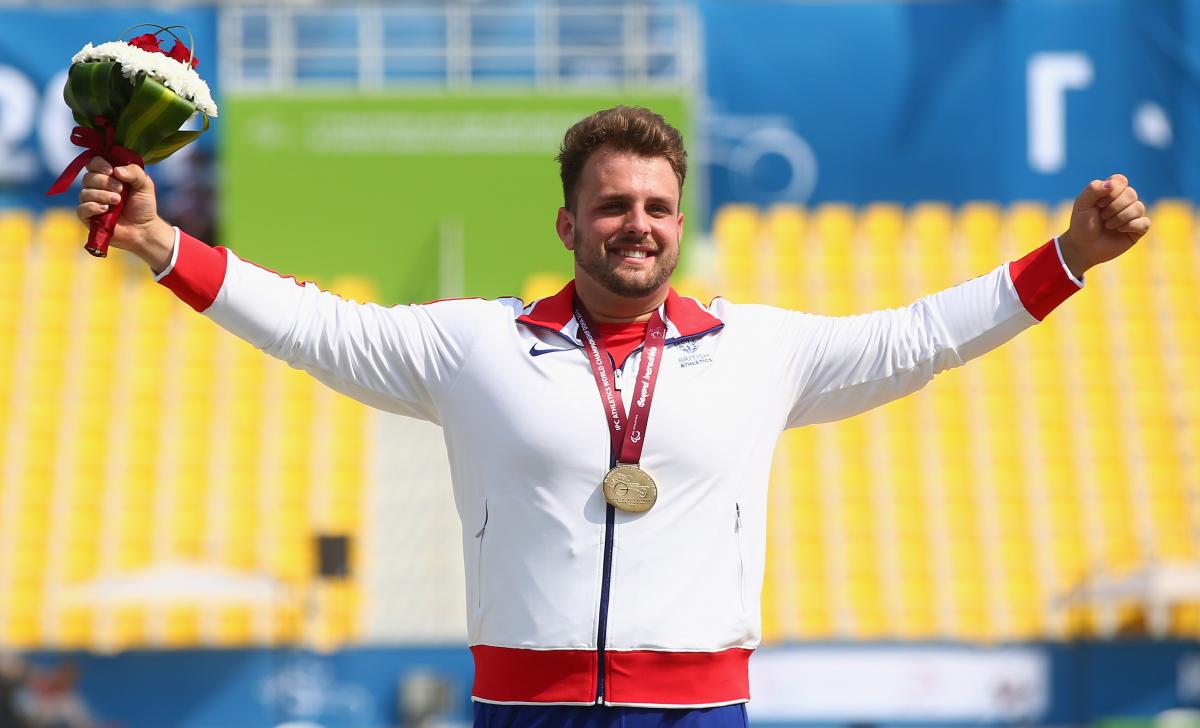 ⒸGetty Images
By IPC
Great Britain's Aled Davies returned home triumphant from the 2015 IPC Athletics World Championships in Doha, Qatar, with two more gold medals to his name.
The popular Welshman safely retained the discus and shot put F42 titles he won at the 2013 World Championships to make it yet another golden double, having also won double gold at the 2014 European Championships.
In this week's Training Tuesday, the 24-year-old world record holder gives us an insight in to his preparations as he gets ready to go for gold in the shot put at Rio 2016, having won bronze four years ago in London, as well as Paralympic gold in the discus.
---
My alarm goes off at 07.30 and I'll get up and zombie about on my sofa until about 08.00. Then I make the same breakfast that I have every morning, which will be two boiled eggs, a slice of gluten free toast and a protein shake, and my vitamins. I'll maybe splash out on the weekend and spoil myself with poached eggs, but it's easier to eat them hard boiled.
With throws, 75 percent of my work is done in the gym, so I normally have three key lifts - maybe two Olympic lifts and a dead lift - then eight auxiliaries which will be shot put specific exercises. That session lasts about 2.5 hours. Everything is different every day. At the moment I'm lifting three times a week and I'm doing three throws a week, but that will change throughout the year.
My coach [Ryan Spencer-Jones] is always with me at my gym sessions, because like every Paralympic athlete we need a hand with things. He's able to assist me to make sure I get everything I need out of that session and that I don't do my favourite thing of collecting injuries!
After my lifting I'll have lunch, which is either chicken or red meat - maybe two chicken breasts, some veg and sweet potato to re-fuel my carbohydrates. I have a post-workout shake too. Most of the time I prepare my lunch and take it with me; I'm quite good like that.
In the last year or so I've tuned in to my nutrition a lot and it's been probably the most important thing for me. But it's only half an hour up the road for me to pop back home if I need to, or else there is a healthy cafeteria where I train at Sport Wales, so there are plenty of options to ensure I get what I need.
After I've refuelled I might have physio or soft tissue therapy, then I'll have my technical throw session in the evening after I've rested for a few hours. If I'm not doing my admin work, I do try to rest, although I'm not very good at that unfortunately - and it's probably the most important part. I try to find a couch or sofa or somewhere so I can chill out for an hour or two and recuperate.
In the winter time we train indoors - this is Wales after all - so I'll head to the athletics centre for my throws session about 17.00, ready, by the time I've warmed up, for a 17.30 start. It's only 10 or 15 minutes down the road from where I live on the outskirts of Cardiff.
Throwing lasts about two hours, and I'll eat again in the evening – more often an oily fish and salad. I won't have many carbs, then I'll have a snack later which might just be milk, or nuts, or a yoghurt. I do have my moments of weakness, but I'm more of a savoury guy so I don't crave chocolate anyway.
Back home I like to chill out, watch a bit of television, or take my dog for a walk. I have a chow chow called Benji. He's very lazy so he's the perfect dog for me as I can't walk him that far anyway! I like watching Game of Thrones, Walking Dead – stuff like that. Reality TV as well, I'm a secret fan of Keeping up with the Kardashians!
I try to get to bed before 23.00 so I get eight hours sleep every night. To be honest, I do struggle with getting off. I read horror books – I like horror films too – so I've been reading novels like that which send me off to sleep. It doesn't scare me – I don't think I've watched or read anything that has got me scared before!
Sport fans from around the world can now buy their Paralympic tickets for Rio 2016 from authorised ticket resellers (ATRs).
The IPC's Global ATR is Jet Set Sports, and Rio 2016 tickets and packages can be purchased on the CoSport website.
Residents of Brazil can buy 2016 Paralympics tickets directly from the Rio 2016 website.