Tunisian women dominate home Grand Prix
The second day of the World Para Athletics Grand Prix saw home success.
15 Apr 2017
Imagen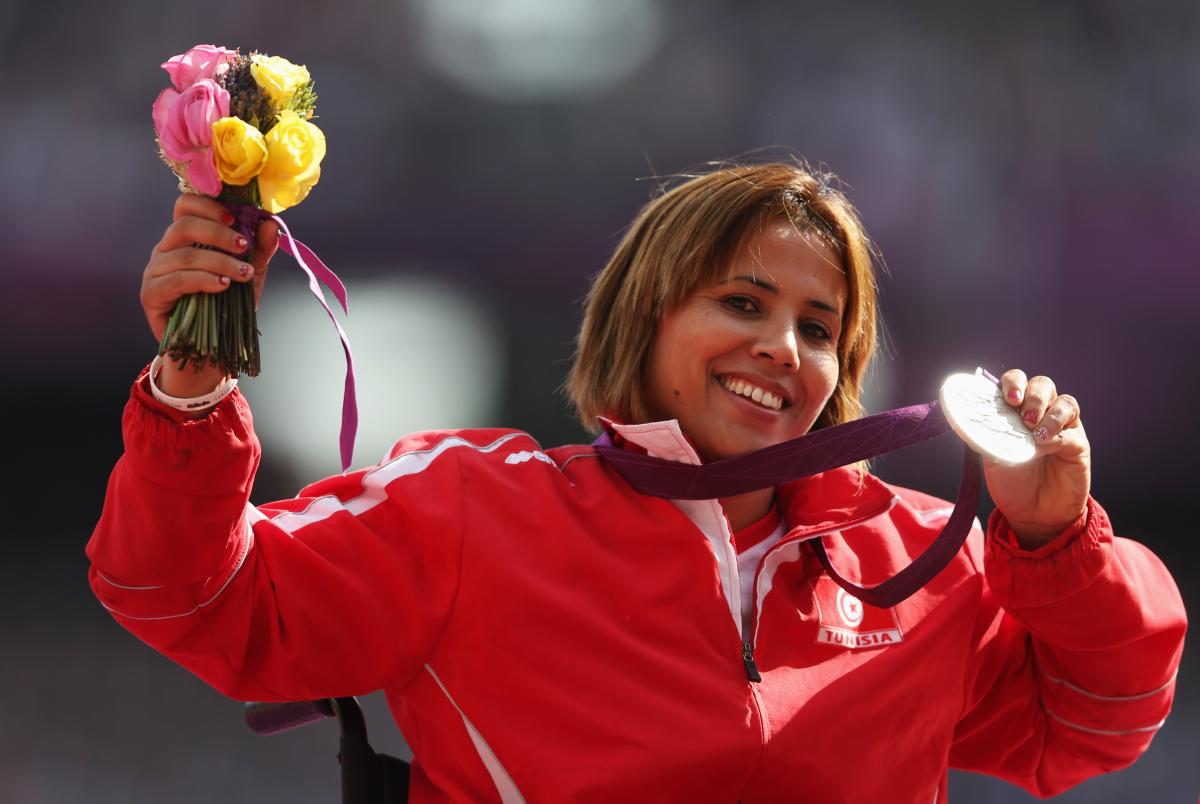 ⒸGetty Images
Tunisian women dominated on home turf on the second day of competition (Friday 14 April) at the World Para Athletics Grand Prix in Tunis.
Paralympic silver medallist Hania Aidi (F54) came out on top in the women's shot put F54/55/56/57. The 39-year-old, who carried Tunisia's flag at the opening ceremony of the Rio 2016 Paralympic Games, secured victory with her fifth-round effort of 6.91m (889 points).
Compatriot Raja Jebali topped a stellar field in the women's discus F40/41 as the host nation claimed all three podium places.
The F40 thrower managed a best of 22.96m (1056 points) – just 38cm shy of the world record – to finish ahead of discus F41 Paralympic champion Raoua Tlili (31.93m/997 points) while third place went to Rio bronze medallist Fathia Amaimia (25.94m/780 points).
Tunisia's Yousra Ben Jamaa came out on top in the javelin F34 – her throw of 14.79m matched that of Moroccan Saida Amoudi, but her next best effort was better than that of Amoudi.
Mariem Soudani won the women's discus F12/36/44 – the F44 thrower managed a best of 29.38m (626 points) with her opening effort of the day.
There was a win for Greek reigning world champion Dimitra Korokida in the shot put F52/53 - both her fifth and sixth throws measured 4.24m (838 points).
The UAE's Siham Alrasheedy (F57) won the women's discus F52/57 with 24.39m (721 points) in the penultimate round, while in the F32/34 event, Moroccan Saida Amoudi won with 17.57m (665 points).
In the men's field events, Greek Paralympic champion Manolis Stefanoudakis (29.08m) was the clear winner in the javelin F54, while Tunisia's Ahmed Ben Moslah (F37) threw 37.13m (650 points) to take the win in the F11/37/38 event.
Just three centimetres separated the top two in the men's shot put F55 – Morocco's Abdelhak Salibi managed a second-round effort of 9.68m which secured victory ahead of Algeria's Mourad Bachir (9.65m).
Tunisian shot putters Smaali Bouaabid (8.65m) and Mohamed Amara (10.44m) won their respective events – Paralympic bronze medallist Bouaabid finished first in the F40 throw while Amara took the win in the shot put F41.
The shot put F57 was won by Libya's Rajab Mahmoud thanks to his best effort of 10.58m – he also took the win in the discus F55/57 after an opening round effort of 46.06m (974 points), while his teammate Ashteebah Waleed (F42) (11.75m) won the shot put F42/44/46.
Tunisia's Faouzi Rzig (32.55m/853 points) won the men's javelin F33/34, with Saudi Arabia's in-form F33 thrower Hani Alnakhli (18.78m/712 points) in second place.
Tunisia also took the two top spots in the men's club throw F32 – Wassim Mtarrab managed a final round effort of 32.02m to seal the win ahead of early leader Abdennacer Feidi (31.43m).
The long jump T11/37/38/45 went to form as former Paralympic champion Mohamed Chida (T38) took the win after his first-round leap of 6.01m (803 points).
Out on the track, Tunisia's T54 racer Fethi Zouinkhi (14.64) was first in the men's T34/54 and Algeria's Medjahed Bouhafs (24.85) won the 100m T52/53; Addoh Kimou from the Ivory Coast (12.18) won the T46/47 event.
Algeria's T12 sprinter Djamil Nasser (22.94) took the tape in the 200m T12/13/20 while there was a win for Saudia Arabia in the men's 200m T35/36/37 courtesy of T37 sprinter Ali Alnakhli (25.39).
The women's 200m T36/37/38 was a race-off between Tunisian sprinters, but it was three-time world silver medallist Sonia Mansour (T38) (29.53) who came out on top, with her teammate Neda Bahi (T37) (30.36), bronze medallist over 400m at Rio 2016, in second place.
In the day's middle distance races Morocco's Hafid Aharak (4:24.07) got the better of home favourite and former Paralympic champion Mohamed Charmi (4:34.36) to win the 1,500m T37, while in the 1,500m T34/54 Tunisia took the top two spots as T54 racer Yassine Gharbi (3:25.33) finished just ahead of T34 Para athlete and multiple world champion Walid Ktila (3:25.84).
Tunisian Bechir Agoubi (T46) (4.07.68) took the win in the 1,500m T13/38/46.
The third and final day of action in Tunis continues on Saturday 15 April.