Ukraine's Vynohradets wins seventh gold at swimming Euros
The dominant force in S3 swimming Dmytro Vynohradets has helped to lead Ukraine to the top of the medals table at the 2014 IPC Swimming European Championships
09 Aug 2014
Imagen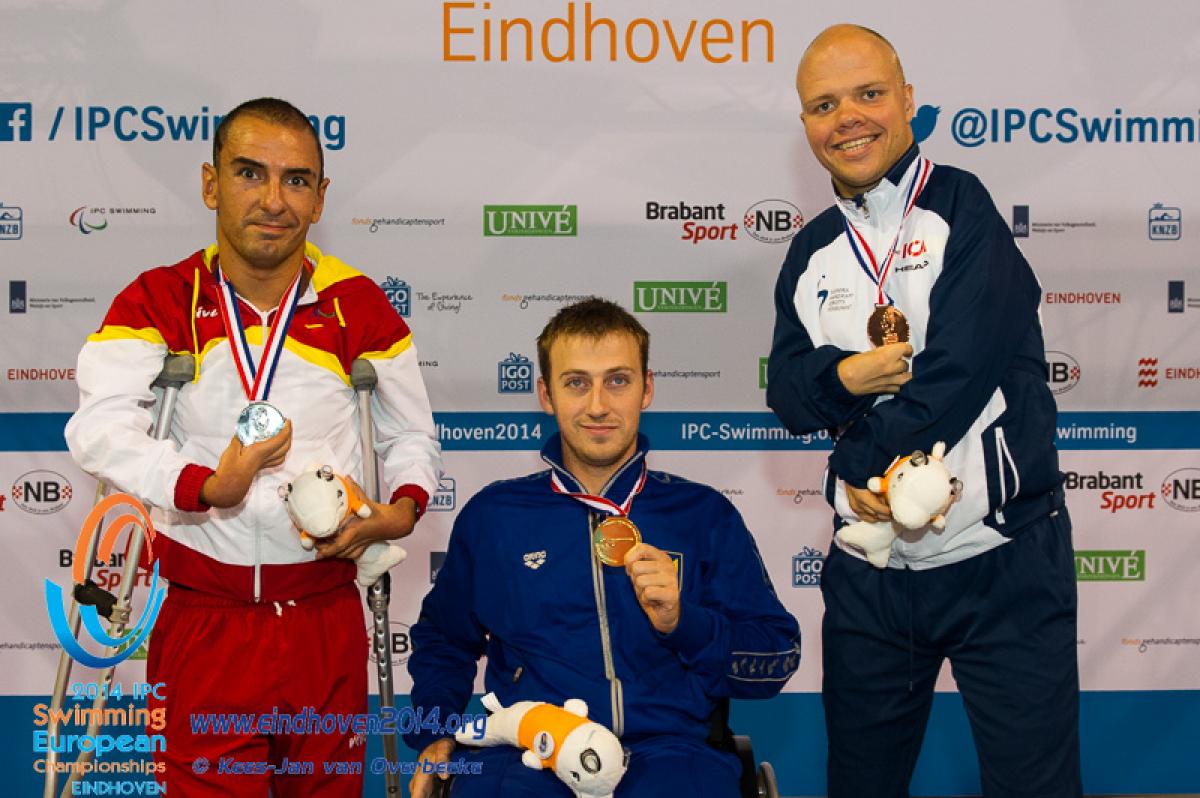 ⒸKees-Jan van Overbeeke
By IPC
Ukrainian 13-time world champion Dmytro Vynohradets has once again shown why he is one of the world's premier swimmers, by winning his seventh gold medal of the week at the 2014 IPC Swimming European Championships in Eindhoven, the Netherlands.
Vynohradets (2:49.74) dominated the men's 150m individual medley SM3, taking his fifth individual gold way ahead of teammate Andrii Derevinskyi (3:05.92) and Greece's Ioannis Kostaki (3:20.03).
Meanwhile Spain's six-time Paralympic champion Teresa Perales sealed a third gold, her fifth medal overall, on her return from serious illness to major international competition.
Perales (37.19), who confirmed this week that she does plan to compete at Rio 2016, won a European title in the women's 50m freestyle S5 to add to her individual and relay gold and two silver medals.
The 38-year-old world record holder missed the 2013 World Championships but her successful return saw her lead Israeli silver medallist Inbal Pezaro (39.68) and France's Anita Fatis (40.52).
The men's 100m freestyle S13 was an incredibly close affair between eventual gold medallist Ihar Boki (51.24) of Belarus and Ukraine's Iaroslav Densysenko (51.59).
Boki retained his 100 per cent record this week to win double gold as Russia's Aleksandr Golintovksii (53.13) picked up his second bronze.
There was a second gold medal of the competition for Denmark thanks to 22-year-old Jonas Larsen (2:39.27) in the men's 150m individual medley SM4.
Spain's Miguel Luque (2:47.27) and the Netherlands' Michael Schoenmaker (2:50.77) won silver and bronze respectively.
Great Britain won a total of three gold medals in the morning session at the Pieter van den Hoogenband Swimming Stadium.
Stephanie Slater (1:07.43) went out hard to win her fourth medal of the Championships in the women's 100m freestyle S8. Leading from the front, Slater could not be beaten by Denmark's rising star Amalie Vinther (1:10.38). Romy Pansters (1:16.39) increased the Dutch medal total in bronze.
Susannah Rodgers (36.58) joined the quadruple gold club with her latest win in the women's 50m butterfly S7. Russia's Oxana Guseva (41.26) and Germany's Denise Grahl (45.77) completed the podium.
Stephanie Millward (1:10.98) and Amy Marren (1:13.21) both made the podium of the women's 100m backstroke S9. Spain's Nuriia Marques (1:13.90) completed the top three.
The next Ukrainian medal of the day went to Iaraslav Semenenko (1:17.96) in the men's 100m backstroke S6 final.
"I am happy with my first [individual] gold of these European Championships and I am happy with this beautiful result," Semenenko said.
Winning his fifth individual medal was German Sebastian Iwanow (1:20.37) who lead Russia's Sergey Klyagin (1:23.79).
That was quickly followed by another gold for Ukraine with Olesandr Mashchenko (1:01.84) winning the men's 100m freestyle S11. Russian Alexander Chekurov (1:03.57) beat Polish first-time Euros 2014 medallist Wojciech Makowski (1:04.24) in bronze.
Heats
On a promising morning for the hosts, the women's 100m backstroke S10 saw Summer Mortimer (1:06.93) equal her own European record. Great Britain's Alice Tai (1:09.02) and Hungarian Bianka Pap (1:13.01) will be chasing her all the way.
Mortimer's teammate Olivier van der Voort (1:01.64) heads through in pole position in the men's 100m backstroke S10. He leads Estonia's Kardo Ploomipuu (1:03.45) and Russia's Dmitry Grigorev (1:05.42).
Ireland's Laurence McGivern (1:06.60) qualified fastest in the men's 100m backstroke SB9 ahead of Poland's Patryk Biskup (1:07.42) and Great Britain's James Crisp (1:07.58).
Less than one second separated the fastest qualifiers in the men's 100m freestyle S12 headed by Ukraine's world record holder Maksym Veraksa (53.04), Russia's Aleksandr Nevolin-Svetov (53.65) and Azerbaijan's Dzmitry Salei (53.72).
Veraksa's teammates Yevheniy Bohodayko (31.81) and Andriy Kozlenko (33.21) lead in the men's 50m butterfly S7, and Mariia Lafina (3:14.70) also in the women's 150m individual medley SM4.
In the men's 50m freestyle S5, Spain's Sebastian Rodriguez (35.36) lead triple Eindhoven 2014 gold medallist Andrew Mullen (37.37) of Great Britain.
Germany's Daniel Schulte (1:14.31) went through as the fastest qualifier in the women's 100m freestyle just edging Italy's Cecilia Camellini (1.14.40) for an exciting final.
Russian Anna Krivshina got her campaign for a third medal this week off to a good start, qualifying fastest in the women's 100m freestyle S13.
The 2014 IPC Swimming European Championships continue until 10 August and feature around 380 of Europe's best swimmers from 37 countries.
Tickets, live results and a live stream are still available on the Eindhoven 2014 official website.
Live updates will be posted to the IPC Swimming Facebook page and @IPCSwimming on Twitter or search #Eindhoven2014.
Related Images