US track and field team named for Toronto 2015
Sixty athletes and four guides to represent Team USA at August's Parapan American Games.
07 Jul 2015
Imagen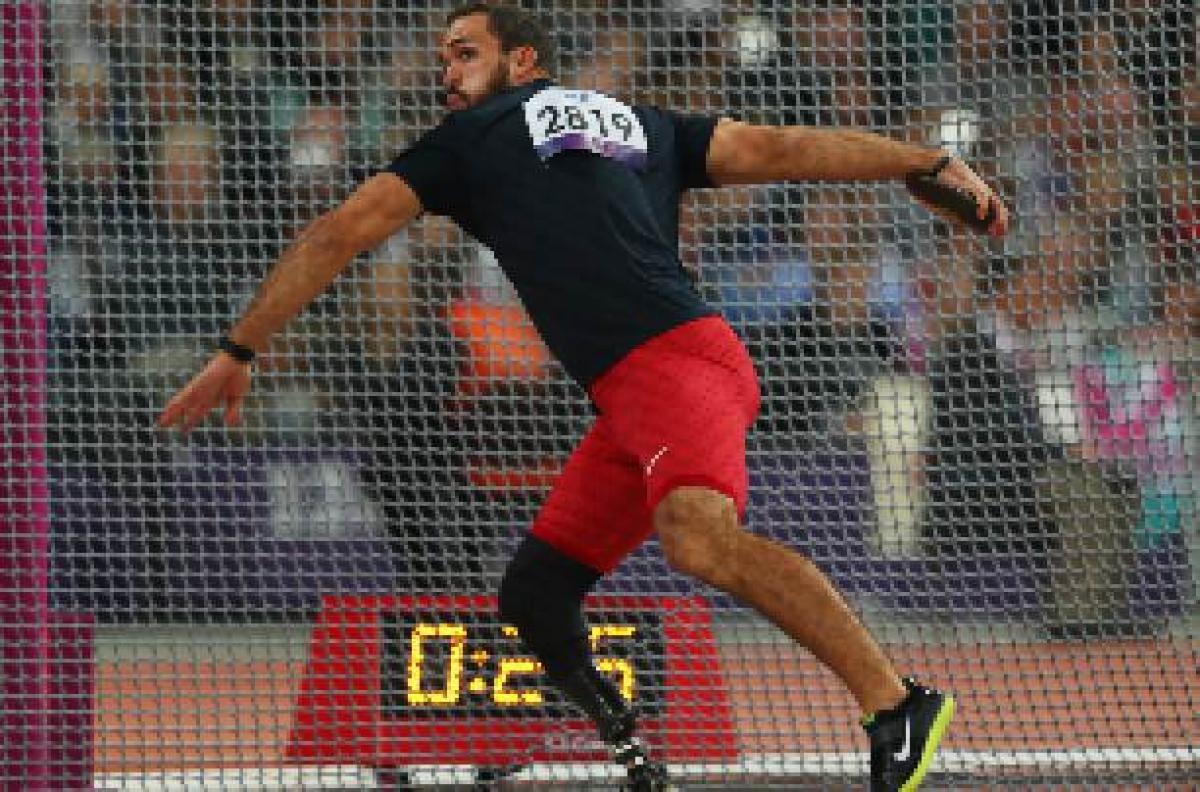 ⒸGetty Images
By US Paralympics
US Paralympics has announced the 60 track and field athletes and four guides for visually-impaired athletes who will compete for Team USA at the Toronto 2015 Parapan American Games between 7-15 August.
Forty-four men and 20 women will run, sprint, throw and jump for Team USA at the multi-sport Games at the CIBC Pan Am/Parapan Am Athletics Stadium. The event will serve as the largest international competition before October's IPC Athletics World Championships in Doha, Qatar.
Representing the red, white and blue are 30 Paralympians, including 100m and 200m T44 world record holder Richard Browne, six-time T52 world champion Raymond Martin and discus F44 Paralympic and world champion Jeremy Campbell.
T53 racer Chelsea McClammer also features. Four years ago at the last Parapan American Games she was one of the most successful athletes winning five gold medals and one silver.
More than half of the Parapan Am team competed at the 2013 IPC Athletics World Championships with 32 US athletes on the roster in Lyon, France. The 2013 World Championships marked Team USA's most successful track and field performance to date since the creation of US Paralympics in 2001. The US took home 52 medals in France - 17 gold, 18 silver and 17 bronze - in the nine days of competition to finish just one medal short of winning the overall medal count
"This is one of the most competitive groups we've sent to Parapan Ams," Cathy Sellers, High Performance Director of US Paralympics Track and Field said. "We're excited to bring a lot of younger athletes who we think will show well in Toronto and get the experience they need ahead of Rio. They'll learn from our veterans but also push them, which will only make our team better."
The fifth edition of the Games will feature a total of 145 track and field events—86 men's and 59 women's—at the Parapan Am Athletics Stadium, including a total of 54 field events. Competition begins Monday 10 August at 15:00 EST with 42 semi-final and final events.
The Parapan Am Games and will feature 1,608 athletes from 28 countries competing in 15 sports with the last Games taking place in 2011 in Guadalajara, Mexico. The US track and field team contributed 56 medals to Team USA's overall medal count in Mexico with 25 gold, 15 silver and 16 bronze medals won. Team USA finished second in the overall count behind Brazil with a total of 132 medals over eight days.
US roster for 2015 Parapan American Games
*Denotes US Paralympians
Name, Classification
Men
David Blair, F44
Michael Brannigan, T20
Mark Braun, T54
Jack Briggs, T46
*David Brown T11
*Jerome Avery Guide Runner
*Richard Browne, T44
*Jeremy Campbell, T44
*Tobi Fawehinmi, T46
*Rudy Garcia-Tolson,T42
Samuel Grewe, T42
*Lex Gillette, T11
*Wes Williams Guide Runner
Tyson Gunter, T13
Austin Handley, T38
*Erik Hightower, T54
Gianfranco Iannotta, T52
Desmond Jackson, T42
*Josiah Jamison, T12
*Rolland Slade, Guide Runner
Ayden Jent, T35
Spencer Kimbro, T53
*Blake Leeper, T43
*Ray Martin, T52
*Michael Murray, T20
*Paul Nitz, T52
*Markeith Price, T13
*David Prince, T44
*Austin Pruitt, T34
Isaiah Rigo, T52
*Josh Roberts, T52
Daniel Romanchuk, T54
James Senbata , T54
*Jeff Skiba, T44
Arturo Torres, T53
Roderick Townsend, T46
*Steven Toyoji, T52
*Shaquille Vance, T42
*Jarryd Wallace, T44
Ahkeel Whitehead, T37
Michael Wishnia, F57
Hunter Woodhall, T44
Regas Woods, T42
Women
Megan Absten, T46
Suzanne Arenal, T35
Natalie Bieule, F44
Kimberly Crosby, T13
Alexa Halko, T34
Aubrey Headon, T35
Kelsey Lefevour, T54
*Angela Madsen, F56
*Cheri Madsen, T54
*Chelsea McClammer, T53
*Hannah McFadden, T54
*Cassie Mitchell, F51
*Kerri Morgan, T52
Jill Moore, T53
Rachael Morrison, F51
Ivonne Mosquera-Schmidt, T11
TBA Guide Runner
*Shirley Reilly, T53
Allysa Seely, T36
Amy Watt, T46
Jasmine Rowe, T46