USA, Canada Para cyclists shine on Worlds first day
Jamie Whitmore and Joseph Berenyi took two titles for the USA, whilst Canada also celebrated double gold through Ross Wilson and Tristen Chernove.
03 Mar 2017
Imagen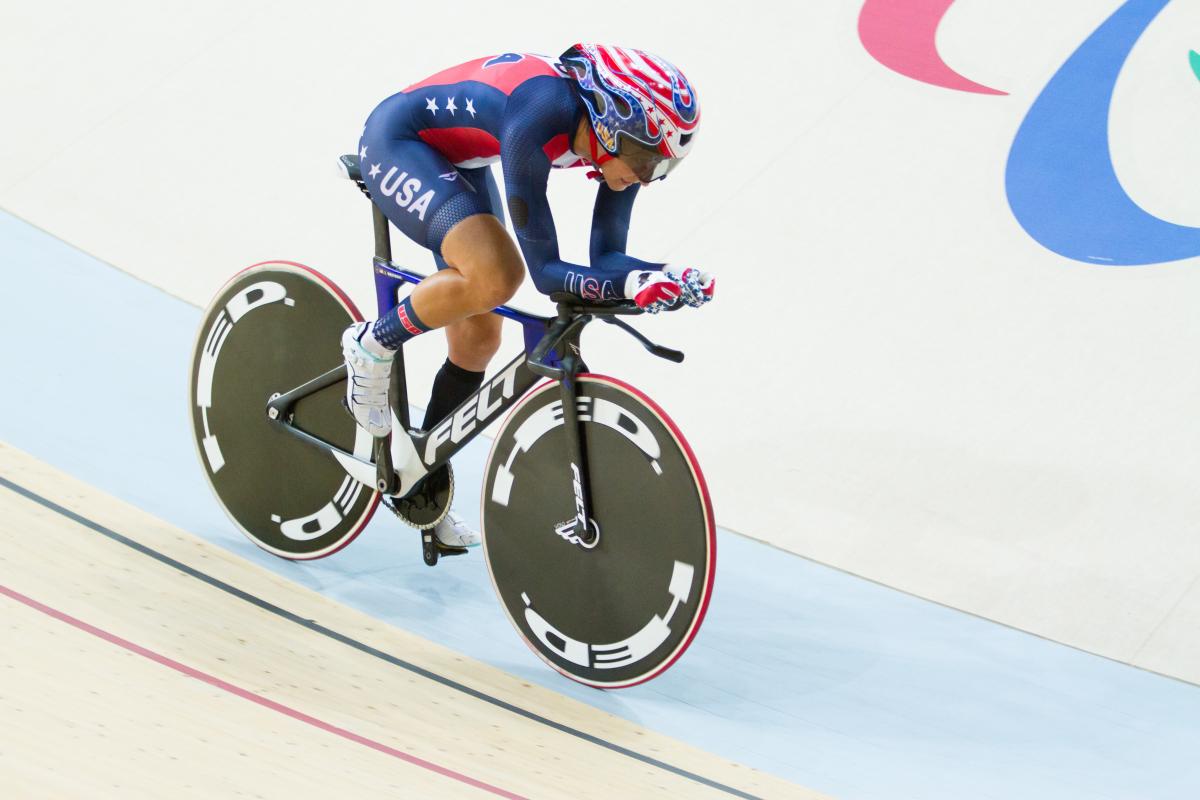 Ⓒ© Cicero Rodrigues
The UCI Para cycling Track World Championships got underway in Los Angeles, USA, on 2 March with standout performances from home and Canadian athletes.
USA's Jamie Whitmore gave her country the first gold in the women's 500m time trial C3, with a new personal best time of 43.640. Australia's Simone Kennedy finished second.
"It feels good to win the World Championships in my own state, not just my country. I am from California so I am very excited to be wearing this medal," said Rio 2016 gold medallist Whitmore.
"It was just a very exciting race. It seems a little bit low key, with a lot of countries missing and last year being a Paralympic year, but at the same time it is fun coming to something with a little bit less stress and have fun."
Whitmore's teammate and London 2012 champion Joseph Berenyi claimed gold in the men's 1km time trial C3 class. "It is a total honour to earn gold at home," he said.
But the USA was not the only country to shine on the first day of the World Championships as Canada sealed double gold in the 1km time trial event through two-time silver medallist Ross Wilson (men's C1) and Rio 2016 champion Tristen Chernove (men's C2).
Wilson was followed into the podium by Australia's Darcy Thompson and USA's Todd Key, whilst Chernove finished ahead Japan's Kentaro Aizono and the Czech Republic's Ivo Koblasa.
"It is a such special feeling; something that I have chased for a couple of years now and kept feeling that I was getting closer and closer," said Ross.
"It is great to get the reassurance that all of my hard work is paying off. It is very exciting."
British riders also had a reason to celebrate as Sophie Thornhill and pilot Corrine Hall stormed to gold in the women's 3,000m individual pursuit B. "It is incredible!" said Rio 2016 gold medallist Thornhill after winning her fifth world title.
Their compatriots Lora Fachie and pilot Hazel Macleod secured silver, whilst Belgium's Griet Hoet and pilot Anneleen Monsieur collected bronze.
Spain's Avila Rodriguez and pilot Joan Font Bertoli were the fastest in the men's equivalent, ahead of Australia's Kieran Murphy and pilot Lachlan Glasspool, and USA's Chester Triplett and pilot Stephen Pedone.
"We are really thrilled with this win. It is a dream," said Rodriguez.
Australia's Amanda Reid was the last world champion crowned on the first day of competition, in the women's 500m time trial C2. She was followed by Czech Republic's Tereza Diepoldova.
The World Championships will continue until Sunday.