USA name strong team for Doha 2015
The team will consist of 84 athletes, including four guides, for the event which takes place between 21-31 October.
30 Sep 2015
Imagen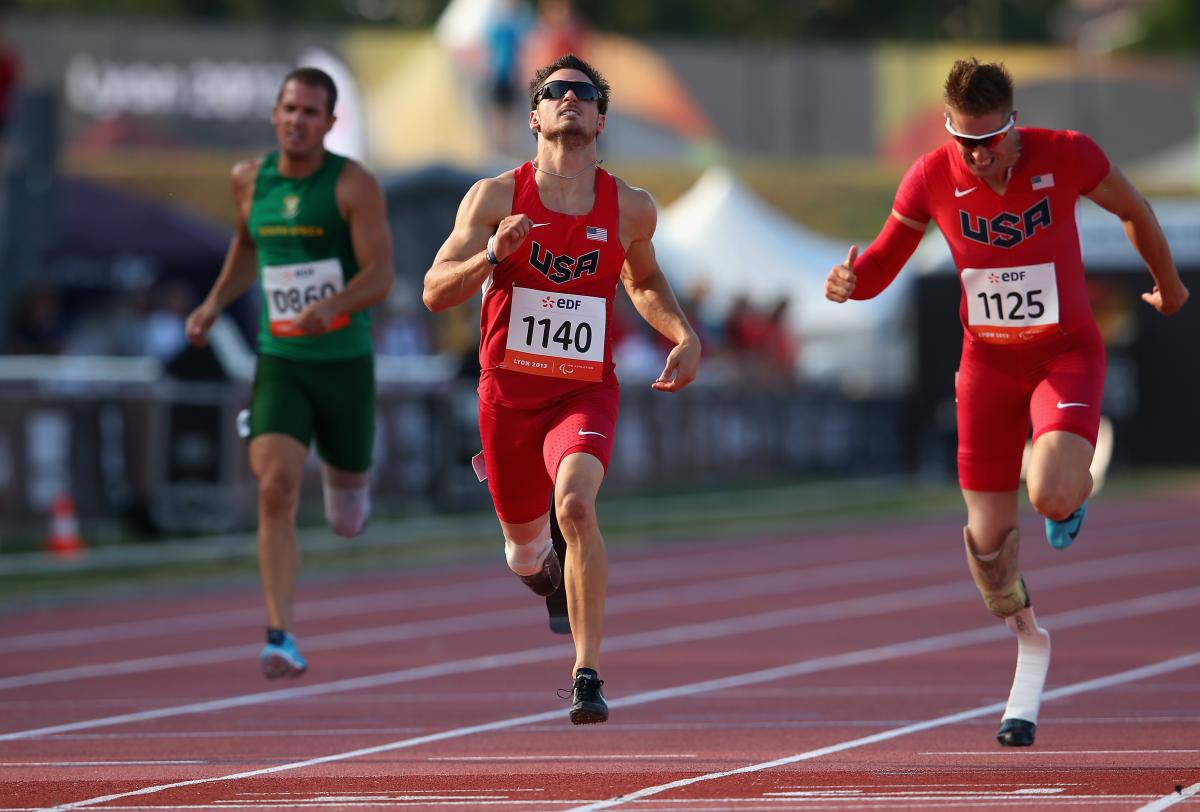 ⒸGetty
By US Paralympics
"We're thrilled to bring our largest team ever to World Championships,"
US Paralympics has named the 84 athletes, which includes four guides, who will don the stars and stripes at the 2015 IPC Athletics World Championships, between 21-31 October, in Doha, Qatar.
Team USA's roster consists of 52 males and 32 females, including seven reigning world champions, who will compete in the biggest international track and field event before the Rio 2016 Paralympic Games.
"We're thrilled to bring our largest team ever to World Championships," Cathy Sellers, US Paralympics track and field high performance director said. "With less than a year to Rio, Doha will set the ultimate stage for our athletes to prove themselves against the world's best before the Paralympic Games next September. We hope to have as much success from Team USA's 52-medal performance at the 2013 World Championships with our seasoned veterans and promising newcomers."
The worlds roster is highlighted by 38 athletes who competed at the 2013 World Championships in Lyon, France, including 2012 Paralympian Raymond Martin who became the first man to win five world titles, securing his place in history as one of the world's best T52 racers. Three-time Paralympic medallists Jeremy Campbell, discus, and Lex Gillette with guide Wes Williams, long jump, will also look to defend their world titles in Doha.
One of the most exciting US matchups to watch will be the men's 100m T44, where Jarryd Wallace, Richard Browne and Jerome Singleton will vie for the title of world's fastest amputee sprinter heading into Rio. Wallace currently holds the world record after besting Browne's mark in August at the Toronto Parapan American Games, clocking in at 10.71. Singleton is the 2011 world champion.
Three-time Paralympic medallists April Holmes and Shirley Reilly lead the US women as they aim to build off of medal performances in Lyon. Other top contenders in Doha include Chelsea McClammer, Kerri Morgan and Cheri Becerra-Madsen.
Tatyana McFadden, who won six world titles in 2013, will be absent from the event as she focusses on securing her third successive marathon grand slam.
In 2013, Team USA recorded the most medals in track and field history at a Paralympic Games or World Championships with 52 medals—17 gold, 18 silver and 17 bronze. Team USA was just one medal short of winning the medal count and broke five world records, including a 40.73 mark set by the men's 4x100m relay T42-46. Three of the four men on the winning relay team will return for the 2015 World Championships: Browne, Wallace and Singleton.
The 10 days of competition at the 2015 IPC Athletics World Championships will feature 1,300 athletes from 100 countries who will contest 214 medal events at the Suhaim Bin Hamam stadium in Doha, Qatar.
2015 U.S. Paralympics Track and Field World Championship Team
*Denotes US Paralympian
#Denotes 2013 world championship team member
Name, Classification
Men
David Blair, F44
Michael Brannigan, T20
Mark Braun, 54
Jack Briggs, T47
*#David Brown, T11
*#Jerome Avery, Guide Runner
*#Richard Browne, T44
*#Jeremy Campbell, F44
A.J. Digby, T43/F43
*#Lex Gillette, T11/F11
*#Wes Williams, Guide Runner
Samuel Grewe, F42
#Tyson Gunter, T13/F13
Austin Handley, T38
JaQuivis Hart, T47
*#Erik Hightower, T54
#Gianfranco Iannotta, T52
Desmond Jackson, T42/F42
Ayden Jent, T35
Hurie Johnson, F44
Cody Jones, F38
Spencer Kimbro, T53
*#Raymond Martin, T52
Carlos McCormick, T12
Trenten Merrill, T44
#Michael Murray, T20
*Paul Nitz, T52
*Aaron Pike, T54
*#Markeith Price, T13/F13
*#David Prince, T44
*#Austin Pruitt, T34
#Isaiah Rigo, T52
*#Josh Roberts 52
Daniel Romanchuk, T54
James Senbetta, T54
*#Scot Severn, F53
*#Brian Siemann, T53
*#Jerome Singleton, T44
*#Jeff Skiba, F44
Timothy Tanner, T12
Mason Rhodes, Guide Runner
Arturo Torres, T53
Roderick Townsend, T46/F46
*#Steven Toyoji, T52
*#Shaquille Vance, T42
*#Jarryd Wallace, T44
#Ahkeel Whitehead T37/F37
Johnnie Williams, F56
Michael Wishnia, F57
Hunter Woodhall, T43
#Regas Woods, T42/F42
Women
#Megan Absten, T46
Suzanne Arenal, T35
#Scout Bassett, T42/F42
Natalie Bieule, F44
Kym Crosby, T13
Alexa Halko, T34
Jessica Heims, T44/F44
#Lacey Henderson, T42/F42
Yen Hoang, T53
*#April Holmes, T44
Ciera Jervier, F44
Rachel Kroener, F34
#Kelsey LeFevour, T54
*#Cheri Becerra-Madsen, T54
*Angela Madsen, F56
*#Chelsea McClammer, T53
*#Hannah McFadden, T54
Jill Moore, T53
*#Kerri Morgan, T52
Rachael Morrison, F51
#Ivonne Mosquera-Schmidt, T11
Andrew Tollefson, Guide Runner
Grace Norman, T44
*#Shirley Reilly, T53
Jessica Rogers, T53
*#Suzanne Scaroni, T54
Stephanie Timmer, F12
#Katie Walker, F46
Fawn Washington, F43
Amy Watt, T46/F46
Liz Willis, T44
Deja Young, T46
Lexie Youngberg, T44