USA's mixed coxed four hungry for gold
After a silver at the 2015 Worlds, the USA's LTA4+ boat are confident they can contend for gold at the Rio 2016 Paralympics.
22 Aug 2016
Imagen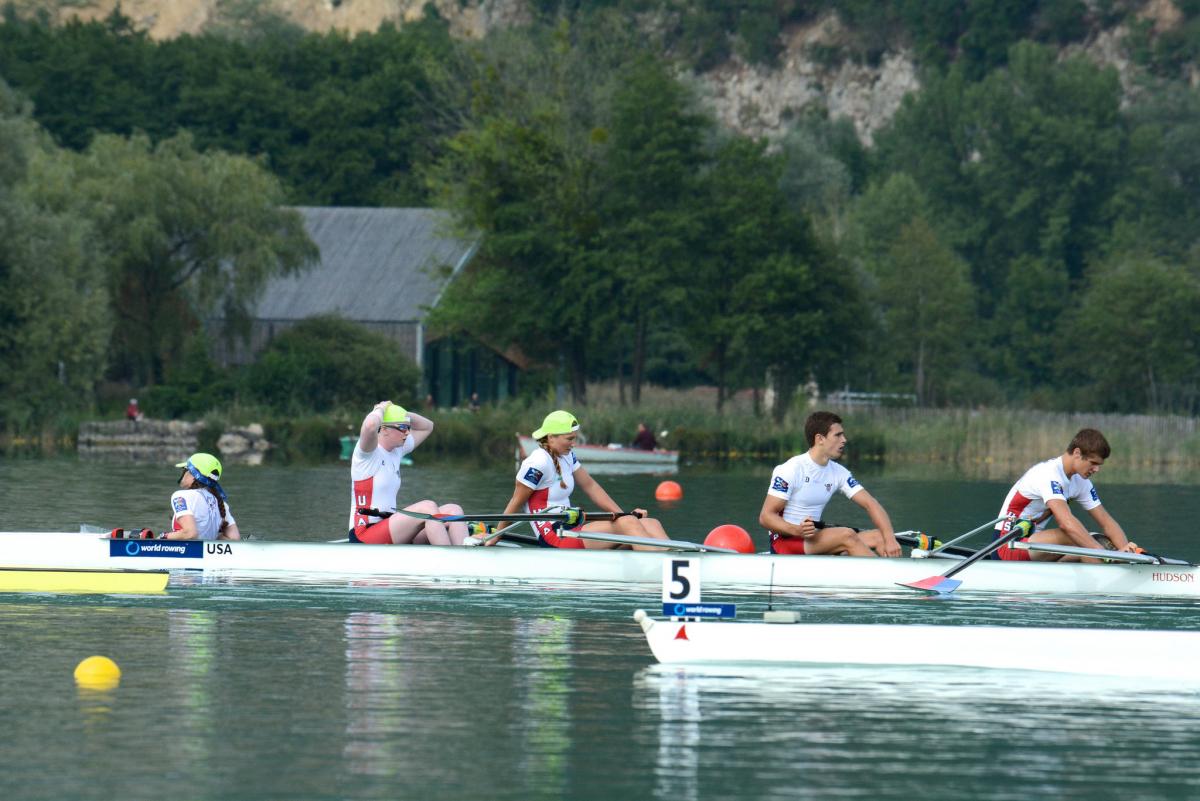 ⒸUS Rowing
By Kyle Rinaudo | For the IPC
The USA's legs, arms and trunk mixed coxed fours (LTAMix4+) just missed out on the gold at last year's World Championships. But entering the Rio 2016 Paralympic Games, the crew – Jaclyn Smith, Danielle Hansen, Zachary Burns, Dorian Weber, and coxswain Jenny Sichel – say they are up for the gold-medal challenge.
To do so, they are maintaining focus.
"The press and media have built up Rio a lot," Sichel said. "But I think our team is just… looking beyond that [the hype] and looking at how fast we're going to be able to race, how to keep distractions out for the first week-and-a-half we're there before racing starts.
"It's going to be a brand new experience for us all, but we'll have time to explore and see everything afterwards."
Key to developing
The US team has seen mounting success in recent years. After a disappointing sixth place finish in the London 2012 Paralympic Games, the crew rebuilt with new, younger rowers two years later to take silver in the 2014 World Championships in Amsterdam, the Netherlands.
Siche – whose role as coxswain is to steer and navigate the boat – said their improvements stemmed from better scholastic development training.
"In 2014, we were successful I think because we had our collegiate system and our junior system feeding in a little bit to the Para rowing realm. A couple of our people rowed collegiately and a couple rowed for their high school, so in 2014 we had a lot of speed there.
"Then in 2015…all four of our athletes had another year under their belts, and I think that we also had a whole summer together, which allowed us to bond a little bit more as a group and as a team."
Smith agreed, saying the pool talent has upped since London 2012.
"I come out for tryouts in 2014, and it's a whole new recruiting class," she explained. "The previous year [2013] I tried out and it was six of us trying out for four seats. In 2014, it's 17 people trying out for four seats. And I was like, 'Wow…this boat is gonna be good.'"
The boat to beat
They lost to Great Britain by about five seconds. But that year's silver medal only left them wanting more.
"It was great to finally get some hardware," Smith said. "But it left us really hungry—ready to go for that gold."
At the 2015 World Championships in Aiguebelette, France, the US closed the gap, leading the British boat until just the last 500 meters of the LTA4+ Final.
The finish was heartbreakingly close – just 0.26 seconds separated Great Britain's gold medal from Team USA's silver.
"When we lost in Amsterdam by five seconds, I was pretty ripped up about that, but I'd say losing by less [in 2015] is even harder," Hansen said. After the 2015 race, she told worldrowing.com "We did a good job. But we're going to be better next year."
Now, it is "next year."
"Everyone's goal going into Rio is to get the gold," Sichel said. "Our main goal is to be able to stay within our boat and have the best race that we can. We can't control any of the other teams or what they're doing, but we can control what's going on in our boat and how fast our boat's going. And so I think by doing that, we will have a really good race."
They know they are not the favourite at Rio 2016.
"We're looking to bring home the gold this year and to stop Great Britain's five year winning streak," Smith said. "You could definitely say they have a target on their back.
"And we want the world record...But really, our biggest competition is ourselves. We need to have the best race possible for ourselves. We need to go out there and have the best race we can."
Crew chemistry
The 2016 US crew features largely the same athletes as last year, with the exception of Weber, who raced his way onto the boat during US Rowing's selection earlier this year. "Having that extra personality in the boat has made it more interesting," Sichel said.
What has not changed is the close quarters of intense Paralympic training, which the team said makes training feel like a family.
"Our two guys live together in host family housing. Our two girls live together in host family housing…so I think being together that much, being forced together that much, really makes you work out your differences pretty damn quickly," Sichel said.
Smith said they are enjoying the time training, which makes Rio 2016 even more exciting.
"All five of us, we enjoy training together, we enjoy spending time together. So we're so excited to leave for Rio…but at the same time I'm trying to hold on to this experience for as long as possible."
Are they ready?
"Oh yeah, I'm itching to go," Hansen said. "We've been here since June, and I've been waiting for this my entire life. I want Great Britain to bring their A-game, I want everybody to bring their A-game, and I'm just rearing to go.
"As crazy as it sounds, I'm even more confident this year than I was last year."
Para rowing competition begins 9 September, with medal events on 11 September at the Lagoa Stadium.
__
Sport fans from around the world can now buy their Paralympic tickets for Rio 2016 from authorised ticket resellers (ATRs)
The IPC's Global ATR is Jet Set Sports, and Rio 2016 tickets and packages can be purchased on the CoSport website.
Residents of Brazil can buy 2016 Paralympics tickets directly from the Rio 2016 website.
Visa International is the exclusive payment card and the official payment system for the Paralympic Games.