USA Tries to Defend Ice Sledge Hockey Gold
The Americans are the reigning world and Paralympic champions in Ice Sledge Hockey and could pick up another gold medal on Sunday (1 April).
31 Mar 2012
Imagen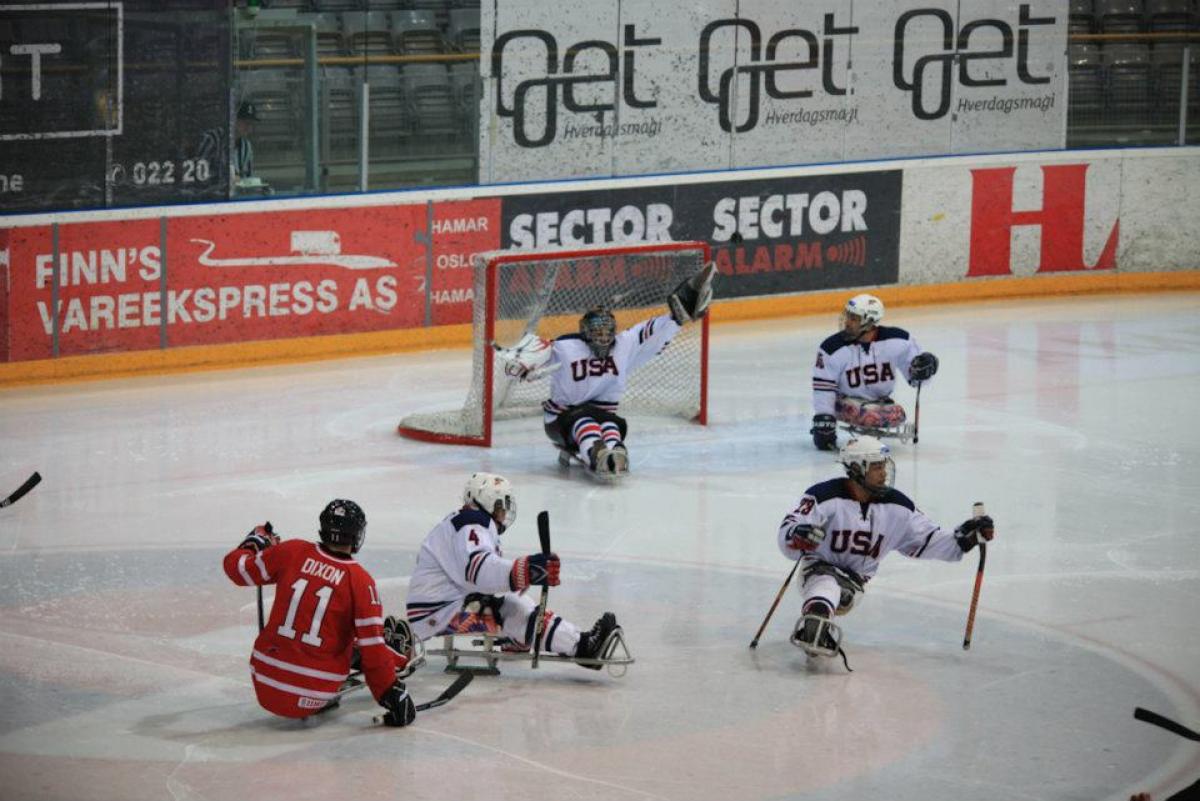 ⒸAnita Hector
By IPC
"We bring it all the way when it counts – all the guts."
Editor's Note: This story is Part 2 of 2 previewing the squads that will take part in the 2012 IPC Ice Sledge Hockey World Championship finals on Sunday (1 April).
USA has the chance to maintain its dominance in the Ice Sledge Hockey world when it faces Korea in the gold-medal game at the 2012 International Paralympic Committee (IPC) Ice Sledge Hockey World Championships in Hamar, Norway.
After defeating rivals Canada in the semi-finals, the reigning world and Paralympic champions will try to defend their title on the ice on Sunday (1 April) at 16:00 (CEST).
"We bring it all the way when it counts – all the guts," team captain Taylor Chace said. "We're trying to defend our title and we did that (Thursday). But it's not over yet."
Taylor Lipsett, Alexi Salamone and Chace have all stepped it up in Hamar to lead USA to a 2-1 record in round-robin play and then a 2-1 win over Canada in the semi-finals.
The team's lone loss was to Czech Republic in shootout by a score of 2-1.
Lipsett and Chace have three goals and assist each in the tournament, while Salamone has netted one goal and racked up three assists.
Steve Cash has been unbelievable in the net, leading all goalkeepers with a 95.3 save percentage in the event.
The 22-year-old saved 15 of 16 shots in the semi-final game, fending off a fierce Canadian attack in the final minutes.
"I probably don't even remember the last five minutes," Cash said. "I couldn't even tell you what happened. That last face-off was really a big one that our captain Taylor Chace won. That's what you have to do at the end of the game – you have to come up with those big plays, and that's what got us the win."
USA has medalled at the last three World Championships, most recently winning gold in 2009 in Ostrava, Czech Republic, and the Americans defeated Korea, 5-0, when they last met at the Vancouver 2010 Paralympic Winter Games.
But that does not matter once they hit the ice.
"It's a 0-0 game when the puck drops," Chace said. "They're smart. They're in good condition. I think the biggest thing is they play as a team."
Related Images