Vadovicova's golden Rio timing
With two Paralympic gold medals and one silver, the Slovak shooter's career peaked in Rio, which could not have happened without past defeats and change.
25 Jan 2017
Imagen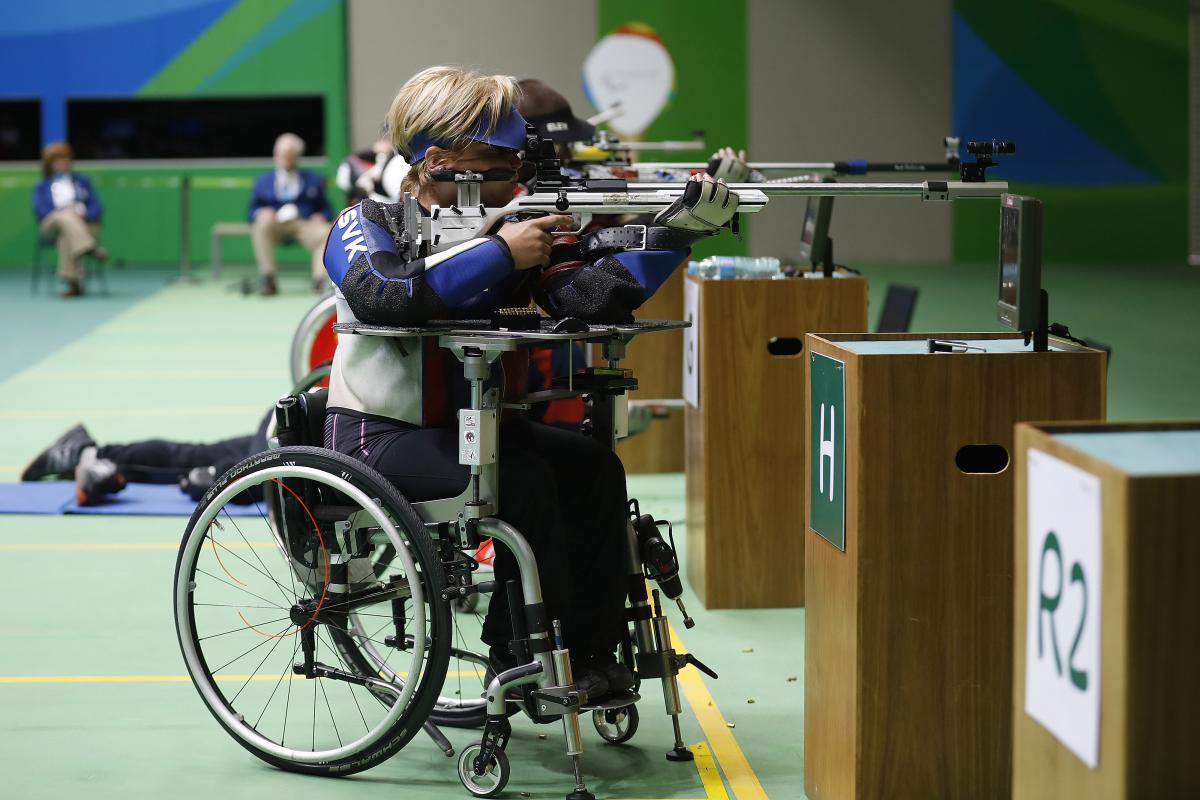 ⒸWagner Meier for the IPC
By Rebecca Schaefer | For the IPC
"I was always hungry for victories so I hope this stays the same."
Slovakia's Veronika Vadovicova, one of the top shooters at the Rio 2016 Paralympic Games, has spoken of how a leap of faith changed the course of her career.
"Shooting is not just about winning. It is also about defeats. After London 2012, I was not happy with my performance there and I was pretty upset," Vadovicova said. "I swapped my coach and he in turn completely changed my equipment and my training process. Of course, now I can say it was a very good decision."
Vadovicova is also convinced that without those drastic changes, her phenomenal performances in Rio – gold in the R2 (women's 10m air rifle standing SH1), gold in the R3 (mixed 10m air rifle prone SH1) and silver in the R8 (women's 50m rifle 3 positions SH1) as well as one Paralympic record and two finals Paralympic records – might not have been possible at all.
"In the beginning, it was pretty tough. My new coach tried to track and break down all my mistakes. We started to involve mental and fitness coaches into my training routine and worked out proper nutrition and diet plans for me," she remembered.
"I have to admit that initially, I was pretty skeptical towards some of their advice and proposals. But I am glad I endured and did not give up."
The 33-year-old ended up demonstrating a similar fighting spirit in Rio's Paralympic finals.
In the R2 Vadovicova, who had won her first Paralympic gold in the very same discipline at Beijing 2008, admitted that she had felt "the most stress and nervousness and a profound desire to win" the event. The result: a poor start into the final with multiple 9's.
But the Slovak managed to make an impressive comeback and with a series of near-perfect shots turned the tables on her fiercest opponent, China's Cuiping Zhang.
"All of the competitions were really hard-fought and I am happy with all of my performances. I am particularly pleased that I came out on top in the R3 though since it is a mixed event. I am really thrilled that I was able to be the best among both women and men."
That being said, her toughest competition in the R3 still came from another woman again, Germany's Natascha Hiltrop.
"Both Natascha and Cuiping Zhang are exceptional shooters. Particularly Cuiping has really stepped up her game lately. Her victories push me to work even harder as well. In the R8 [where Vadovicova finished second behind Zhang] she was simply the better athlete and her performance is a challenge and a motivation for me. It showed me where I need to practice more in order to reach the gold."
In addition, medalling once in the R6 at a big event is among the remaining goals of the world champion and now three-time Paralympic gold medallist.
"I was always hungry for victories so I hope this stays the same. But I am also a realist: It will not be easy for me to repeat those results in Tokyo or even to win just one medal there."
Rio, Vadovicova said, was were everything felt to fall into place for her. "I put everything I had into these Paralympic Games. And I was really happy that the timing was perfect and that I was able to give strong performances in the right place at the right time."
The 2017 World Shooting Para Sport season gets underway in Al Ain, United Arab Emirates, with a World Cup on 19 February.