Van der Kulk's date with destiny at Eindhoven
At August's swimming Euros, The Netherlands world champion Marlou van der Kulk will be competing in the same pool where she collected her first world titles four years ago.
02 Jul 2014
Imagen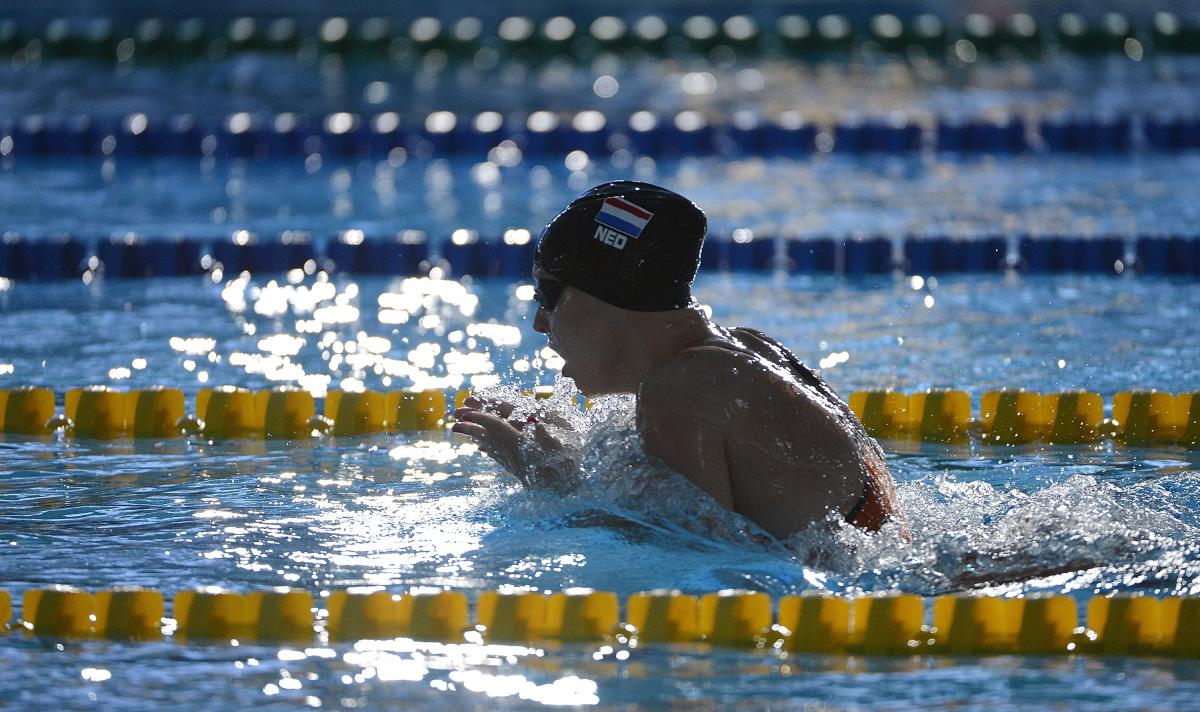 ⒸGetty Images
By Ryan McKenna | for the IPC
"I always believe there is place for improvement and until now I've always found a way to improve every time."
Dutch world champion Marlou van der Kulk believes she is stronger than ever heading into August's IPC Swimming European Championships in Eindhoven, the Netherlands, after setting a new 200m individual medley SM14 world record in the first part of 2014.
"I've improved myself, not only physically but also mentally," the Huizen native said.
"I dropped times, I can handle more training load and I've become mentally stronger and more self-confident."
Back at the 2010 Worlds, van der Kulk - nicknamed 'water rat' - won her first world titles in both the 100m backstroke and 200m freestyle in the same pool that will host the European Championships from 4-10 August.
Now the 20-year-old's quest to retain the same two European titles from 2011 in Berlin, Germany, is strengthened by the fact she will be competing in her second major international event at the Pieter van den Hoogenband Swimming Stadium in four years: "I love that pool," she said. "I've been training there several times and swam a lot of very nice races over there. I've got a lot of good memories and I would love to add a few to it with the European Championships."
The intervening years from her first international successes have seen her further grow into one of the world's best swimmers.
At London 2012, her first Paralympic Games, she captured two bronze medals in both the 100m backstroke and the 200m freestyle against strong competition including Great Britain's Paralympic champion Jessica-Jane Applegate.
A year later at the 2013 IPC Swimming World Championships in Montreal, Canada, she shaved nearly three seconds from her 100m backstroke time, posting 1:06.70 to win gold. Van der Kulk also captured a gold in the 200m individual medley, beating second-placed Applegate to the wall.
That hard work has continued in the lead up to Eindhoven 2014 with coach Sander Nijhuis.
"We work towards such a situation the whole season," Nijhuis said. "It's not only about having an excellent trained body, but also about an excellent prepared state of mind. It's all about practicing the things you need to be able to do at that one tournament where you want to shine."
So far in 2014 the physical and mental preparations have been paying off. Van der Kulk broke the 200m individual medley mark in April, unsurprisingly in the same Eindhoven pool which has been such a lucky location for her in the past with a time of 2:29.71.
"I'm very happy with my races so far," she said. "I always believe there is place for improvement and until now I've always found a way to improve every time."
Tickets for the 2014 IPC Swimming European Championships, which will feature nearly 400 swimmers from 37 countries, are available at the Eindhoven 2014 website.
Media accreditation is also available at the media section of the Eindhoven 2014 website.