Van Weeghel thrilled by Swansea 2014 rivalries
Dutch Paralympic champion is looking forward to facing some of the world's best wheelchair racers at August's European Championships.
27 Jul 2014
Imagen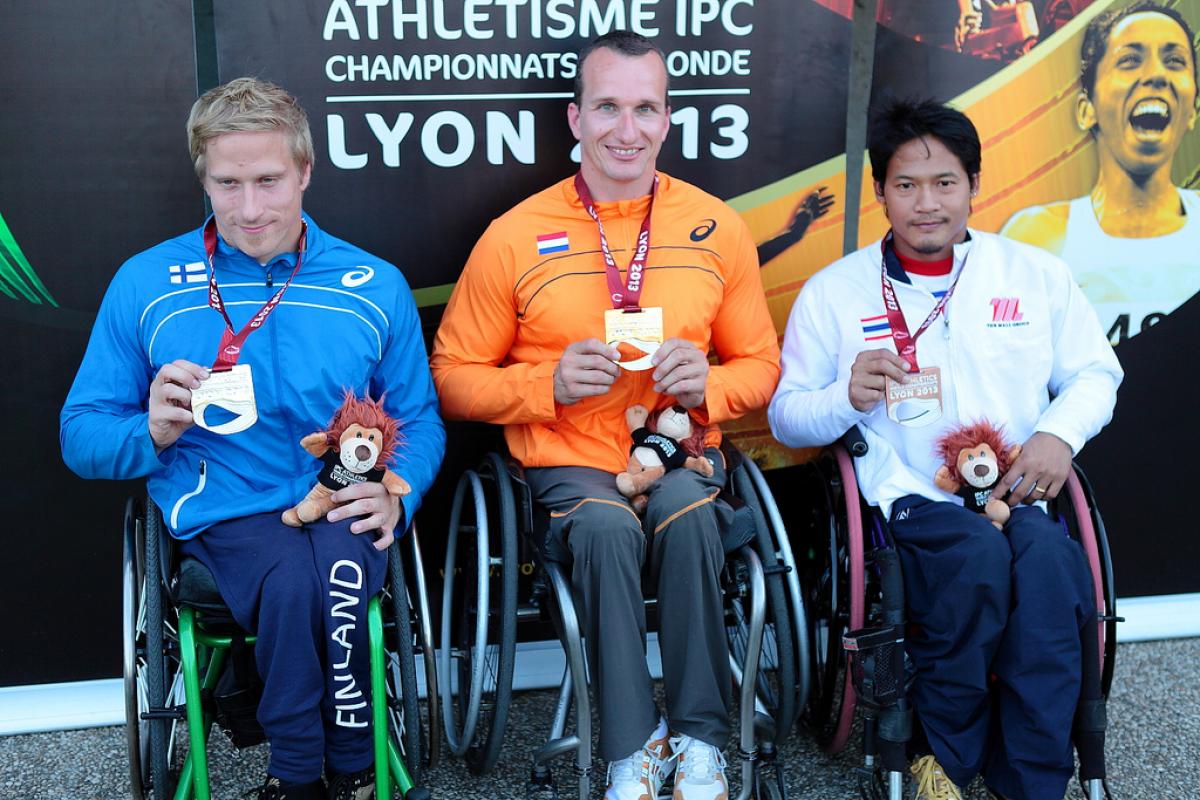 ⒸT Quehen
By IPC
"Nothing can beat hard work and spirit. As long as you are able to stay motivated to give it all, there will always be a chance for you to win. The biggest challenge however will always be competing against yourself."
Dutch wheelchair racer Kenny van Weeghel is relishing the opportunity to go head-to-head with his arch rival, Finland's Leo-Pekka Tahti, when the pair line up at the IPC Athletics European Championships in Swansea, Great Britain, in just four weeks' time.
The two wheelchair racers have built up a thrilling rivalry over recent years, highlighted at last year's IPC Athletics World Championships in Lyon, France, where they both lined up in the 100m and 200m T54.
In the first race, the 200m T54, it was the Dutchman who powered to the line first, taking gold in 25.10 seconds with the Finn less than half a second behind.
But two days' later Tahti exacted his revenge, crossing the line ahead of van Weeghel in the 100m T54 to underline his credentials as the world record holder and Paralympic champion.
Twelve months on, and the scene is set for another captivating duel as both athletes prepare to head to Swansea with European titles to defend.
But battling for first place does not faze the 33-year-old – instead, he relishes every chance he has to line up in a world-class field.
"I enjoy facing the best of the best in my events. Nothing beats a race where we finish within hundredths of a second of each other," explained van Weeghel who beat Pekka over 200m at May's IPC Athletics Grand Prix in Nottwil, Switzerland.
"Athletes like Leo-Pekka Tahti have a lot of talent but in order to work with your talent you need to put a lot of hard work and effort into it.
"These hundredths of a second keep us motivated to keep improving our racing. It makes it a great challenge each time we meet."
Four-time Paralympic champion Tahti has also shown that he is more determined than ever, competing at the IPC Grand Prix meetings in Switzerland, Italy and Tunisia already this year.
And van Weeghel is well aware of the strengths and abilities of his opposition, making the next few weeks training and preparation all the more important. There is no time for camaraderie when there are medals to be won.
"Leo is a fantastic athlete. Off track we are good friends, but as soon as "on your marks" is announced, of course I want to win," he said.
"Every athlete has a strength and Leo's start is just incredible. It will be fantastic to meet him in Swansea and compare my hard work to his hard work."
Van Weeghel takes on the 100m, 200m, 400m and 800m at the European Championships – a busier schedule than usual – but it is a challenge he feels ready for.
"After a fantastic World Championships in Lyon, we set out to make some changes in our training and goals. One of the changes was increasing the effort on the longer distances," he explained.
"I was really looking forward to see how I could perform outside of a single lane. After a lot of years pure sprinting I was excited to try something new.
"Having success at the European Championships over the years is wonderful, but to me it is still about improving my own skills and PB's. This is one of the reasons for trying to increase the efforts on the longer distances."
In fact van Weeghel has already shown an affinity to the longer distances – and he is no stranger to the one lap sprint, having won London 2012 400m silver behind China's Zhang Lixin – and gold, eight years prior to that, in Athens.
But the four-time Paralympic medallist is still careful to leave no stone unturned, having competed over the longer distances since the start of the IPC Grand Prix Series back in Dubai in February, where he set new personal bests in the 400m, 800m and 1500m.
"Every distance has something special from the 100m to the 1500m. But my best event is the 200m. I am very eager to find out if it's possible for me to get another set of medals," he added.
It is not just the 'Flying Finn' that he has to watch out for in Swansea with the likes of middle and long distance stars David Weir, Marcel Hug and Marc Schuh also likely to battle for medals.
"We still have got some fine tuning to do. So I am back on my training track in the Netherlands," van Weeghel added.
"We have got some preparation competitions in the beginning of August to get my speed back after my weeks of training. And at the 18 August I will be ready to face Leo, Marc, Marcel, David and all other competitors for a good show. I am looking forward to it.
"Nothing can beat hard work and spirit. As long as you are able to stay motivated to give it all, there will always be a chance for you to win. The biggest challenge however will always be competing against yourself."
Van Weeghel will be one of 600 athletes from 40 countries competing at the Swansea 2014 IPC Athletics European Championships between 18-23 August.
Tickets for the event at Swansea University are now on-sale and can be purchased via the Swansea ticket website. Prices start from £3 per session.