Victory Hug: Marcel clinches marathon gold in Rio sun
Swiss 'Silver Bullet' in sprint finish to claim first Paralympic title but Tatyana McFadden narrowly misses out on fifth gold of Games.
18 Sep 2016
Imagen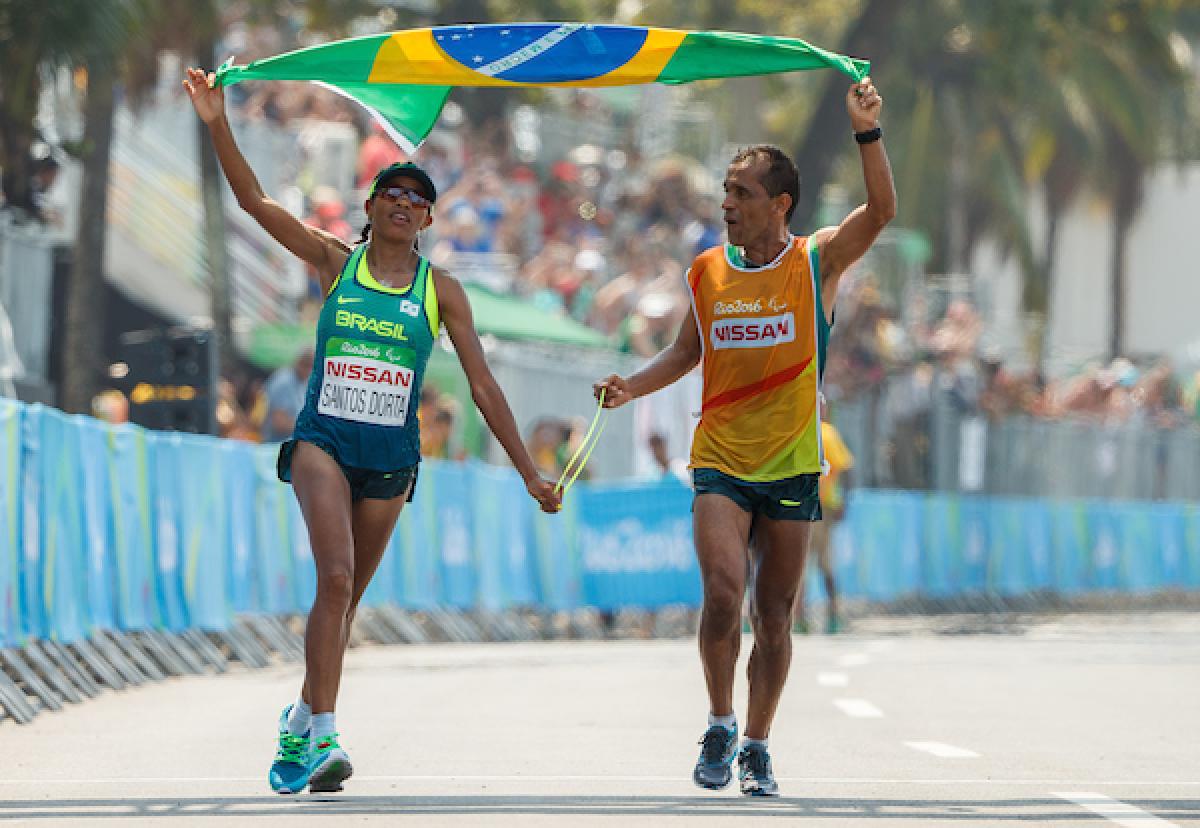 By IPC
Switzerland's Marcel Hug clinched his second gold medal of Rio 2016 with a spectacular sprint finish in the men's marathon T53/54 on Sunday (18 September).
The 30-year-old had quickly broken clear with two-time Paralympic marathon champion Kurt Fearnley of Australia, as defending champion David Weir of Great Britain withdrew early on.
The two racers reached the half way point in 42;17, then it was down to a final sprint along the Copacabana beach front.
It was the Swiss 'Silver Bullet', who has already won the London and Boston marathons this year, who proved to have the strongest finish, crossing the line in 1:26.16.
"It was great, we broke away very early – my plan was to go fast and try to make a pack as I don't like to have a big group, so I took the chance to go away with him," explained Hug.
"We shared the lead so we worked very well together and I knew it would be a sprint in the end. I was very confident – you never know as it depends on the day, but I have beaten Kurt two times this year in the marathon."
Rio 2016 was Hug's fourth Paralympic Games; with seven world titles to his name he arrived in Brazil still chasing Paralympic gold. Now he returns home with two Paralympic titles; it's a result he's been dreaming of for a long time.
"It's definitely good enough for me – it was a big dream and I'm just really happy. I think I didn't realise what it means to me now as I've had a busy programme this week, so I need time to realise what has happened, but I'm really happy," he added.
Fearnley won silver in 1:26.17 with Gyu Dae Kim of Korea coming through for bronze in 1:30.08.
The women's T53/54 saw a lead group of eight race as a pack for much of the race, going through the half-way stage in 47:35.
With less than a mile to go the race was on as the pack picked up the pace before a dramatic final sprint.
China's triple world champion Lihong Zou (1:38.44) and the USA's Tatyana McFadden (1:38.44), who was going for her fifth gold at Rio 2016, clocked the same time and were both awarded the Paralympic record, but it was Zou's wheel that crossed the line just marginally in front.
"I'm very thrilled and excited because I didn't expect to win a gold medal today," said Zou.
"Because I had four other competitions in the past few days (women's 400m, 800m, 5000m, 4x400m relay) and I actually feel very tired physically, but I managed to adjust to these conditions in the last few kilometres," said the 32-year-old, who also won 400m bronze and gold as part of China's 4x400m T53/54 relay quartet.
McFadden, who had been aiming for seven gold medals at Rio 2016, finished with silver to add to her golds in the 400m, 800m, 1,500m and 5,000m T54, and silver over 100m.
"It was a very technical course because it was so flat, I tried to do a couple of attacks at the beginning but everyone came together so that wasn't working. I'm so proud of my teammate Amanda and Manuela (Schaer) and I, we pulled the majority of the race.
"I knew that athletes were waiting at the end to sprint, so I'm proud of myself for pulling the last three miles and taking home a silver.
"I am happy but sad, I feel like once it got started it got going and just ended so fast, but I've had such a great time. I made such a great accomplishment – I really wanted to be on the podium for all six events and I knew it was going to be tough," added the 27-year-old.
Bronze was won by the USA's Amanda McGrory (1:38.45).
Morocco's world record holder and reigning world champion El Amin Chentouf clinched gold in his first ever Paralympic Games marathon, winning the men's T12 event.
The 35-year-old clocked a season's best 2:32.17 under the Rio sun, taking to the front in the fifth and final lap of the Copacabana beach-front course after early leader Gustavo Nieves of Spain pulled up.
"It was very hot but it was a magnificent course. I am very happy to win my first Paralympic marathon title. Nieves was really, really fast in the first three laps then he lost it at the end. Thank you to everyone, especially Brazil and their delegation," said Chentouf.
Spain's Alberto Suarez Laso (2:33.11), gold medallist at London 2012, had to settle for second place this time and bronze went to Japan's Masahiro Okamura (2:33.59).
The men's marathon T46 was won by China's Chaoyan Li in 2:33.35, more than three minutes clear of his rivals.
World ranked number one this year after winning in London, Great Britain in April, Li was in the lead before the half-way stage, stretching the field as he clocked up the miles.
"I am very happy. I have been working very hard. I feel good and I can get even better," said Li, who won the 1,500m T46 earlier at Rio 2016.
Spain's reigning world champion and world record holder Abderrahman Ait Khamouch, silver medallist four years ago, finished in second place once again (2:37.01) while Portugal's Manuel Mendes (2:49.57) took third.
There was gold for Spain in the women's T12 race as Elena Congost dominated from the start. The 28-year-old, who won 1,500m T12 silver four years ago, was quickly ahead and extended her lead over the course, crossing the line in 3:01.43 to finish more than five minutes clear of the field.
Silver went to Japan's Misato Michishita (3:06.52) and bronze to Brazil's Edneusa de Jesus Santos Dorta (3:18.38).
The marathon races rounded off 11 memorable days of Para athletics action at Rio 2016, which saw a phenomenal 69 world records broken as China topped the medals table with 32 golds, 23 silvers and 12 bronzes – a total of 67. The USA finished second with 42 medals, including 16 golds, and Great Britain were third with a total of 33 medals, including 15 golds.