Wallace Serves up 100m Shock on First Day of Parapan Athletics
The USA's Jarryd Wallace set a season-best time in the 100m T44 race to bring home the gold.
15 Nov 2011
Imagen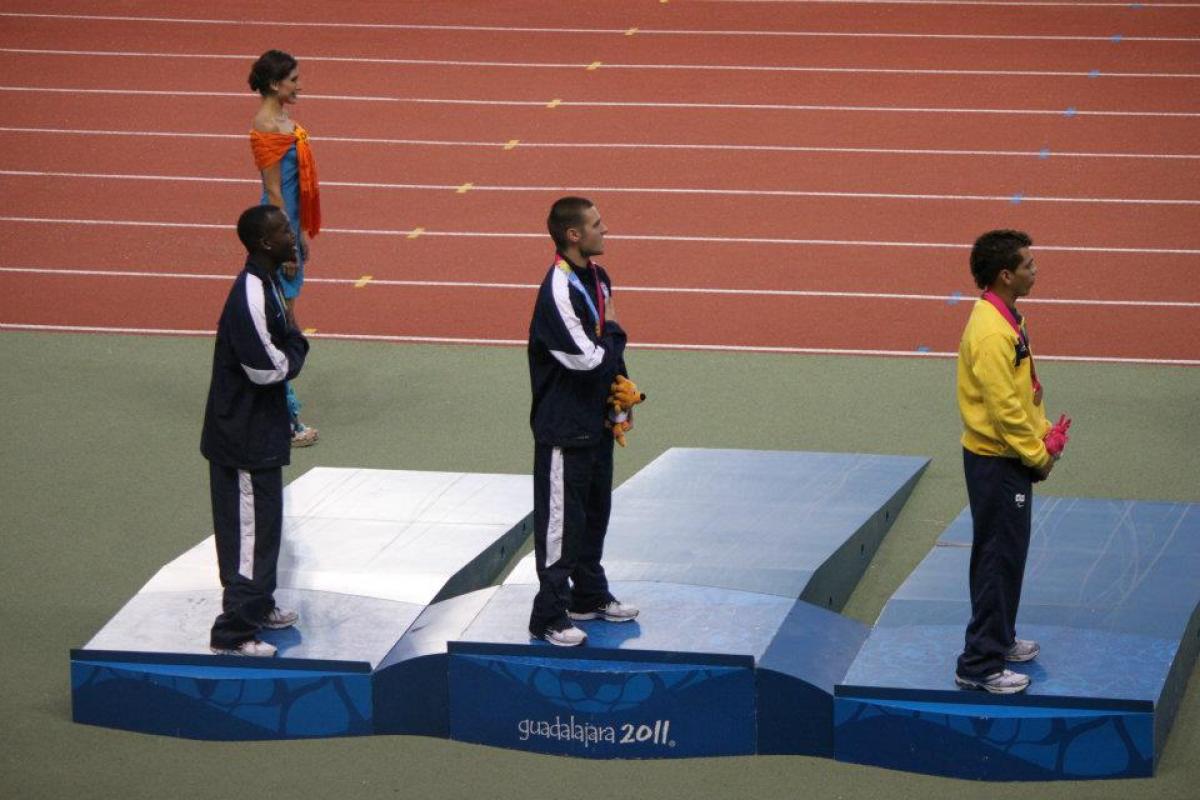 ⒸIPC
By IPC
The first day of track and field at the 2011 Parapan American Games in Guadalajara, Mexico threw up a huge surprise in the much anticipated men's 100m T44 when unfancied American David Wallace stormed to victory.
Watched from the stands by world champion Jerome Singleton, Wallace (11.31) set a season's best time to upset the odds and beat teammate Blake Leeper (11.35) and Brazil's world bronze medallist Alan Fonteles Cardoso Oliveira (11.50) into silver and bronze respectively.
Ironically Wallace's time was 0.03 seconds quicker than the time Singleton ran earlier this year to beat Oscar Pistorius and claim the world title.
Aside from the men's 100m T44, there were 20 other medals events at the Telmex Athletics Stadium on Monday (14 November) and it did not take the home crowd long to be on its feet.
Cheered on by Margarita Zavala, the wife of the Mexican President, the host nation secured a one, two finish in the men's 5,000m T54, the first race of the day.
Aaron Gordian Martinez (11.53.74) took gold a fraction ahead of his teammate Saul Mendoza Hernandez (11.53.77). Bronze went to the USA's Brad Ray (11:54.16).
Brazil's first track gold of the day came in the men's 100m T38 after a brilliant run and personal best time by Edson Pinheiro (11.47). Canada's Kyle Edward Whitehouse (12.11) took silver and Pinheiro's teammate Pablo Pereira (13.31) the bronze.
A season's best by Venezuela's Samuel Colmenares (2:00.13) in the men's 800m T46 secured gold ahead of his teammate Wuillian Briceno (2:01.31) in silver. Mexico's Mario Santillian Hernandez (2:03.41) claimed bronze.
Martin Raymond (2:14.63) picked an opportune moment to deliver a Games record in the men's 800m T52 as it helped secure his first and USA's third gold of the day. His teammate Gianfranco Iannotta (2:27.39) took silver.
Venezuela secured their second gold of the day in the men's 800m T53 through Jesus Aguilar (1:54.00). He finished clear of USA's Zach Abbott (1:55.32) and Mexico's Miguel Angel Mijangos Velazquez (1:56.11) in silver and bronze respectively.
A late surge in the final straight by USA's Amberlynn Weber (2:07.66) secured her first gold of the day in the women's 800 T54 just ahead of Mexico's Gloria Sanchez (2:07.81). Bronze went to Weber's teammate Chelsea McClammer (2:10.75).
Just 30 minutes later and Weber (1:02.03) was back on the golden trail, this time with victory in the women's 400m T54. Again she beat a Mexican, with home favourite Yazmith Bataz (1:02.49) taking silver and Argentina's Valeria Jara (1:06.24) the bronze.
Gold in the women's 400m T13 went to Cuba's Omara Durand (56.88) with Brazil's Joana Helena Silva (1:03.37) taking the silver.
After finishing fourth earlier in the day in the 100m, USA's David Prince (52.12) struck gold in the men's 400m T44 in a Parapans record time. Mexico's Josue Benetiz Sandoval (56.75) was well back in silver, whilst Canada's Jackie Keith (57.13) took bronze.
Venezuela's Omar Monterola (53.74) smashed the Americas record on his way to victory in the men's 400m T38. Gold medalist in the 100m from earlier in the day, Edson Pinheiro (55.51) took silver in a personal best time, whilst William Alberto Silva Flores (55.59) took bronze and Nicaragua's first medal of the Games.
Herman Barreto (13.26) of Argentina put in an impressive performance as he smashed the Americas record in the men's 100m T35. Mexico's Pedro Marquez Jr Villanueva (14.59) took silver.
Another Americas record fell in the next race, the men's 100m T36. Columbia's Jose Florez (13.05) led from start to finish to take gold ahead of USA's Tommy Chasanoff (13.39). Bronze went to Mexico's Nornerto Manuel Zertuche Rodriguez (13.81).
The final medal event of the day on the track saw USA's Eric Hightower (15.08) hold off a late challenge from Brazil's Thiago Souza to win the men's 100m T54. Bronze went to Canada's Isaiah Christophe (16.04)
In the first field event of the day Mexico's Benjamin Ivan Cardozo Sanchez (5.37m/867 points) put a smile on the home crowd's face setting a season's best to win the men's Long Jump F37/38. Silver and bronze went to Argentina through Daniel Tataren (4.85m/711points) and Matias Silvera (4.54m/592 points) respectively.
A new Americas F55 record was set by the USA's Scott Winkler in the men's Shot Put F54/55/56. His throw of 11.00m was good enough to win gold ahead of Mexico's Alan Efrain Noriega Quinones (F54 8.36m) in silver and bronze medallist Leonardo Diaz (10.55m) of Cuba who threw an Americas F56 record.
Argentina's Sebatian Baldassarri (36.74m) took gold in the men's Discus F11 ahead of silver medalist Edwin Rodriguez Gonzales (32.34m) of Columbia. Baldassarri's teammate Sergio Paz (32.20) took bronze.
The women's Shot Put F35/36/37 saw a Brazilian one, two finish. World bronze medalist Shirlene Coelho (9.92m) set a new personal best to take gold ahead of teammate Marivana Oliveira (8.04m) who set a new F35 Americas record to take silver. Bronze went to Argentina's Amanda Perla Munoz (7.34m).
Just 4cm was the difference between gold and silver in the men's Discus F37/38. Argentina's Leandro Ricci (39.46m) threw an Americas record to take top spot on the podium just ahead of Canada's Kevin Strybosch (39.40m). Cuba's Franklin Fonseca Oquendo (38.29m) took bronze.
Danyelo Herrnandez (12.29m) of Venezuela took gold in the men's Shot Put F20.
Jamaica claimed its first gold of the Games in the men's discus throw F51/52/53 thanks to Alphanso Cunningham (25.18m). Silver went to USA's Scott Severn (22.14m).
In total there are 111 medal events in six days of athletics competition at the Parapan American Games involving 342 athletes from 22 countries. Friday (14 November) will be the busiest day on the track and on the field with 30 gold medals up for grabs.
Related Images