#WePlayTogether: Rwanda featured in UN photo exhibition
In celebration of the International Day of Sport for Development and Peace, the exhibition highlights what the UN and players all around the world do to harness the power of sport.
06 Apr 2017
Imagen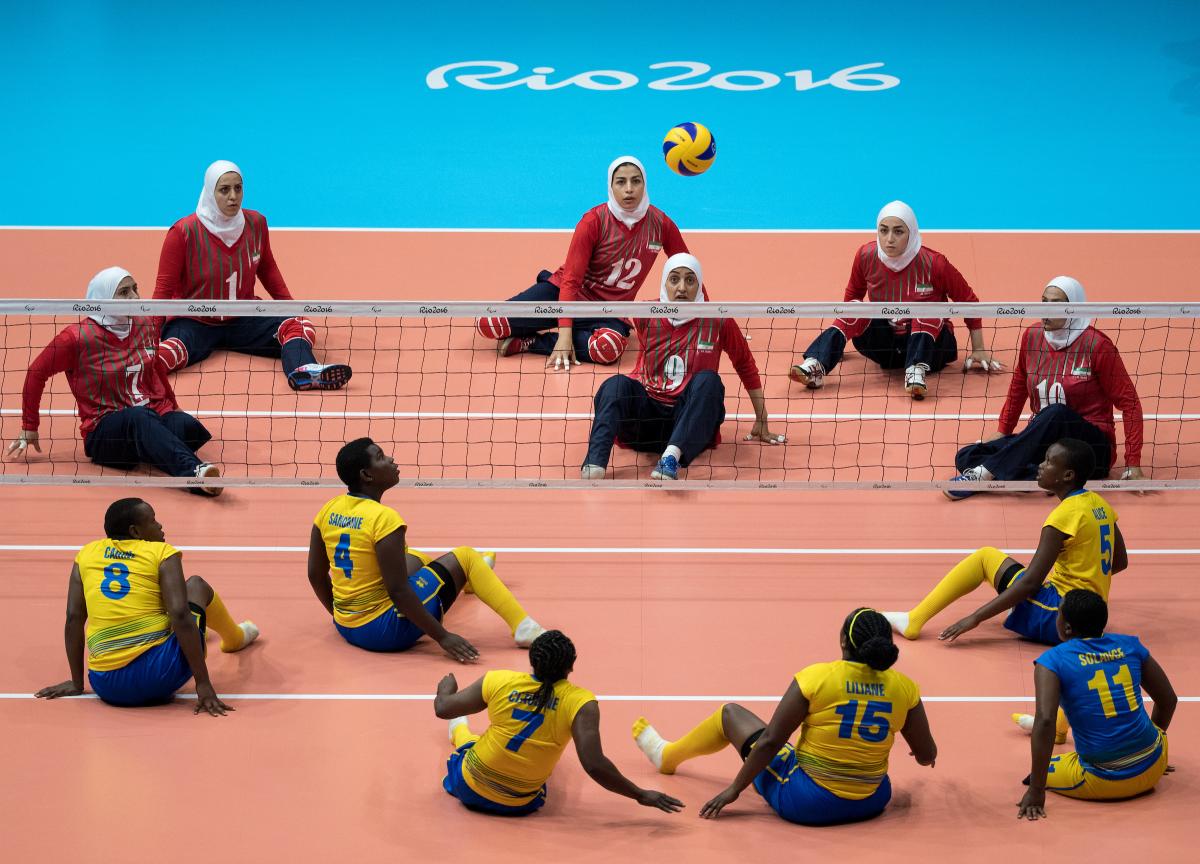 ⒸOIS
By IPC and UNOSDP
A powerful image of the Rwandan women's sitting volleyball team will be featured in a UN exhibition celebrating the International Day of Sport for Development (IDSDP) and Peace on 6 April.
The photo, taken by Simon Bruty for Olympic Information Services (OIS) during the Rio 2016 Paralympic Games, shows the Rwanda team playing a preliminary game against Iran.
In Rio the Rwandan women made history becoming the first women's sitting volleyball team to represent an African country at a Paralympic Games. With their appearance, they did not only make a sporting impact, they also helped to heal the wounds inflicted upon Rwandan society after the genocide in 1994 and to overcome the differences that had once existed between two ethnic groups, the Hutu and the Tutsi.
"I am delighted that the photography of Simon Bruty is to be included in the United Nations exhibition," Anthony Edgar, Head of Olympic Information Services for the Olympic and Paralympic Games, said. "The success of the OIS photographic initiative went far been beyond our expectations and this illustrates the professionalism of the photographers we used.
On IDSDP, the United Nations Office on Sport for Development and Peace (UNOSDP) is carrying out a digital campaign #WePlayTogether to encourage organisations and individuals who support or carry out sport for development and peace activities to partake in the commemoration of the IDSDP.
The campaign has been inviting participants to share a picture on social media that represents for them the "power of sport to promote peace, unity and inclusion".
The campaign joins the UN Secretary-General's call to make "2017 a year for peace".
In addition to harnessing Goal 16 "Peace, Justice and strong institutions", the campaign will also raise awareness about sport's contribution to Goal 10 "Reducing inequalities" and Goal 11 "Sustainable cities and communities" of the Sustainable Development Goals in promoting initiatives that include refugees and people with disabilities.
UNOSDP is showcasing the pictures received on its social media channels and has selected the best photos to be shown in an exhibition at the United Nations in the Palais des Nations in Geneva, Switzerland, highlighting what the UN and players all around the world do to harness the power of sport.
The International Paralympic Committee is celebrating IDSDP by sharing powerful stories of how Para sport and Para athletes contribute towards sustainability and peace all over the world.