Wheelchair tennis grows in Caribbean
The International Tennis Federation have been running workshops supported by the Agitos Foundation's Grant Support Programme.
09 Aug 2015
Imagen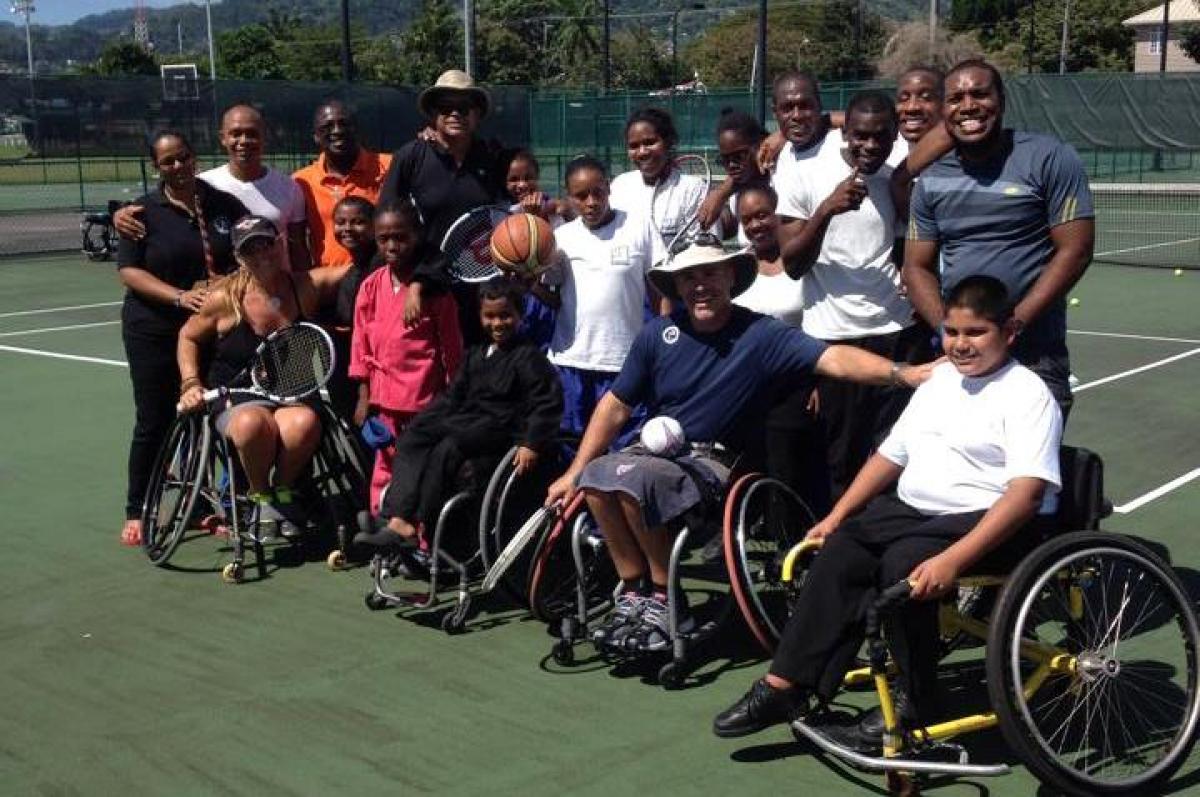 ⒸITF
By Maria Karvouni
The future of wheelchair tennis in the Caribbean shines brighter after the International Tennis Federation (ITF) held workshops in Trinidad and Tobago, Haiti and Cuba, supported by the Agitos Foundation.
Meetings across the region were guided by wheelchair tennis experts and coaches aiming, among other things, at encouraging more athletes take up the sport. Funding for the project was obtained through the Agitos Foundation's 2014 Grant Support Programme.
Wheelchair tennis is growing more in the area, not only nationally, but also internationally. School activity programmes are running and national competitions have already taken place.
Players however are also starting to become involved in international level, and apart from taking part in regional camps, they are planning to perform in international competitions too.
Cuba involves famous players
Aspiring Cuban athletes, who have a series of national competitions, participated in a regional development camp with El Salvador and Guatemala and are aiming to compete at the Toronto 2015 Parapan American Games for the first time.
Mercedes Gonzalez Amade has recently started practicing the sport in Cuba: "For the time being, I am the only woman in the capital practicing the sport, but I know others will soon be joining me. Through the sport, I try to give my all and train my body and mind, proving to myself that nothing is too difficult when you have willpower. This is a new sport for our region and very few people practice it."
In Cuba ex-Davis Cup player Juan Pino joined part of the activity, enabling the involvement of some of the greatest tennis players.
First competition in Haiti
Haiti also held its first wheelchair tennis competition in Cap Haitian, to coincide with a tennis festival. "Wheelchair accessibility laws are not on the forefront for most Haitians," Midwest Section volunteer and Wheelchair Tennis sub-committee Vice-chair, Lynn Bender said. "I informed them of the different opportunities for integration and how to continue to make their site more accessible as they consider future expansions and programming. I worked with two men who improved so much in three short days, and it was amazing to see their progress with just some basic education and training."
Caribbean first
Since January, Trinidad and Tobago have started a school programme and have begun to involve former players as ambassadors. Moreover, there is a junior player who is attending the Cruyff Foundation Americas Junior Camp this summer. This will be the first time that there has been representation from the Caribbean at the camp, with currently around 50 players actively training.
"We have only just started to scratch the surface of wheelchair tennis as a sport here in Trinidad and Tobago," Francine Look-Hong, a wheelchair tennis co-ordinator said.
A secure future
During all sessions, discussions were held between tennis federations and National Paralympic Committees (NPCs) about key areas of support, plans for the future and their own role and involvement.
The project proves the importance to include both federations and NPCs in activity and ensures that there is an understanding of the sport's structure.
The inclusion of schools and rehabilitation centres in the development of the programme also means that potential athletes can be identified early.
Wheelchair tennis is now more of a recognised para-sport in the Caribbean, with its growth secured for years to come.
You can find out more about the projects that the Agitos Foundation is involved with at their website.
The Agitos Foundation is the only organisation dedicated to the global development of para-sport. Working from grassroots through to Paralympic Games, it harnesses the power of sport as a force for change.
The GSP, launched in 2013, aims to support the development of both summer and winter para-sports through funding projects from National Paralympic Committees (NPCs), Regional Organisations (ROs), International Federations (IFs) and International Organisations of Sports for the Disabled (IOSDs).