Botswana showcases para-sport
National Paralympic Committee builds on momentum of Agitos Foundation's Organisational Capacity Programme participation.
27 Jun 2015
Imagen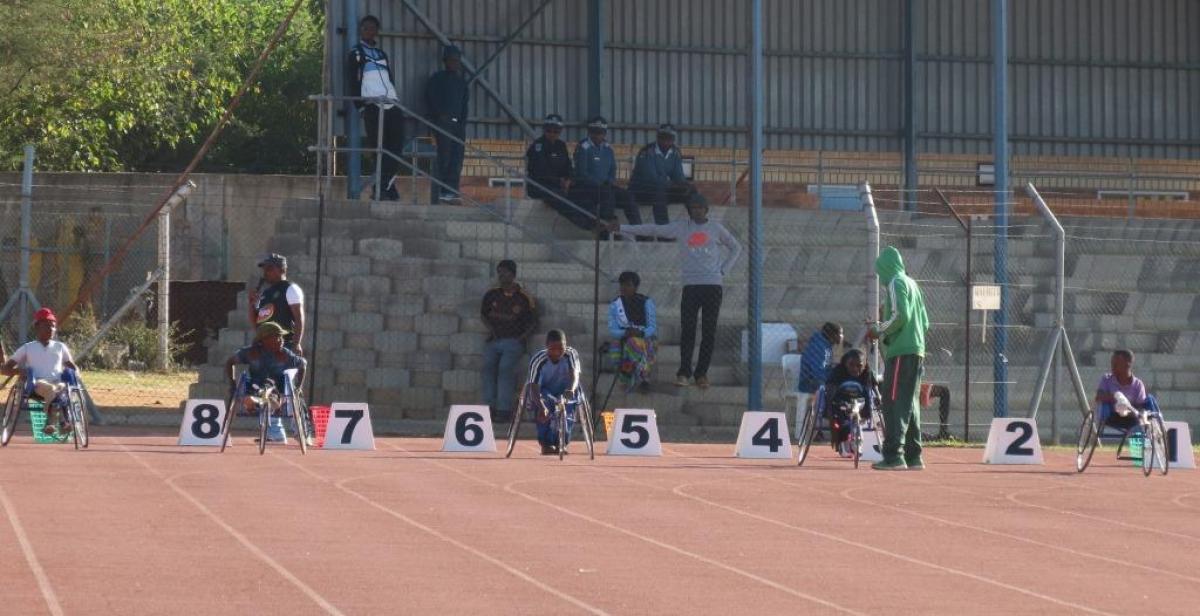 ⒸAgitos Foundation
By Agitos Foundation
Equipped with the knowledge and training gained from the Agitos Foundation's Organisational Capacity Programme (OCP), the Paralympic Sports Association of Botswana (PASSOBO) enjoyed one of their best turnouts at their recent National Paralympic Day and hope to ride that momentum into future para-sport events.
The National Paralympic Day, held on 27 May at the University of Botswana, saw 400 athletes compete with 58 officials overseeing the competitions, which included athletics, wheelchair basketball and netball.
The success dates back to 2014, when PASSOBO engaged in the OCP with the aim of improving their knowledge, spreading the Paralympic Movement and preparing new athletes ahead of the upcoming Paralympic Games at Rio 2016.
"It has been a while since we hosted the national games, the last time Botswana did this was in 2011," PASSOBO President Shirly Keoagile said. "We had to do everything in our power as the new Committee to make sure it [National Paralympic Day] happened, to revive the sports for people with disabilities, to bring them together as way of socialising, as well as to use the event to market the National Paralympic Committee (NPC) of Botswana.
"We had to improve and strategise how we can focus on athlete development, branding, administration, Paralympic Games preparation, fundraising and stakeholder relationships."
Keoagile said one of the aspects from the OCP that helped with organising National Paralympic Day was technical committees, which were formed during the OCP training. It did come with challenges, such as irregular meetings and communication struggles, but those are areas they hope to address with future events.
"We wanted to promote our sports and empower National Paralympic Committees with the knowledge, support and motivation to spread the Paralympic Movement across their nations and ensure active, positive and continuing development of new athletes as we move toward the Rio 2016 Paralympic Games and beyond," Keoagile said.
Having hosted two national training workshops to engage their stakeholders, PASSOBO decided to revive and re-focus their National Paralympic Day to showcase para-athletes' abilities in demonstration competitions.
"I enjoyed the Paralympic Day because it brings us together and as athletes, we had managed to prove ourselves to the nation that we can make it and we have that ability," said Keatlaretse Mabote, who participated in the day. "The reason why I attended was because I just saw the potential and the ability of people with disabilities."
The event attracted various media outlets, such as the Botswana Daily News. The Minister of Youth Sports and Culture, Thapelo Olopeng, also attended the event, saying the government will continue to support endeavours that promote the recognition and inclusiveness of people with disabilities in the society.
Other organisations involved were the Botswana National Sports Council, Botswana National Olympic Committee, the Botswana Athletics Association and Sports Volunteers Movement.
In collaboration with the Botswana Tennis Association, PASSOBO launched a new wheelchair tennis camp on 20 June. A training camp will also be held to prepare athletes with visual impairments for the All-Africa Games on 4-19 September in Brazzaville, Congo. Technical meetings are also in the works for PASSOBO members to discuss challenges and solutions in providing sport for people with impairments.