Wins for Australia, Canada, USA and Japan
Countries advance their medal hopes in wheelchair rugby at Rio 2016.
15 Sep 2016
Imagen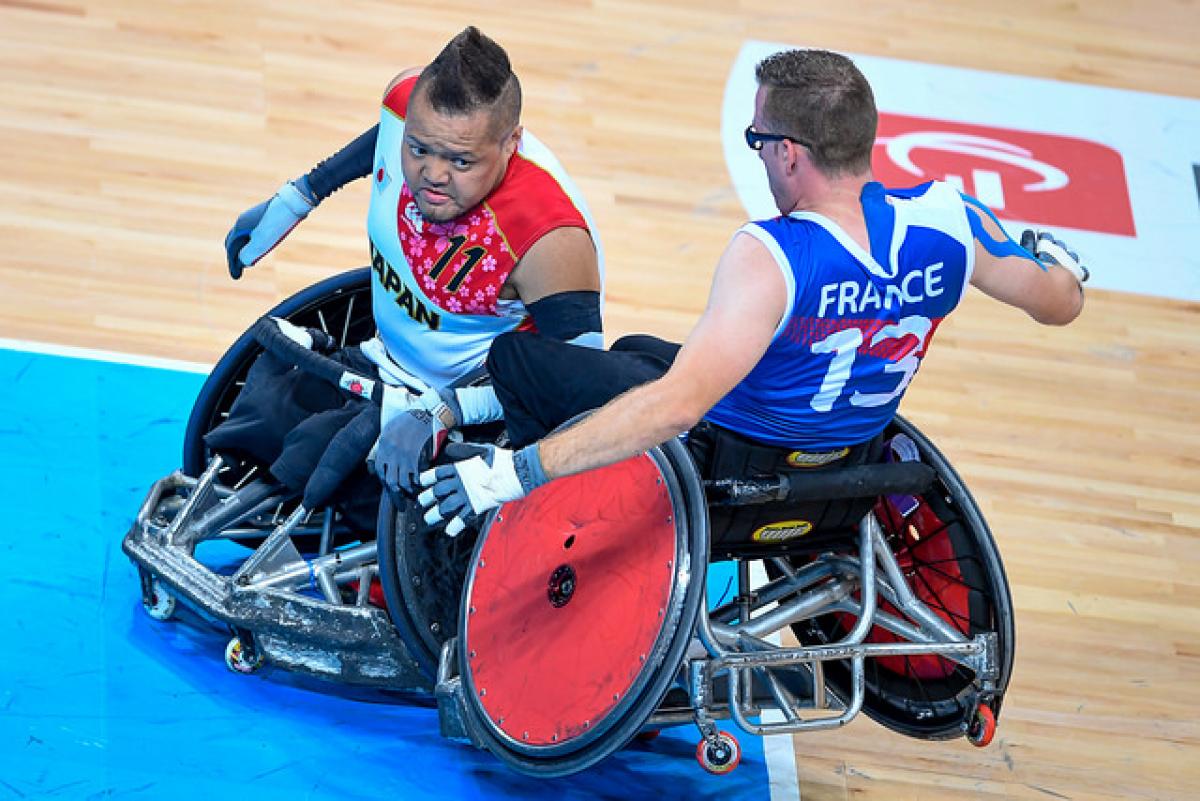 ⒸRio 2016 / Paulo Mumia
By By Beau Greenway | For the IPC
"Winning is always great. It's pretty great to see the younger guys out there and how well they are playing. It's awesome."
Australia, Canada, USA and Japan all improved their chances of qualifying for the semi-final stages with wins on day two of the wheelchair rugby tournament at Rio 2016 in front of huge crowds at Carioca Arena 1.
The Americans picked up from where they left off yesterday against France, with a convincing 54-44 victory over Sweden.
Sweden's semi-final hopes have been dashed with the loss, while tomorrow's clash between Japan and the USA will decide the winner of Pool B.
The world No.1's got plenty of minutes into their younger players and controlled the match from start to finish.
USA veteran Josh Wheeler was very pleased with the final result, which saw his side go 2-0 and one step closer to the semi-final stage.
"Winning is always great. It's pretty great to see the younger guys out there and how well they are playing. It's awesome," Wheeler said.
"Things went our way, we flowed well on our contained defence, which is what we wanted."
Wheeler added that the team has enjoyed its time in Rio so far, and will get a well-earned rest before returning to the court tomorrow for a highly-anticipated clash with Japan.
Meanwhile, Sweden were left to reflect on another tough result, which has all but brought an end to their chances of progressing further in the tournament.
Tomas Hjert knew it would be a tough game for he and his teammates, who unfortunately were unable to match it with the world's best
"We've got to play our game and we didn't do that today so we had no chance," Hjert said.
"I don't know why it happened, especially since we started so bad last game. We had to go a lot harder this first half, but we couldn't do it.
Hjert hopes to crowd will return in numbers for their final pool match against France tomorrow.
The recent rivalry between Canada and Great Britain in major tournaments went to another level this afternoon, with the Canadians scoring with less than two seconds to play in overtime to win, 50-49.
Canadian captain Trevor Hirschfield got on the end of a pass from Zak Madell to cross the line and end Great Britain's chances of qualifying for the medal matches.
Hirschfield paid credit to the British side and star high-pointer Jim Roberts after another epic encounter.
"Jim has become a hell of a player over the last two years, we saw him at Worlds and went double overtime, but down the line all their athletes have really come a long way in the last two years," Hirschfield said.
"It was important for us to manage the clock and it was important when we were down a few goals that we didn't get down and made sure we stuck to the game plan.
"There was a lot of back and forth during the game, but we were able to come back and put ourselves in a great position to win.
He added that while he is not normally the go-to man in overtime situations, he was happy to be there to help his side at the crucial moment.
Canada faces Australia tomorrow, with the winner taking prime position in the pool.
"The Aussies have had our number for the last little while, so we're looking to win our pool and we're really excited to play because we don't see each other very often," Hirschfield said.
A heartbroken Jim Roberts spoke after the match about the devastating result for Great Britain.
"The last few majors we've played against Canada they always seem to get us by one and mainly in overtime, which is really disappointing," Roberts said.
"You could see how much it meant to the guys because we really put our heart and soul into trying to do well and come away with that medal that we think the British public deserves because they've put so much support behind us."
Roberts identified the end of regulation time as missed opportunity, which ultimately cost Great Britain the game.
"I think we should have scored that last goal and then we could have put on a good press to stop them scoring the tie-breaking goal," he said.
"It was always going to be tough in overtime because with them winning the tip-off they got control of the ball and we were always chasing from that point."
Japan and France then met in another interesting battle, which the Asian champions eventually claimed, 57-52.
Shin Nakazato said after the match he was the glad the Japanese could achieve its first goal of reaching the semi-finals.
"The crowd was really comforting, they gave us a lot of strength and it has been really fun to play here in Brazil," Nakazato said.
"We won this game so I think it will help us get in the mood to win the next game against USA.
"I've played with the Americans before and I know they are really strong, so we need to play as a whole team tomorrow to be able to beat them."
Meanwhile, French captain Johnathon Hivernat said while his side has shown a lot of improvement in recent years, they are still a few steps from the top.
"All the energy we've spent is energy well spent, and out of the seven countries that are fighting for the top spot, we're starting to reach them," he said.
"France is a new nation in this kind of a game and it's a young team that still needs to work a lot to reach the top level."
He added the French team is quietly confident they can get the result they are after against Sweden in their final pool match tomorrow.
"We want to climb in the world ranking and get to the second place in Europe," Hivernat said.
Another passionate home crowd flocked to the arena to support Brazil against Australia in the final game of the night, and, after a tight start, it was the defending champions who pulled away to a comfortable victory, 72-45.
Australian superstar Ryley Batt was public enemy number one for the Brazilian fans as helped his side to a big win.
"I've never been booed in my lifetime, but Brazil put it on," Batt said.
"They are passionate fans and it was probably the best crowd of played in front of.
"They came out firing and played really well so props to Brazil and how competitive they were, as well as everyone who came out. It was something I'll remember forever.
"We came out a bit and we had a word about before the game to make sure we didn't do that because they are going to be a fantastic team.
"It just took us a quarter to settle in and then we started to pull away."
The Australians now look forward to a rematch of the London 2012 final against Canada, with the winner topping Pool A.
"Canada is a fantastic team, we've played them in a gold medal match before and Zak Madell is going to be on fire tomorrow and wanting to beat us," Batt said.
"We want to top the pool to give ourselves the easiest run to the final."
Brazilian high-pointer Julio Braz was a key player for the home side, which was not quite consistent enough to upstage the favourites.
"Australia is very strong and we did a good job in the first and second period, but we have a lot of things we need to work on," Braz said.
"It was very nice to play against my idol (Ryley Batt) and this whole experience has been a good opportunity to learn with the best.
"The Brazilian support was really good and pushed us forward, I will remember it forever. It was amazing."
The home side takes on Great Britain tomorrow and Braz admitted they will be take plenty of confidence into it knowing they matched it with the Paralympic champions.
"We are not going to relax, we want to go up in the rankings and fight for a place in the next Paralympics," he added.