Workout Wednesday with Great Britain's Georgina Hermitage
Find out how the double Paralympic champion balances training for London 2017 with looking after her daughter.
26 Apr 2017
Imagen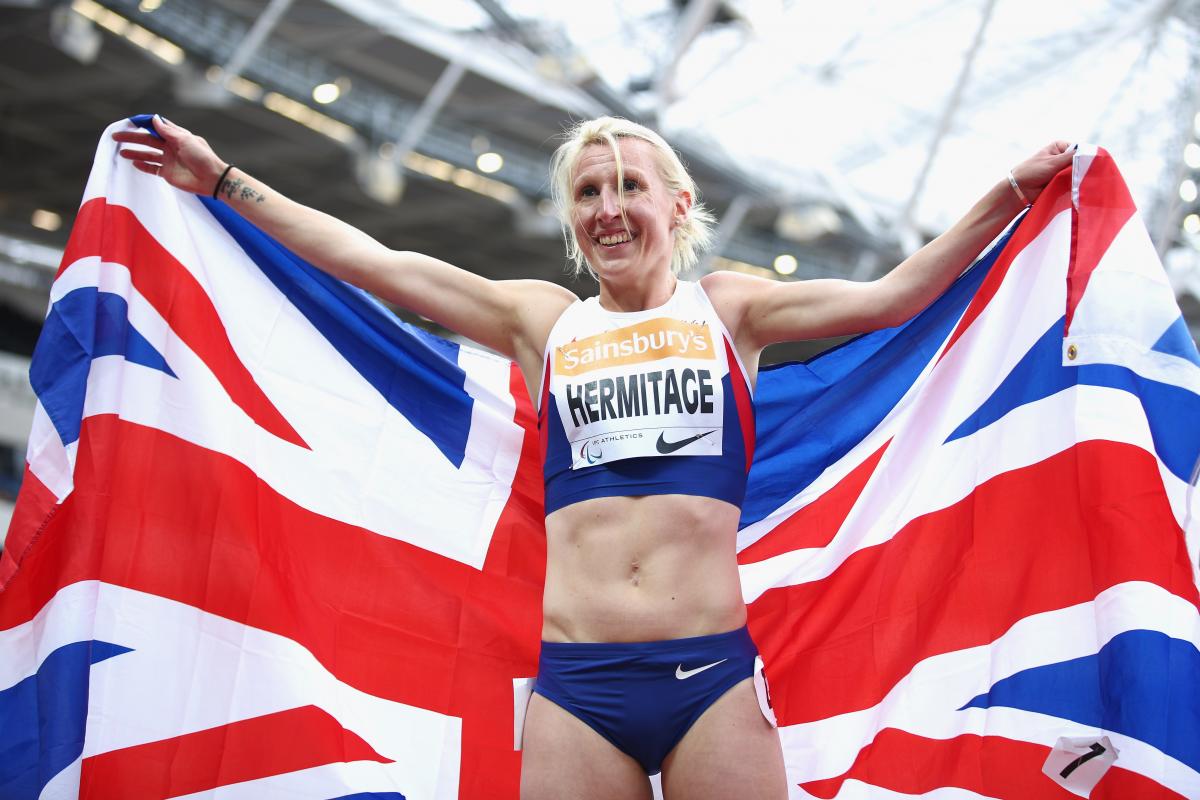 ⒸGetty Images
By IPC
After winning double gold at Rio 2016, Georgie Hermitage will head to July's World Para Athletics Championships in London, Great Britain as one of the host nation's major gold-medal hopes.
The 28-year-old competes in the T37 class and holds the world record in the 100m, 200m and 400m events. With less than 12 weeks to go before the World Championships begin, Hermitage talks us through her Workout Wednesday – a balancing act between training and looking after her young daughter Tilly.
Georgie Hermitage – My Workout Wednesday
"I'm up at 07.15 then I get the little one up, make us packed lunches and breakfast for her. I drop Tilly off at pre-school at 09:00 and head straight over to the local leisure centre near where I live in Hampshire for about 09:30.
There, I put in some form of cardio upper body session. I know what I need to do and I just plug my headphones in and crack on by myself.
I don't eat breakfast – I'm really bad for that, I won't eat straight away. But I'll have a protein shake in between my first gym session and my lifting session, then I'll have something to eat after my second training session. That's normally some form of salad, with cous-cous and tuna.
At the gym, I tend to do intervals on the bike for 20 minutes or so, then I'll do loads of single-leg cable work, hip thrusts, squats – stuff like that.
I make sure that a lot of the work that I do in the gym is single-leg. My right leg does enough with what it does on track, so it doesn't need to be hammered and toned in the gym as well.
I try and focus just on my left side even with something like single-leg calf raises, or balance work trying to get that ankle stronger so it doesn't collapse when I'm running. That's why I pick up so many injuries. It's the nature of the disability – it's never going to be fixed, but also you wouldn't want it to be fixed. But you want to make the best of a bad situation as well.
At 12:00 I drive to my strength and conditioning coach and I do an hour's lifting session with him. Then I do the shop, and it's literally time to pick Tilly up from pre-school and my day is over, because it's Tilly time!
Then we are in to the whole dinner, bath and bed routine. I feed Tilly about 17:30 and I try and get her in to bed by 20:00. Then I have dinner, and normally I'll do a stretching session while watching something like (Channel 4 documentary series) '24 Hours in A&E' or whatever is on the television.
As for dinner, I might have something like kedgeree with haddock and eggs – it's easy. I can make it earlier in the day, cooked it all up, so all I have to do is nuke it and it's ready.
I have to plan things – if I don't plan my life then it would never happen! I'd end up sitting there with a meal for one which is not nutritionally a good idea. As for children's food, I am a bit of a nightmare for the biscuits so at the moment we own no biscuits in the house.
I'm probably in bed by 21:30 or 22:00. It's does take me a while to drop off, but once I'm out, I'm out."
Hermitage is likely to be one of around 1,300 athletes competing at the London 2017 World Para Athletics Championships between 14-23 July. To buy tickets, please click here.