Workout Wednesday with the USA's David Blair
The Paralympic discus champion walks us through his day as an athlete, database administrator and father of four.
31 May 2017
Imagen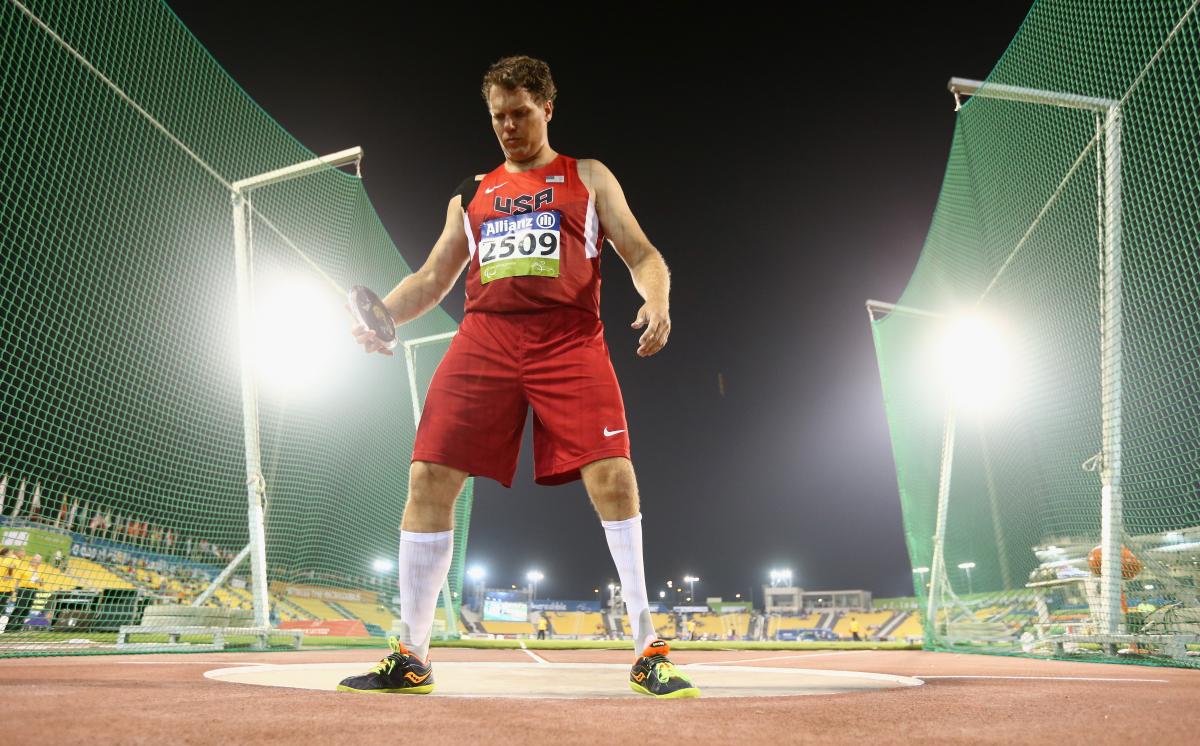 ⒸGetty Images
By IPC
Paralympic champion David Blair is one of a host of star US Para athletes who will be lining up at the US Paralympic Track & Field National Championships in California this week (2-4 June) looking to confirm selection for July's World Para Athletics Championships in London, Great Britain.
Winner of the discus F44 at Rio 2016, Blair also holds the world record in the event, having thrown 64.11m on his way to Paralympic gold. In May he threw a phenomenal 65.72m* at a meeting in the USA.
Here family man Blair talks us through his 'Workout Wednesday' as he looks to win his first ever world title.
Dave Blair – My Workout Wednesday
"Our oldest daughter will go out the door to high school and that's when we all get up, around 07:00. I'll help with what I can to get the kids ready and off to school, and they head off about 08:00. Once they're out the door I'll make my breakfast.
It's the same every day because I'm usually in a hurry to get to work. I make a smoothie – it's got blueberries and raw eggs in it, a banana and milk – and that's my breakfast, every day. I use the blueberries to keep the swelling down on my leg – they've got anti-inflammatories and anti-oxidants in there that help keep my limp down a little.
I drive to work – it's only about 20 minutes away from where I live, in a rural area, about 30 miles south of Salt Lake City. I work as a programmer and database administrator.
Around 11.30 I'll start cooking my lunch. I have stuff in the office to cook with – chicken and vegetables - and I close the door and cook in my office. I just put them on the grill so that when I'm done I can go to the gym.
I'm not in the gym as long as I would have been when I was training in college, and that's only because I don't have the time to do it. My coach and I sat down and went over all the things that we needed to get done. It will typically be a series of Olympic-style lifting and then a series of some kind of abdominal work. I hate doing abdominal work though so I'll usually skip that!
We try very hard to get me in and out of the gym in an hour. Once I'm done I'll come back to the office, do some more work and then head home around 18.30.
Back home, I'll eat dinner with the family then go throw until sunset. I remember last year there were a few nights when it would be 23.30 and time to go to bed and I'd be like 'No, I didn't throw today I gotta go throw.' My days just get busy - so I have a head lamp that I bring with me.
I'll do that for about 1.5 hours. I work very independently from my coach. He's rarely at practise. I probably practise with him maybe 10 times a year – maybe. That's pushing it. Most of our coaching is done through texts. He'll send me a text and say 'Are you working on this, don't forget to work on this,' and I'll text back and say 'Hey, I think I've got that down, we should meet.'
We are both busy, we both have families, we both volunteer with the scouts, he's got his job that takes up a lot of time so our lives are busy. Between the two of us there's 10 kids. I've got four daughters – three of them are teenagers. It's busy. And that's why I'll go out and throw late at night.
I don't have downtime because now the snow has melted and you know what that means? It means the grass has to be cut! There's stuff that has to be done and I'm really trying to do both worlds – I'm trying to be a dad and be a husband and be a yard keeper and a thrower. So I don't watch television, ever. I usually go to bed around midnight or 01:00 in the morning. I get six hours a night, then I get up and do it all again."
Blair will aim to win his first world title at the London 2017 World Para Athletics Championships which will take place between 14-23 July. To buy tickets, please click here.
*world record mark yet to be ratified by World Para Athletics