#WorkoutWednesday with Jeremy Campbell
The US Paralympic and world discus champion guides us through his average training day on the road to Doha 2015.
01 Apr 2015
Imagen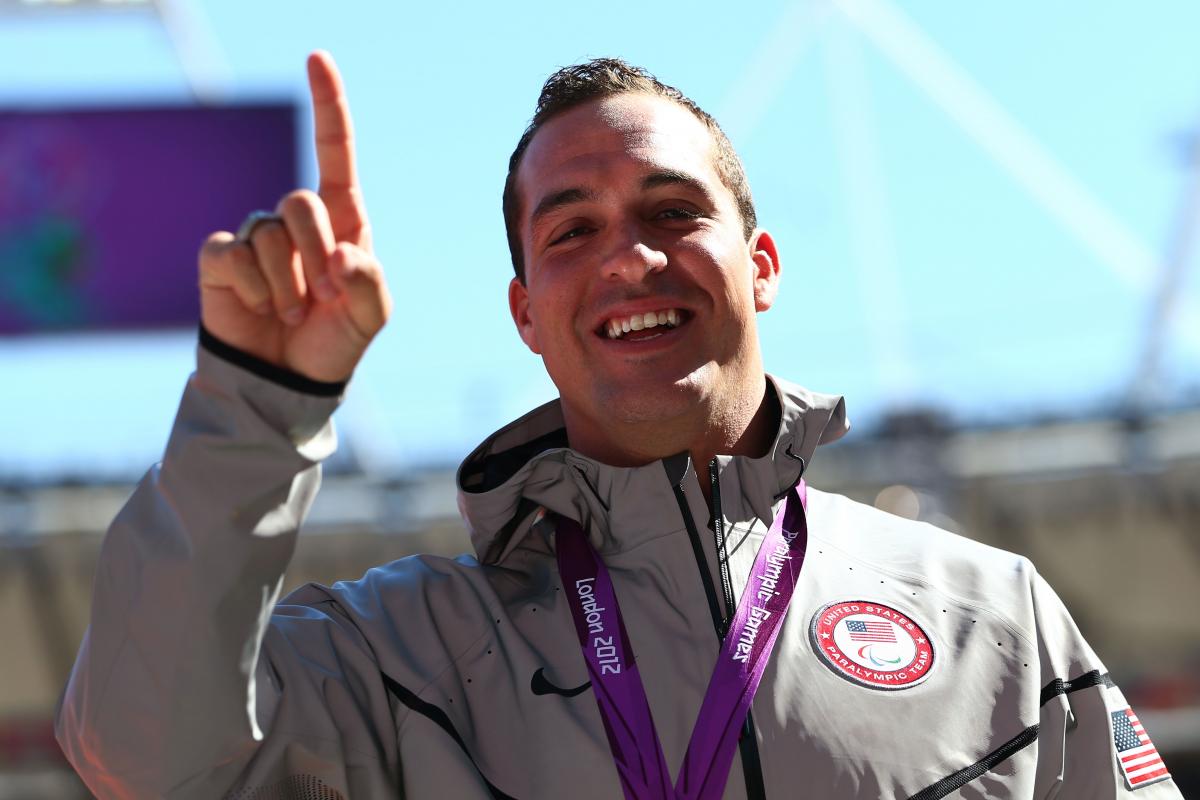 ⒸGetty Images
I train by myself - my coach Larry Judge lives in Indiana, so we Facetime each other – it's basically like he's there with me.
US Paralympic and world discus F44 champion Jeremy Campbell will be hoping to line up at his fourth IPC Athletics World Championships in seven months' time in Doha, Qatar, with his sights set on retaining the title he won in Lyon, France nearly two years ago.
Here the 27-year-old world record holder talks us through his 'Workout Wednesday', revealing some of the habits – and life choices – that have helped shape him in to one of the world's best Paralympic throwers.
Jeremy Campbell's #WorkoutWednesday
I try to wake up early and for the most part I do – so I'm usually up for 07:00 or 08:00. And the first thing I do is make my bed; everything has to be organised, and if my bed's not made I can't go about my day.
Next I'll take a shower then make breakfast. I always have eggs, and there's some kind of meat in there too whether it's sausage or bacon. But if I'm feeling guilty about always eating meat I throw in oatmeal, Greek yoghurt and fruit. I'm a huge muffin fan too. I haven't graduated to making my own yet though.
Every morning I read too, just to get my mind focussed for the day. Spiritual stuff, and faith - what I call my devotion time. After that I make sure I have no other responsibilities that I need to get done – the adult things. I organise my day around training, because that is my number one priority.
I try to be out at the ring by 09.30 or 10:00 to start training with a regular throwing session. I train by myself - my coach Larry Judge lives in Indiana, so we Facetime each other – it's basically like he's there with me. I film some throws too and email him right after practise, so that evening we can discuss what's going on, what I need to work on, and what is good.
I have a place pretty much across the street where I throw, then there is also another place about five minutes down the road which has a cage and a ring which I can throw in. It can get a bit busy there though so I might go to the track nearer home. I like to switch things up and keep it fresh.
After training I come home and make some lunch – I don't eat out much. Food is something simple - I cook almost every meal that I eat and I hate doing dishes, every single day it's like I'm doing dishes! I often have chicken, some vegetable and a salad.
If I have no errands to run I'll hang out and watch television or play video games in my downtime. Then an hour or so later I'm back out, this time to the gym, which is right across the street. So I either walk there – I'm lying I drive there! – and then I lift and do my strength and conditioning. That session will last up to 2.5 hours.
By then it's usually 16:00 or 17:00; a full work day. Everyone else is coming home from work and winding down, and just like them, I'm home doing the same. I'll have another shower, and make dinner.
I'm a big red meat guy. It could be steak, potatoes and salad for dinner. I'm pretty domestic for a 27-year-old-guy – I cook an all-round meal every time…and then for desert I'll throw in a batch of cookies.
I hang out, read, stretch out and do any recovery I need to do, maybe some foam rolling to make sure I'm set up for the next day. I already have my mind thinking ahead, but it's time to get my feet up and rest up.
Training is a constant awareness of what I'm doing. If I don't have that balance, and I'm not 100 per cent focussed on my training, but hanging out with friends or going to the movies, then I'm not focussed for the next day. So I usually try to make myself stay home.
I'm a big reader - that's a big part of my downtime, and I read before I go to bed. I watch a lot of Netflix too – I'm a big movie watcher. I'm in bed 22:00 or 23:00 and I would say it takes me a while to go to sleep, as my mind is always going 100 miles an hour. But once I fall asleep I'm good.
Campbell is is set to be one of 1,300 athletes from 90 countries who compete at the 2015 IPC Athletics World Championships which take place in Doha, Qatar, between 22-31 October.
You can follow his journey on Twitter @JeremyKCampbell