World champion Wallace is stronger than ever
After winning the 200m T44 world title in 2013, the USA's Jarryd Wallace is looking to break 22 seconds for the first time this year.
04 May 2015
Imagen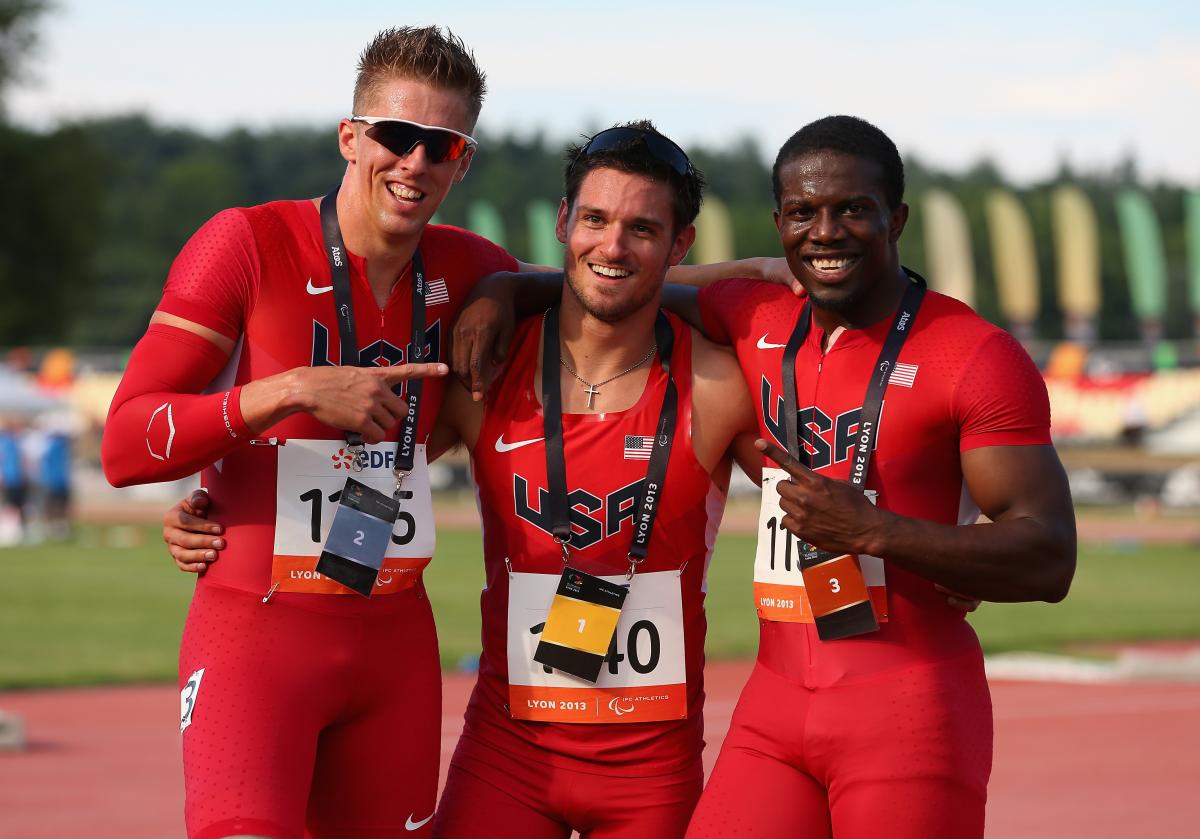 ⒸGetty Images
"The bolt broke because I was getting stronger – it wasn't a malfunction of the bolt or anything, it was just because I'm getting stronger and needed a new set up."
US sprinter and world 200m T44 champion Jarryd Wallace is getting stronger – and he has got proof.
In March this year, after a productive winter spent preparing for the year ahead, Wallace was out on the track, running at top speed, when the bolt that attaches to the socket of his prosthesis snapped.
For Wallace, the reason behind the break was simple. Having spent time in the weights room over winter, he had built up more volume and more muscle – and the extra force he was able to expend on the track meant his prosthesis was no longer up to the job.
"The bolt broke because I was getting stronger – it wasn't a malfunction of the bolt or anything, it was just because I'm getting stronger and needed a new set up," he explained.
"My volume in the weight room has gone up and my power output has increased. That's exciting because that translates to fast times."
The 24-year-old was forced to take a couple of weeks off the track as his prosthesis was redesigned and built, but Wallace, who lines up at the IPC Athletics Grand Prix in Mesa, USA next week (15 -16 May) didn't let that worry him.
"It's also a blessing in disguise to have the rest, because as soon as the season gets going it's not going to stop until the end of October. It's a really long year this year, and I already had a solid three months of training in before it happened."
Double world gold medallist in Lyon, France, in 2013, Wallace topped the podium in the 200m T44, where he smashed the world record in the semi-final and then in the final with a time of 22.08.
His second gold medal in France also came with a new world record (40.73) for the US as a member of the 4x100m T42-46 relay squad. Wallace ran the third leg, part of a world class quartet including former 100m T44 world champion Jerome Singleton, Paralympic and world 100m T44 silver medallist Richard Browne and Blake Leeper, world silver medallist in the 100 and 200m T43.
While there is no doubting the strength and depth of American leg amputee sprinting, Wallace is also acutely aware that a successful relay quartet is made up of a group of highly talented individuals.
With the IPC Athletics World Championships taking place in Doha, Qatar in less than six months' time, Wallace is determined to draw strength from the fact that he frequently lines up alongside such stellar opposition.
"We all have individual medals to one degree or another. The fact my teammates are running extremely well – and they are my rivals and top competitors too – is very exciting because we are all pushing each other to be better. We also know that when we get together and run that relay we are going to be untouchable."
In September last year Browne lowered the 200m T44 world record further, clocking 21.62 in Brussels, Belgium. Now, Wallace wants to go even quicker, which would mean breaking 22 seconds for the first time.
"I want to go faster than that," he said. "I'm not looking at the world record as the standard to reach; I'm looking at my training and at how my long term goals are on the track - and they happen to be faster than the world record, as they should be.
"I don't focus on the world record but the steps that I have to take on the track, then I know that these things will come. If it happens in the midst of this season that would be fantastic. If I stay on track to where I want to be in Rio then some really cool things will happen between now and then."
Browne recently clocked 21.93 at the Drake Relays in the US, getting the better of a field including Wallace and another talented sprinter, Germany's Felix Streng. Wallace knows that getting the better of the world record holder will not be straightforward.
"He [Browne] is an amazing athlete and competitor and he trains his tail off. I would say the exact same thing about myself. Every single person that's in the finals or prelims of all the big races fits that description and the difference between the ones that walk away with the records and the gold medals is really execution.
"He's a great athlete and I love racing against him because we get to joke after the race is over – he'll say 'thanks for pulling me through that first 120m, I really got off that turn,' and I'm like 'I was trying to hang with you but you just left.'
"I realise that on any day there may be a chance that he just can't run by after 110m. That's just part of the fun. I can't worry about who's to the right or the lane to the left. All I can do is control my lane. And if it's good enough to win gold and break a world record that's awesome."
Wallace will be one of 225 athletes from 13 countries who will compete at the IPC Athletics Grand Prix in Mesa, USA, between 15-16 May 2015.