World Para Powerlifting adopts Panasonic's Power Assist Suit
First robotic-type suit to be used during Para powerlifting events and the Tokyo 2020 Paralympic Games
25 Sep 2019
Imagen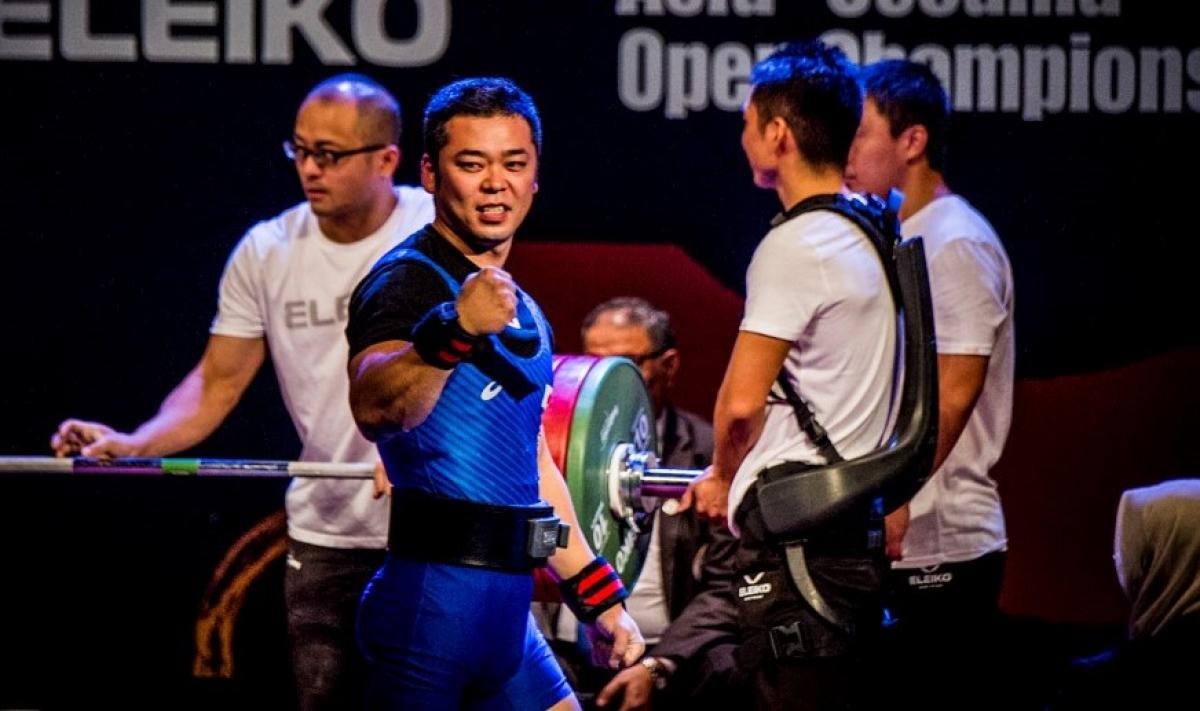 ⒸHiroki Nishioka/WPPO
By World Para Powerlifting
World Para Powerlifting (WPPO) announced today that a Power Assist Suit developed by Japan-based Panasonic Corporation (Panasonic), a Worldwide Paralympic Partner, will be deployed during World Para Powerlifting events and at the Tokyo 2020 Paralympic Games.
The Suits will specifically be used to help support staff attach and remove weights from barbells. The decision to deploy them follows that Panasonic has become a Official Supplier of WPPO, agreed today between WPPO and Panasonic.
About World Para Powerlifting
World Para Powerlifting, under the governance of the International Paralympic Committee (IPC), is the International Federation for the sport and is based in Bonn, Germany.
Para powerlifting is open to male and female athletes with eight eligible physical impairments. Powerlifters compete in one sport class across 10 different weight categories per gender.
Major competitions include the Paralympic Games, biennial World Championships, regional Championships and annual World Cups.
About Power Assist Suits
The ultimate test of upper body strength, the Para powerlifting competitions can sometimes see athletes lift more than  three times their own body weight.
To help the athletes stay focused, it is the support  staff  that will need to lift multiple weights for over 180 contestants at the World Para Powerlifting events and at the Tokyo 2020 Paralympic Games. Assistants will need to carry an absolute minimum of 8,650kg of weight being lifted across male and female competitions.
Weighing just 4.5kg, Powered Wear ATOUN MODEL Y is a wearable robot that alleviates the strain posed on the waist and back when lifting heavy objects. It does this by measuring the average motor action potential of the muscles at the time of lifting. It detects the movement of the trunk with a position sensor and reduces the load on the waist during cargo handling work by rotating the motor of the waist according to the movement intention.
Panasonic is proud to support the Paralympic Games
Panasonic Corporation first supplied AV equipment to the Nagano 1998 Paralympic Winter Games, first sponsored the Paralympic Games in 2002, and has been an Official Worldwide Partner of the International Paralympic Committee (IPC) since 2014.
Panasonic is committed to provide accessible products and services to various people including those with disabilities and the elderly and continue to support the Paralympic Movement. Promotion by the Paralympic Games enables the realisation of a more peaceful world through sport and corresponds to Panasonic's philosophy of 'A Better Life, A Better World.'
Satoshi Takeyasu, Chief Brand Communications Officer (CBCO) of Panasonic Corporation, said:
"We are honoured to offer our Power Assist Suits at the Para powerlifting events and at the Tokyo 2020 Paralympic Games. We are committed to using our innovative technologies to help Tokyo 2020 deliver the most innovative Paralympic Games in history."
About Panasonic #ABetterLifeABetterWorld #SharingThePassion
Panasonic Corporation is a worldwide leader in the development of diverse electronics technologies and solutions for customers in the consumer electronics, housing, automotive, and B2B sectors.
The company, which celebrated its 100th anniversary in 2018, has expanded globally and now operates 582 subsidiaries and 87 associated companies worldwide, recording consolidated net sales of 8.003 trillion yen for the year ended March 31, 2019.
Committed to pursuing new value through innovation across divisional lines, the company uses its technologies to create a better life and a better world for its customers. To learn more about Panasonic, visit https://www.panasonic.com/global.