World record for China's Liu at powerlifting World Cup
There were a further three world record attempts in women's events in Kuala Lumpur, Malaysia.
25 Feb 2016
Imagen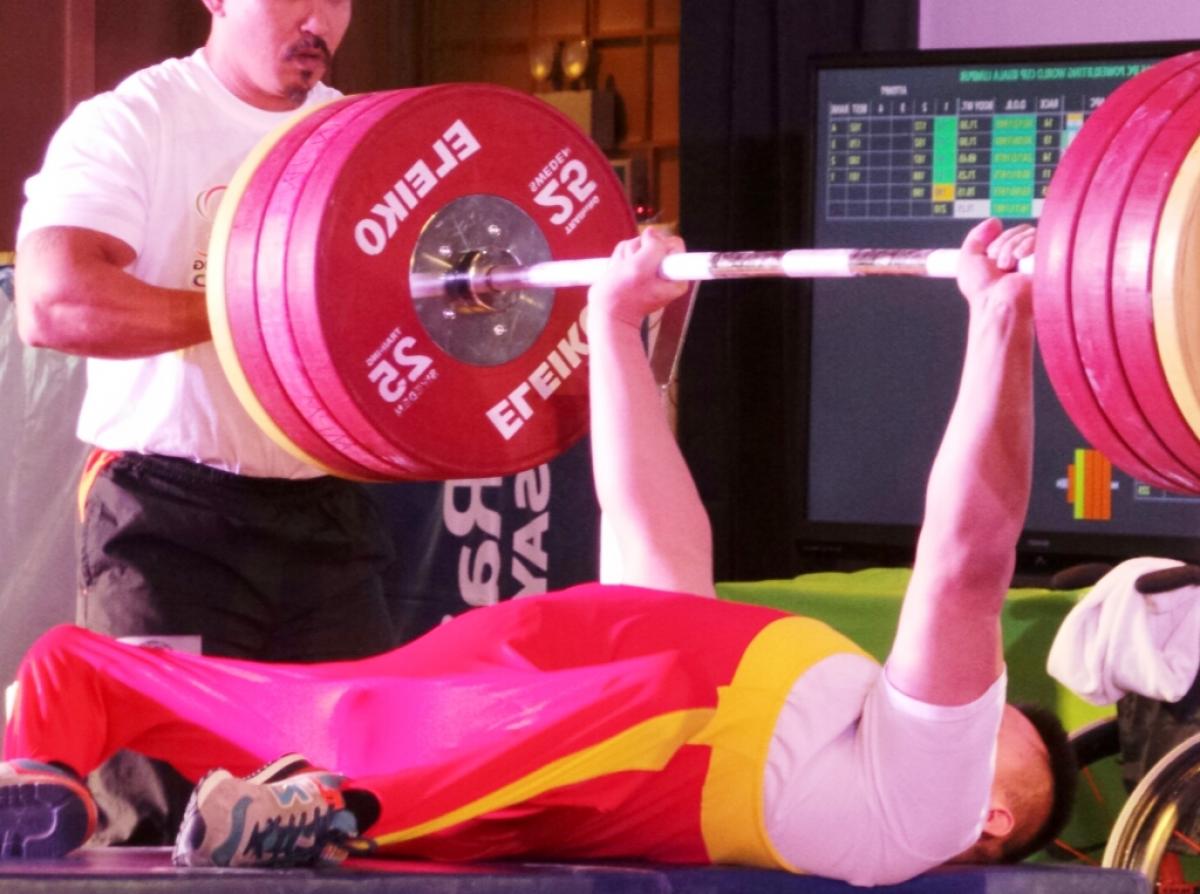 ⒸIPC
China's world and Paralympic gold medallist Lei Liu set a new world record of 226kg in the men's up to 72kg at the IPC Powerlifting World Cup in Kuala Lumpur, Malaysia, on Thursday (25 February).
Liu is the latest in a string of powerlifters to set new bests as they prepare for the Rio 2016 Paralympic Games. Five world records fell at the IPC Powerlifting World Cup in Dubai, United Arab Emirates (UAE), just last week.
On Thursday Liu tore down the previous best of Iraq's Rasool Mohsin from the 2015 Asian Open Championships, itself only seven months old.
Having successfully lifted 210kg in the first round, 28-year-old Liu failed his first attempt at the record in the second. He came out again for another try, successfully adding 1kg onto the mark.
Nigeria's Innocent Nnamdi (197kg) was second with three good lifts. Great Britain's Michael Yule also put on a good show, building towards 192kg to take third.
Nigeria's Kehinde Olumide (207kg) made a comeback in the men's up to 65kg.
Olumide failed his first attempt of 195kg before successfully reaching it in the second round. However he still trailed China's Peng Hu who was leading with 201kg.
The Nigerian came out determined in the final round, propelling himself into first place with 207kg. Peng could not match that and finished second on 201kg.
China's European Open champion Xuefeng Lu (196kg) was third.
The men's up to 59kg, up to 65kg and up to 72kg was combined, with the win taken by Saudi Arabia's Aseel Alhawsawi (117.87kg). Malaysian lifters Bunyau Gustin Bonnie (115.17kg) and Syalqi Mohd Shikri Muhamad (94.02kg) were second and third respectively for the hosts.
In the women's events, three weight categories featured world record attempts.
Mexico's up to 61kg world and Paralympic champion Amalia Perez was in Kuala Lumpur competing in the up to 55kg.
Perez successfully lifted 116kg and 122kg before attempting to add 0.5kg onto the world record with 126.5kg.
It was not to be, however, but Perez still came first with the 122kg best. Vietnam's Hoang Tuyet Loan Chau (103kg) was second, followed by Great Britain's Natalie Blake (98kg) in third.
China's world champion Yujiao Tan also made a bid to improve on her own world record in the women's up to 67kg.
Tan twice went for 139kg which would have added 1kg onto the mark, but was denied. Instead her second round lift of 136kg secured first place.
Nigeria's Virginia Azu (112kg) was second and Kazakhstan's Raushan Koishibayeva (109kg) was third.
In the women's up to 73kg, France's Paralympic and European title holder Souhad Ghazouani only needed one good lift of 140kg in the first round to claim victory.
Ghazouani was determined to try and add to her own world record with an attempt of 151kg.
Despite an unsuccessful bid, the Frenchwoman still led Syria's Rasha Alshikh (111kg) and Thailand's Arawan Bootpo (100kg) onto the podium in second and third respectively.
Egypt's Fatma Omar (126kg) was victorious in the women's up to 61kg. China's double Paralympic Games medallist Yan Yang (123kg) followed her into second ahead of teammate Jianjin Cui (116kg) in third.
The combined women's up to 61kg and up to 67kg saw Brazil's Mariana d'Andrea (88.96kg) take the win ahead of the UAE's Maryam Alzeyoudi (50.81kg).
Full results are available online.
Competition continues in Kuala Lumpur on Friday (26 February) with the men's up to 80, up to 88kg, and up to 97kg and women's up to 79kg, up to 86kg and over 86kg.
Live coverage is being shown at the IPC Powerlifting website.
The competition is the final chance for powerlifters to improve their place in the Paralympic rankings for Rio 2016.