World record holder Caironi to kick off sprint season in Paris
The Italian world and Paralympic 100m T42 champion is hoping to break her world record this year.
24 May 2017
Imagen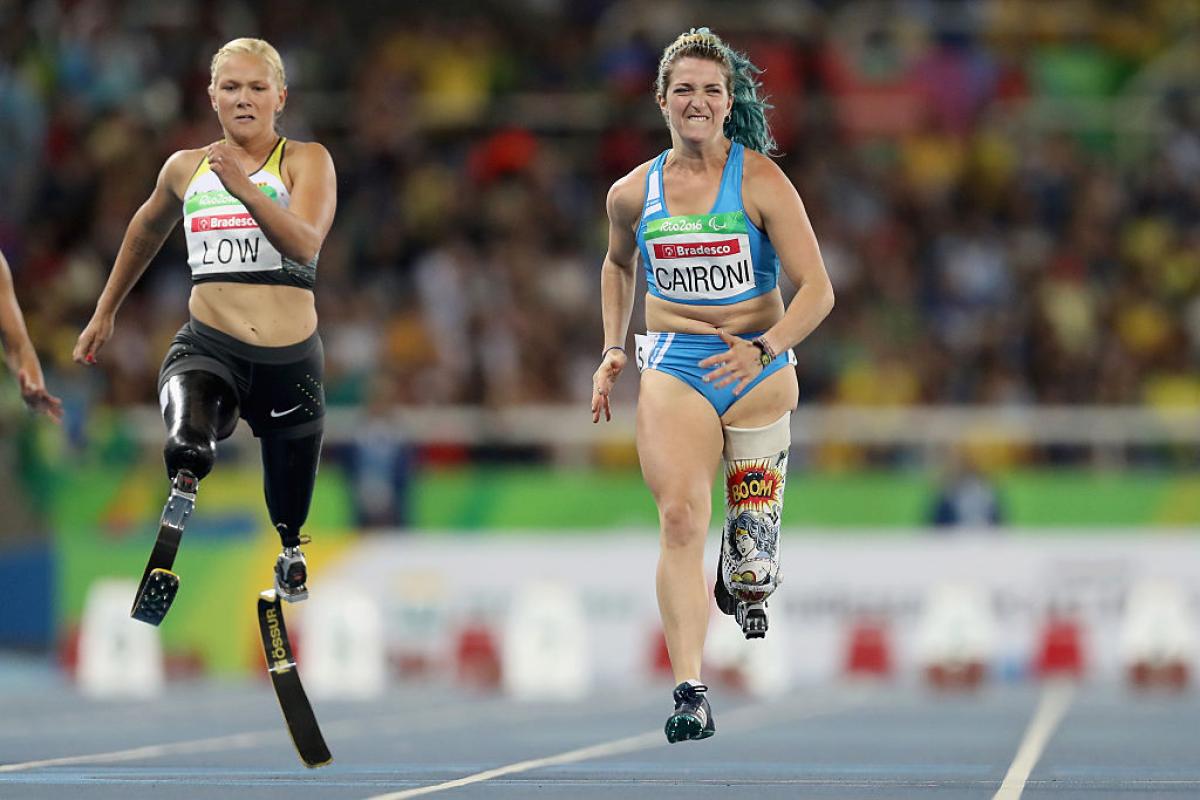 ⒸGetty Images
Reigning world and Paralympic champion Martina Caironi is eager to kick-start her sprint season at the World Para Athletics Paris Grand Prix, which takes place in France from 30-31 May.
The 27-year-old has only competed in the long jump T42 so far this year, equalling her personal best with an impressive leap of 4.66m in L'Hospitalet, Spain, earlier this month, the same distance she jumped to win silver at the Rio 2016 Paralympic Games.
As for the 100m sprint – her favourite event – Caironi admits she is 'impatient' to get out on the track at the city's Charlety stadium to find out just how fast she can go.
"I said to my coach 'I want to run faster than Doha,' and he said to me 'Calm, calm, you are not ready,' that I need three weeks more of training to run faster.
"But I am so curious to see what happens in Paris," explained Caironi, who broke the 100m T42 world record when she clocked 14.61 seconds at the 2015 World Championships in Doha, Qatar.
"My coach told me not to expect anything - but often when you don't expect so much, that is the very moment when the results come."
A recent recurrence of a nerve problem in her leg has clearly failed to dampen Caironi's spirits, and with the problem now resolved she is confident that, come July's World Para Athletics Championships, she could be running faster and jumping further than ever before.
A fresh outlook post-Rio – and a manager to help her deal with the numerous publicity requests after the Games - has also helped Caironi approach this season feeling stronger than ever.
"The past year was a special year. With the Paralympics, you can't use excuses – you just have to run. The Games are so important you don't care what happens to you – what is important is the final result, and fortunately that happened for me.
"When you pass something so hard you are stronger. In sport there is another kind of suffering – it could be an injury or mental pressure.
"I passed this one and so I'm happy and stronger and really more relaxed," explained Caironi, who was involved in a motorcycle accident 10 years ago that resulted in the amputation of her left leg above the knee.
Of course, when it comes to the 100m, Caironi has every reason to be confident; the Italian is the only sprinter in her class to go below the magical 15 second mark.
As for the long jump, winning the world title in July has become a distinct possibility. The reigning champion and world record holder Vanessa Low has stood down from competition this year, focusing instead on injury rehabilitation and the longer-term aim of Tokyo 2020.
It is an opportunity Caironi cannot ignore – although she is determined that Low's absence will not stop her from giving her all.
"I just try to do my best as usual, competing first with myself and then with others. I don't want to win with the same distance – I want to push more, with or without her. So it changed a little bit for me but not so much. Vanessa will still be here next year."
Back to Paris, and the Italian admits there is another great reason to look forward to the Grand Prix there. Multi-lingual and constantly seeking new challenges – she took up aerial silks last year – Caironi will of course take time out to enjoy the city.
"For me it's important to compete and this year I'm also enjoying the places that I visit – I had a look around Barcelona, and I want to see Paris when I am there too. It is just an extra motivation. It's a way to explore, to meet people and visit new places.
"Of course my focus is all on the competition because I am not there as a tourist. But after the competition I can enjoy a little bit."
-ends-