World records continue to fall in Nottwil
British athletes broke two world and three European records on Friday at the IPC Athletics Grand Prix
27 May 2016
Imagen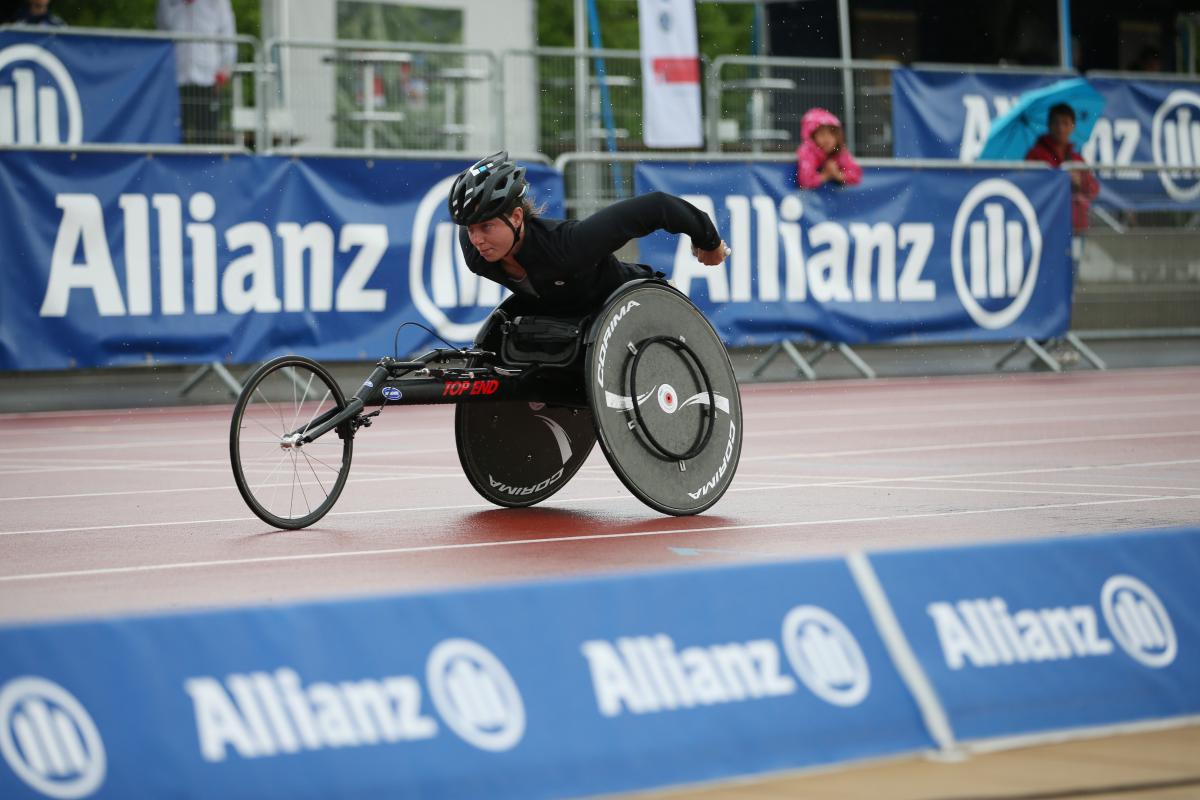 ⒸGetty Images
The total number of world records broken at the IPC Athletics Grand Prix in Nottwil, Switzerland, rose to seven on Friday (27 May) and it was Great Britain's Shelby Watson who again led the way.
After setting new world records over 100m and 400m on Thursday (26 May), T33 racer Watson set new world bests over 200m and 800m in perfect conditions during the second day of competition.
During a busy morning session for the 18-year-old Scot, she first finished the 800m in 2:22.85 to knock more than 12 seconds off a record that had stood since July 2001. Less than two hours later she lowered her own 200m world record set earlier this month in Barcelona by 2.34 seconds with a blistering time of 35.04.
"It wasn't expected today, I'm really excited because my 200m was quite a big PB but I actually stopped just before the line so in the final I'm going to push through the line and hope for a better record," said Watson.
"For the next final I know what I did slightly wrong so I know what I can improve on. The fact that I got world records is a big shock."
Watson was not the only T33 racer in form in Nottwil. Kuwait's Ahmad Almutairi took 0.04 seconds off the 200m T33 world record he set at this meeting last year with a time of 30.02.
Great Britain's Samantha Kinghorn also had a day to remember smashing both the 200m and 800m European records.
Her 200m time of 29.48 took 0.18 off Dame Tanni Grey-Thompson's record that had stood since July 2004. In the 800m she finished in 1:53.40 to take 0.15 off the record that had been set almost 12 months ago by Switzerland's Catherine Debrunner.
"It felt really, really good. I can't believe it, especially my 200m," said Kinghorn. "I knew I'd trained well for my 400m but I was a bit nervous coming into it as I'd been in hospital so I hadn't raced.
"It was pretty cool to break the 200m record. I've been watching the records and knowing they were there. I've been chasing them but I didn't realise that I'd get them, especially when I crossed the line.
"I didn't want to get too excited when I saw the clock as I didn't know if it was my time, even though I knew that it was," added Kinghorn who was ecstatic and full of praise for Dame Tanni whose record she had broken.
"She's an icon, she's the person everyone knows of in wheelchair athletics and always will be," she said.
Kinghorn's teammate Ben Oliver also set an 800m T33 European record posting 2:22.57.
Twenty-four hours after breaking the 100m T13 world record, Ukraine's Leilia Adzhametova impressed again setting a new European record over 200m. Her time of 25.41 lowered the previous best set at the Beijing 2008 Paralympics by 0.10 seconds.
-ends-