World records for Hynd, Simmonds at Glasgow 2015
Russia also take a relay title and set three world records on day five at the 2015 IPC Swimming World Championships.
17 Jul 2015
Imagen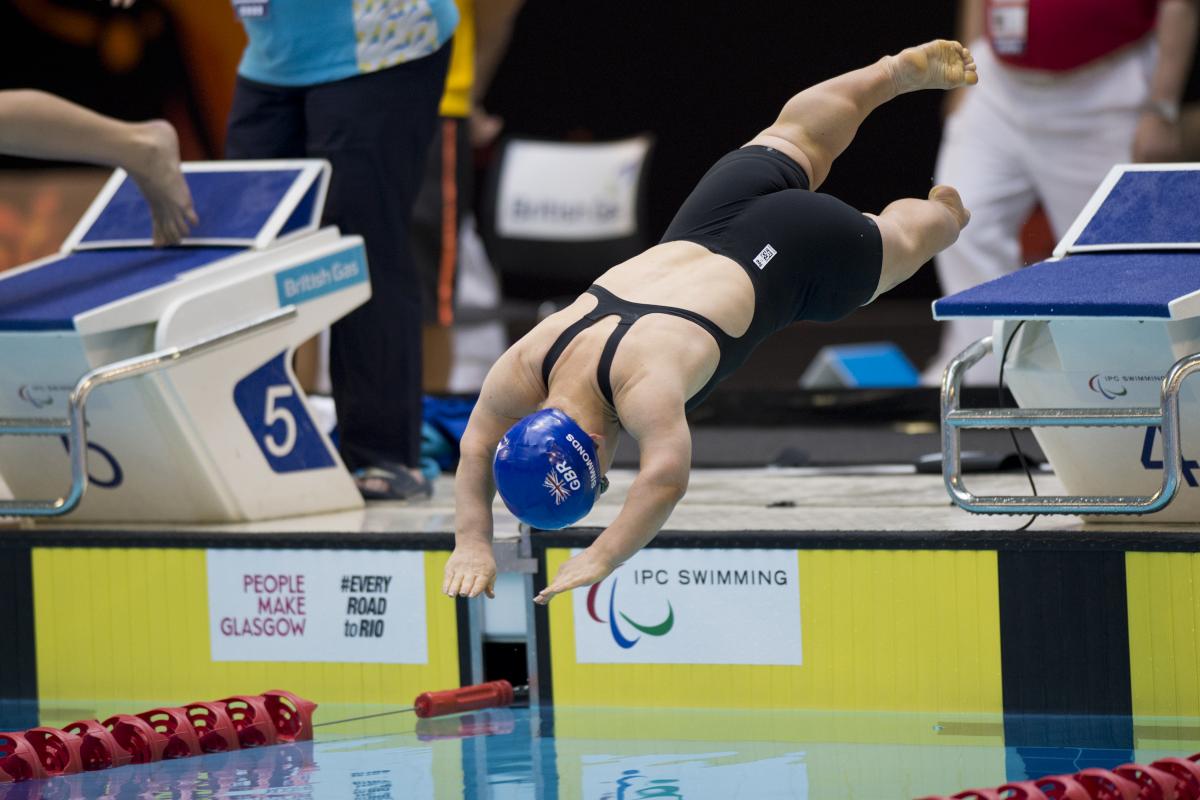 Ⓒ© Luc Percival Photography. All rights reserved.
By IPC
"I just wanted to show everyone what I was made of tonight and hopefully that's what I've done."
Great Britain's world champion Ollie Hynd sensationally took down his brother's five-year-old world record in the men's 400m freestyle S8 on Friday (17 July), as his teammates stormed to four golds and two world records at the 2015 IPC Swimming World Championships.
Hynd (4:24.32), who has had his eye on Beijing 2008 champion Sam Hynd's mark for some time, said: "I wanted to try and get out strong and work that middle 200m where I was a little bit slow this morning," Hynd said. "I think I was able to do that tonight.
"It felt great out there. So far I think it's been the best meet of my life. I thought I was going to swim fast but you never know and I'm just delighted to have achieved what I have."
Chinese Paralympic champion Yinan Wang (4:33.47) took silver, with the USA's Robert Griswold (4:36.26) setting a new Americas record for bronze.
The world records kept coming for Great Britain in the women's 200m individual medley SM6. World and Paralympic gold medallist Eleanor Simmonds (3:01.02) took gold in the event for the third consecutive World Championships.
"I'm so, so shocked about that to be honest," Simmonds said. "I am so shocked about that time! 3:01! I'm so happy.
"I just wanted to show everyone what I was made of tonight and hopefully that's what I've done."
Simmonds put a bad start to Glasgow 2015 behind her, beating Yelyzaveta Mereshko (3:06.08) after missing out to the Ukrainian in the 400m freestyle on Monday (13 July). Germany's Verena Schott (3:12.32) took bronze.
Tully Kearney (1:09.04) was pushed to a new European record in the women's 100m butterfly S9. Kearney controlled the race but Spain's Sarai Gascon (1:09.31) fought her all the way. Gascon's teammate Nuria Marques Soto (1:10.01) joined her on the podium.
Completing the British haul was Sascha Kindred, who emerged triumphant from a tense men's 200m individual medley SM6. Kindred, who has competed at every IPC Swimming World Championships, set a new Championships record of 2:41.41 to take gold.
But he left it to the final 50m to overtake Colombian silver medallist Nelson Crispin (2:41.84). The medal for Crispin comes with a new Americas record. Brazil's Talisson Glock (2:41.87) was third.
There was five golds and three world records for the Russians in the men's and women's 200m individual medley SM14 and a relay.
Having already brought down the mark in the heats, Viacheslav Emeliantsev (2:08.98) took just under one second off the world best in the men's race once again. Dutch 2013 world champion Marc Evers (2:10.38) touched in for silver and Russia's Mikhail Kuliabin (2:15.81) won bronze.
In the women's event, Valeriia Shabalina (2:21.23) was the victor with a new mark ahead of Great Britain's Jessica-Jane Applegate (2:25.78). The Netherlands' world champion Marlou van der Kulk (2:28.65) had to settle for bronze.
There was a new world record in the men's 4x100m freestyle relay 34 points to conclude another good evening in the pool for Russia.
The team of Konstantin Lisenkov, Adrei Kalina, Alexander Skaliukh and Denis Tarasov (3:48.10) shaved 0.62 seconds off the 2010 world record held by Australia.
Russia's Alexander Skaliukh (59.62) won the men's 100m butterfly S9, beating Italian world and Paralympic champion Federico Morlacchi (59.69) to the wall. Kristjian Vincetic (1:00.74) won Croatia's first medal with bronze.
Natalia Gavrilyuk (1:02.19) made it double gold for Russia in the women's 50m breaststroke SB3. The silver and bronze were taken by Mexican swimmers Nely Miranda Herrera (1:02.94) and Patricia Valle (1:03.17), with Herrera setting a new Americas best.
Brazil (3:51.44) set a new Americas record to finish ahead of Australia (3:56.26).
Ukrainian Denys Dubrov (56.43) won his second gold of the competition in a new European record time. World and Paralympic champion Brazilian Andre Brasil (56.67) came back from a disappointing heat to take silver from lane one. Russian Dmitry Grigoryev (57.55) was third.
Daniel Dias (32.71) won his fifth gold medal of the week in the men's 50m freestyle S5, to take his total World Championships gold medal count to 22 since 2006.
Spain's Sebastian Rodriguez (34.61) was second and Vietnam's Thanh Tung Vo (34.88) third.
Dias' teammate Joana Maria Silva (38.39) took gold in the women's 50m freestyle S5 ahead of Spanish Paralympian Teresa Perales (38.59). Israel's Inbal Pezaro (40.17) took home bronze.
The USA's world and Paralympic champion Jessica Long (4:47.95) won an incredible 23rd world title in the women's 400m freestyle S8, retaining the title she has held since 2006.
"The 400m is my favourite race," Long said. "It's been one of my favourite races since I was 12 in Athens. I am happy with the gold medal. Especially as I've gotten older I've learned to appreciate each one more and more. For some crazy reason I've been able to stay at the top for so long."
Australian Maddison Elliott (5:01.69) grabbed silver and her teammate Lakeisha Patterson (5:04.17) bronze.
Bradley Snyder (25.78) took his third gold medal of the week in the men's 100m butterfly S9 in a new Championships record time. Japan's Keichi Kimura (26.83) and South African Hendri Herbst (27.04) completed the top three.
"This morning I swam all over the place so I wanted to clean that up< Snyder said. "I was able to stay on the left side. In some ways it was less effort than this morning!
"Sometimes you think, 'where I am going to find those extra tenths' but something is just magic about the night. You throw on the suit, you get the crowd behind you and half a second comes off like that. I call it night magic all the time and a lot of that is the crowd."
New Zealand's world and Paralympic champion Sophie Pascoe (1:03.74) was just 0.02 second away from the world record in the women's 100m butterfly S10, but settled for a new Championships mark.
Poland's Oliwia Jablonska (1:09.34) collected silver, and there was another medal for Team GB courtesy of Alice Tai (1:09.57) in bronze.
There was more success for New Zealand as 16-year-old Nikita Howarth (35.93) won her second gold medal in the women's 50m butterfly S7. The USA's Cortney Jordan (36.52) was second, with Canadian Sarah Mehain (36.98) third.
China's Shiyun Pan (29.49) equalled the world record in the men's 50m butterfly S7 to beat Ukrainian 2013 world champion Yevheniy Bohodayko (29.82). Bohodayko nonetheless set a new European record to lead China's Jinan Wang (30.51) onto the podium.
It was a different Belarusian winning a men's SB13 gold as Uladzimir Izotau (1:06.86) took the 100m breaststroke ahead of teammate Ihar Boki (1:07.11). Russia's Mikhail Zimin (1:08.24) sealed bronze.
The crowd heard Cyprus' national anthem for the first time this week thanks to Karolina Pelendritou (1:17.99) winning the women's 100m breaststroke SB13. German 18-year-old Emely Telle (1:18.34) took silver and the USA's Collen Young (1:19.31) left with bronze.
Thailand's first medal of Glasgow 2015 was golden in the men's 50m breaststroke courtesy of Somchai Doungkaew (59.62). Mexico's Arnulfo Castorena (1:00.41) and Greek 2013 world champion Ioannis Kostakis (1:00.56) completed the podium.
Spain's Miguel Luque (50.13) improved on his silver medal from 2013 with gold in the men's 50m breaststroke SB3. Japan's Takayuki Suzuki (50.51) secured silver and Russia's Aleksei Lyzhikhin (51.01) was third.
The women's S11 50m freestyle will be re-swam on Sunday (19 July) after a collision between two swimmers caused the result to be voided.
At the end of day five, Russia have taken their taken their lead at the top of the medals table back from Ukraine with 44 medals overall, including 20 golds. Ukraine trail by two medals overall and have 17 golds. The USA retain position with 24 medals, 11 of which are gold.
Race footage is available directly from IPC Swimming, as well as daily newsfeeds x 2 (following News Access Rules) for non-rights holders. For more information contact jose.dominguez@paralympic.org.
Pictures are available at the IPC's Flickr account. High resolution versions are available on request from eva.werthmann@paralympic.org.
The 2015 IPC Swimming World Championships, which run until 19 July, will feature around 580 athletes from nearly 70 countries and will be one of the biggest qualification opportunities for Rio 2016.
Tickets are still available at www.ticketmaster.co.uk/Glasgow2015 and all seven days of action will be shown live at Glasgow2015.com alongside live results between 13-19 July.
Fans can also follow @IPCSwimming on Twitter and Facebook and Paralympics Instagram for behind-the-scenes updates and pictures.